Sports > WSU football
Three touchdown passes, strong defensive play leads No. 15 Washington State to 28-0 win over Colorado
Oct. 21, 2017 Updated Sun., Oct. 22, 2017 at 12:17 a.m.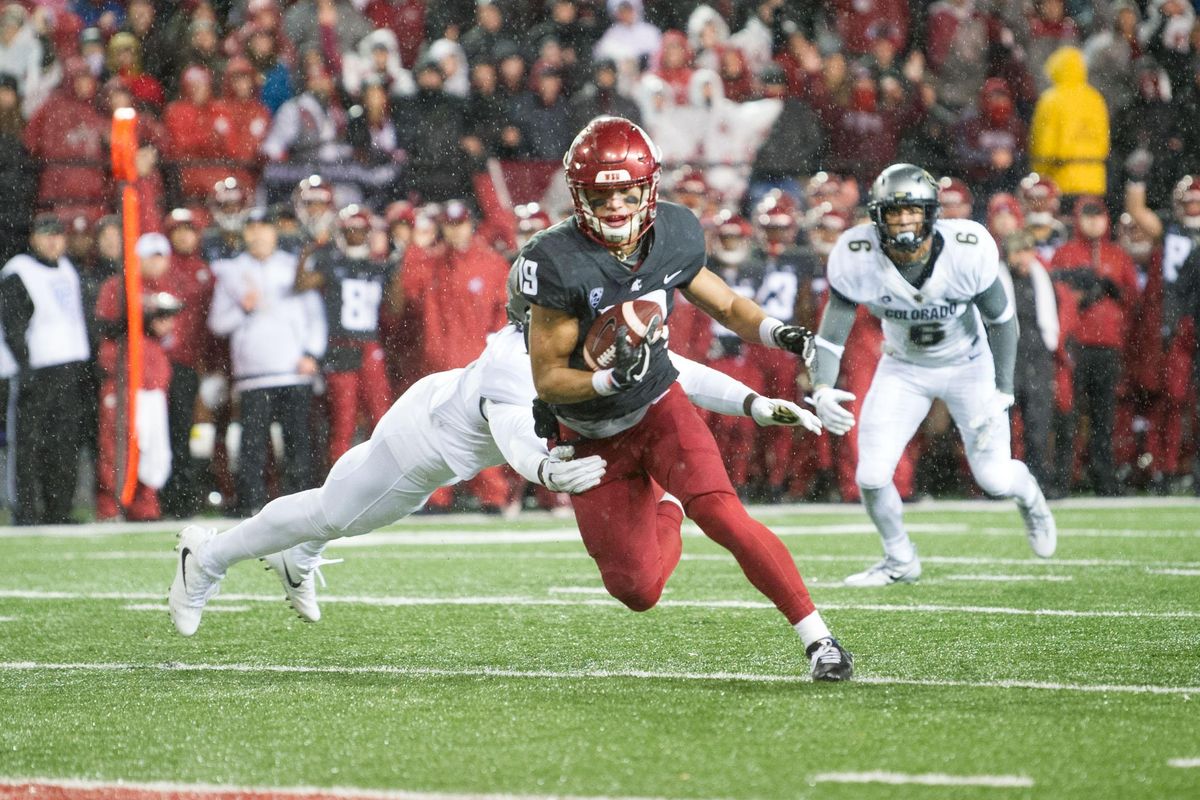 Washington State Cougars wide receiver Brandon Arconado (19) runs the ball in for a touchdown during the first half of a college football game on Saturday, October 21, 2017, at Martin Stadium in Pullman, Wash. (Tyler Tjomsland / The Spokesman-Review)
PULLMAN – The swirling rainstorms that arrived at Martin Stadium hours before the homecoming crowd did on Saturday night could have made it another catastrophic week for Luke Falk and the Washington State Air Raid.
But the 15th-ranked Cougars recouped on offense, rediscovered their form on defense and drowned the visiting Colorado Buffaloes 28-0 on a swampy night in Pullman.
Swampy didn't necessarily mean sloppy for the Cougars.
The rain caused some miscues here and there, but WSU established offensive balance, throwing it 43 times and running it 35 more. On a night when it was all the Buffaloes could do to reel in a pass, the Cougars outgained their opponent 406-174.
Colorado came in throwing for more than 250 yards per game, but couldn't do better than 94 Saturday night.
And for the second time this season, WSU emerged with a shutout. The Cougars haven't blanked multiple opponents in a season since 1981, when they shut out Pacific, Oregon State and Cal.
Falk will need another game or two to crack former Oregon State QB Sean Mannion's all-time Pac-12 passing yards record, but WSU's senior quarterback rebounded from an abysmal outing at Cal that saw him intercepted five times and sacked nine more.
Falk passed 17 of 34, tallied 197 yards and threw three touchdowns to reignite WSU's offense eight days after the Cougars were kept without a touchdown and held to three points in their first loss of the 2017 campaign.
The WSU signal-caller finished the game with fewer completions than he has in his career and matched the fewest attempts he's had in one of his least productive and efficient games as a Cougar. But Falk still took down some Pac-12 records along the way, jumping Mannion for most career pass attempts and ex-Oregon QB Marcus Mariota for total offense. He also became the Cougars' all-time winningest quarterback, surpassing Jason Gesser's mark of 25.
WSU's offense hit some snags early on and didn't adjust until the second quarter. Colorado's offense never did.
Buffs coach Mike Macintyre yanked QB Steven Montez at halftime after Colorado's starter threw incomplete on his first seven attempts and only hit on 4 of 13 for 21 yards by halftime. Backup Sam Noyer was only slightly better in the wet weather, finishing 7 of 18 for 53 yards.
"It was pretty tough conditions and that ball's sliding around everywhere and everything," WSU coach Mike Leach said.
The Cougars also kept Colorado's stud tailback, Phillip Lindsay, in check for the most part. For the first time this season, the senior was kept out of the end zone and finished with just 98 yards on 29 carries for an average of 3.4 yards per carry.
"We just did our job and stayed in the right gap and made some plays," WSU defensive tackle Daniel Ekuale said.
There were four punts and five offensive possessions in the game's first 8 minutes and it took the Buffaloes the entirety of the first quarter to secure a first down. When the period ended, the teams were in a scoreless deadlock but had already punted six times.
The Cougars stymied Colorado's first drive of the second quarter and the Buffaloes lost a starting offensive lineman when left tackle Jeromy Irwin was ejected for targeting after an illegal block on defensive end Derek Moore.
That seemed to catapult the WSU offense, because the Cougars picked up 6 yards on a Gerard Wicks rush and 16 more when Luke Falk broke off the longest run of his career to reach midfield. True freshman wide receiver Tay Martin got a step on his defender the next play and hauled in a 50-yard touchdown pass on a post play – the first of his career – to put the Cougars on the board.
"He's been right on the threshold of playing good," Leach said of Martin. "He's been right on the threshold of bursting out and playing well."
Lindsay ran free for 24 yards on the next drive, but the Cougars stuffed the Buffaloes again and took over on their 19-yard line. Falk zipped four straight passes to four receivers and completed to redshirt sophomore wideout Brandon Arconado for an 18-yard TD to extend the lead to 14-0.
"Good job by Luke hitting him on the hot and then he made a couple people miss," Leach said of the second-quarter TD reception. "Arconado's really improved this year."
That was the score at halftime and the Cougars padded their advantage in the third quarter when Jamal Morrow took an inside handoff from Falk and plunged into the end zone from 9 yards out. WSU reached 28-0 in the fourth quarter when Falk capped a 10-play, 52-yard drive with a 5-yard touchdown pass to redshirt freshman receiver Renard Bell.
Morrow finished with 11 carries for 73 yards and one rushing touchdown and the senior tailback reeled in two passes for 28 yards.
Jalen Thompson led WSU with 10 tackles. Although he wasn't credited with a pass breakup, spent the majority of the game locking down CU's talented wideout quartet.
"It's incredibly hard to shut any team out, especially one like Colorado with all the weapons they have," Leach said.
"Kudos to the defense," Morrow said.
Local journalism is essential.
Give directly to The Spokesman-Review's Northwest Passages community forums series -- which helps to offset the costs of several reporter and editor positions at the newspaper -- by using the easy options below. Gifts processed in this system are not tax deductible, but are predominately used to help meet the local financial requirements needed to receive national matching-grant funds.
Subscribe to the Cougs newsletter
Get the latest Cougs headlines delivered to your inbox as they happen.
---