Sports > WSU football
John Blanchette: Cougars' win over Colorado shows new normal
Oct. 21, 2017 Updated Sun., Oct. 22, 2017 at 12:29 a.m.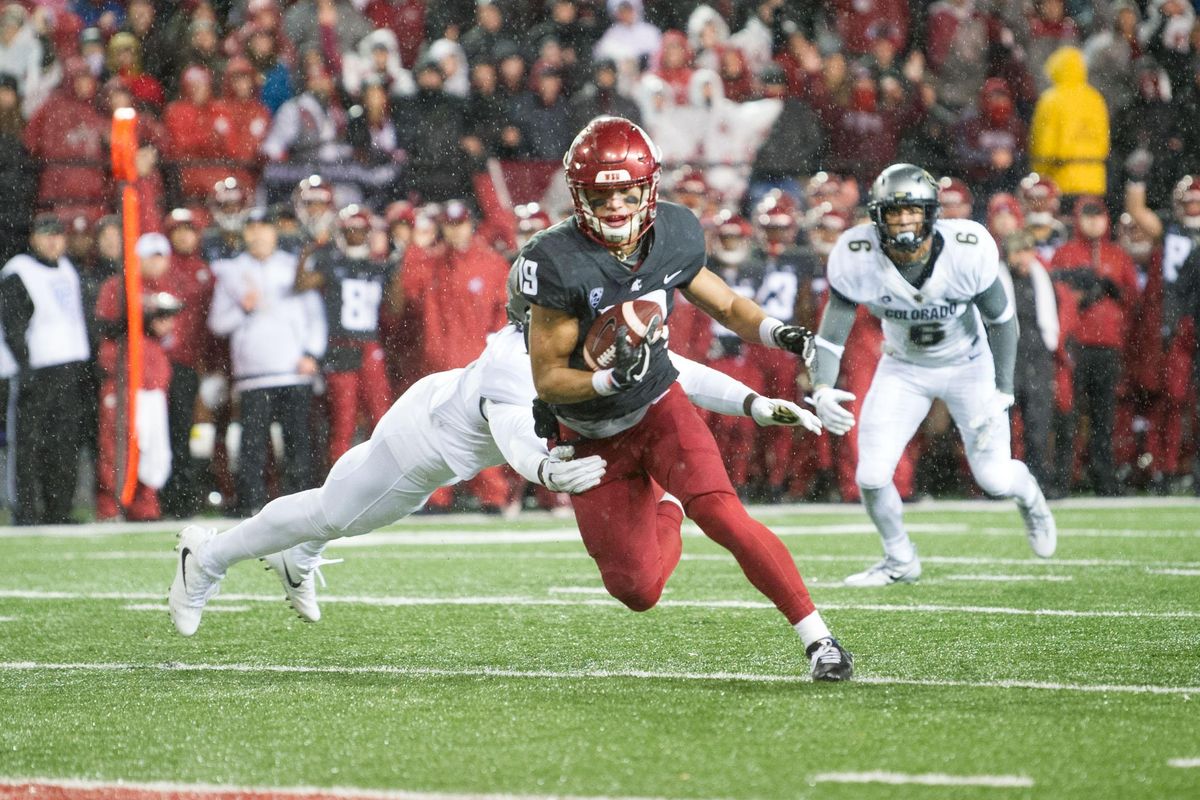 Washington State Cougars wide receiver Brandon Arconado (19) runs the ball in for a touchdown during the first half of a college football game on Saturday, October 21, 2017, at Martin Stadium in Pullman, Wash. (Tyler Tjomsland / The Spokesman-Review)
PULLMAN – Normal is underrated.
The proof was in the long week at Washington State that technically started a few hours early with the berserk unraveling in Berkeley – the by-now-almost-annual inexplicable face-plant that is as much a part of the Mike Leach era as his manufactured idylls on space life and boat-naming.
And after that, of course, it got weird.
So the Cougars' return to their winning rhythm Saturday night in a 28-0 whitewash of Colorado couldn't have been more welcome, even as it was accomplished in a rain that ranged from misting to driving and a wind that ranged from "Brrrr, damn," to "We're out of here, honey." Maybe 5,000 ponchoed patrons stuck it out for the start of the second half, and the homecoming game retreat to RVs, frat houses and watering holes wasn't just forgiven but envied.
Not that all reverted to the commonplace.
Would you believe Luke Falk, double threat?
It wasn't just Cougars' record-setting quarterback reeling off a 16-yard scramble and then immediately sending a seed to Davontavean Martin – call him Tay – that went for 50 yards and Wazzu's first touchdown. By the time the Cougs essentially put things out of reach with a third-quarter touchdown, Falk had established himself as Wazzu's second-best rushing option – though James Williams would assert his bona fides in garbage time.
Yes, it was just 55 yards – offset by a couple of sacks in the official stats – but normally Falk's only positive yardage on the ground comes hoofing it to class on weekdays.
And while on the subject of Falk, there's this: on Saturday he became the school's winningest quarterback – 25 victories as a starter, passing Jason Gesser, who watched from the broadcast booth. Now, yes, Falk was standing on the sidelines when Tyler Hilinski rescued the Boise State game for him.
But, hey, even Felix Hernandez needs bullpen help.
The conditions were never going to let this be a shootout, even if the participants were up to it.
Colorado passed up three potential field goal attempts, conceding they had no kicking answer for the wind, cold and rain. The Cougars could have possibly turned this into a bigger rout against Colorado's mallo-filled run defense, but you can still see Leach get the heebie-jeebies when the carries start to overtake the passes.
So even in trying to recover from last week's disaster, the Cougs were obliged to rely on the new normal: coordinator Alex Grinch's defense being the deciding factor, as it was at Oregon and even in starting the decline of USC quarterback Sam Darnold from Hot New Thing to the Ordinary Guy he's become.
But even the new normal is abnormal: in blanking the Buffs, the Cougars notched two shutouts in the same season for the first time since 1981. There were actually three that year, which nobody much remembers, still in the reverie induced by memories of Jim Walden's rump-turn option.
Still, it's fun to look at the conference rankings and see the offense (sixth) and the defense (second) and wonder if school president Kirk Schulz might want to broaden his keep-'em-happy visits to Grinch's office.
Schulz was moved to huddle with Leach last week, not just to assure the coach he was valued but that he should consider making Wazzu his retirement gig. A strange message in midseason, except in the context of the one of the oddest weeks in Cougar history – and there has been no shortage of odd weeks in Cougar history.
The hangover from the Cal debacle hadn't subsided before athletic director Bill Moos pulled a bigger misdirection play than the football team has managed even in a high-octane season – bolting for a big raise in the debtless haven of Nebraska.
Then came, in no particular order:
Leach suspending standout wide receiver Tavares Martin Jr., reportedly for a frustrated tantrum;
Schulz taking aim at Pac-12 Networks for underperforming in revenue production, a significant stepping out from the party line of Pac-12 presidents, who have mostly swallowed what commissioner Larry Scott has fed them;
A $500,000 donation from Cougar booster Wade Hogg, allowing him the right to put his name on Leach's office, which triggers the image of Leach answering his phone, "Hogg Farm," or something to that effect. In all, the Cougar Athletic Fund got an $800,000 bump from Moos' departure – not in a good-riddance sense, but in a spirit of realization that maybe it's once again time to not just assume that TV will always pay the freight. Even Schulz upped his donation.
And in the true spirit of the bizarre, Leach spent some of the run-up to the Colorado game encouraging his old friends back at Texas Tech to rally and urge the school to pay him monies he insists are still owed, even as the state courts insist otherwise. That's a funny bit of distraction for the high lord who demands tunnel focus from his fellas.
But it's weirdly normal, too. At Wazzu, that may be the only kind.
Local journalism is essential.
Give directly to The Spokesman-Review's Northwest Passages community forums series -- which helps to offset the costs of several reporter and editor positions at the newspaper -- by using the easy options below. Gifts processed in this system are not tax deductible, but are predominately used to help meet the local financial requirements needed to receive national matching-grant funds.
Subscribe to the Cougs newsletter
Get the latest Cougs headlines delivered to your inbox as they happen.
---