A&E > Stage
Spokane Civic Theatre opens 71st season with 'West Side Story'
Thu., Sept. 21, 2017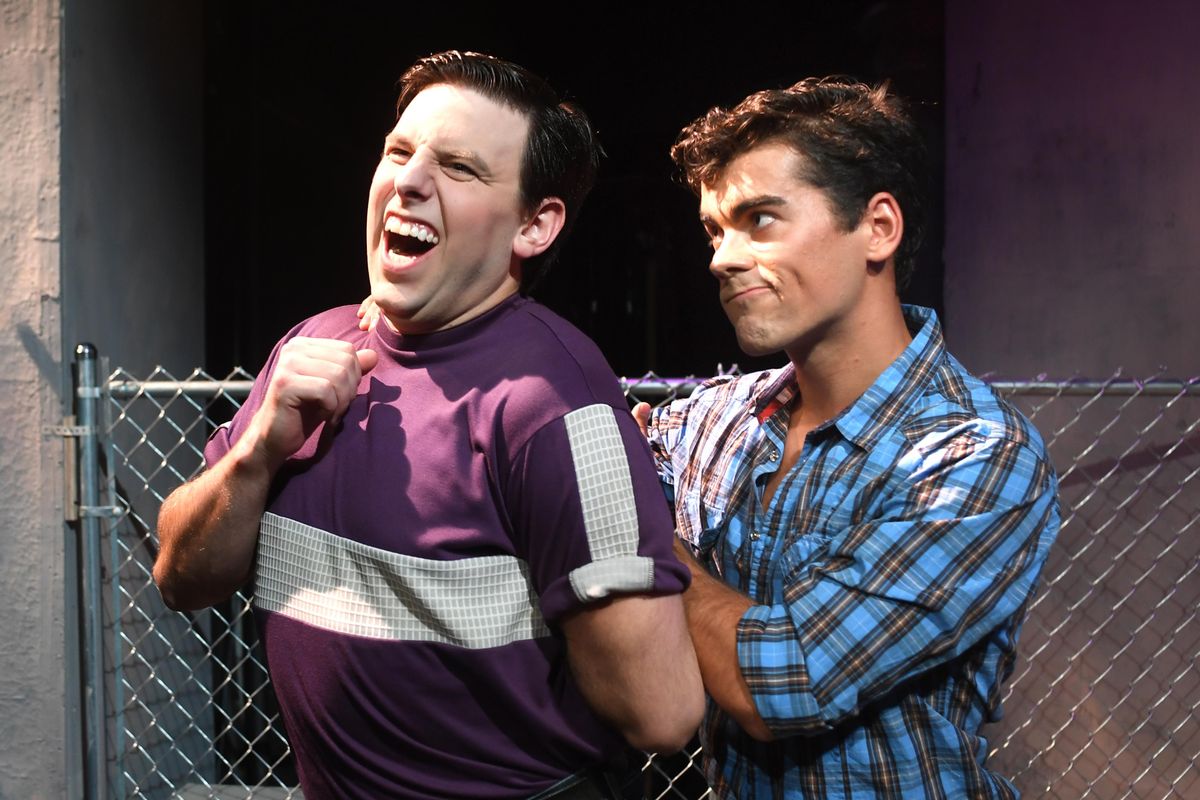 Tony, right, played by Duncan Menzies, twists the arm of his friend Riff, played by Preston Loomer, in a scene from the Spokane Civic Theatre's production of "West Side Story," which opens Friday. (Jesse Tinsley / The Spokesman-Review)
It all started with a sick day.
Whenever Spokane Civic Theatre Artistic Director Lenny Bart was home sick from school, his parents would play one of the many musical soundtracks they owned.
One day, Bart's sick day soundtrack was the 1957 Broadway musical "West Side Story."
"I can remember one day being home sick and hearing this music and just being enthralled by it," he said. "I think being in a pseudo-sleep place and not feeling 100 percent, my mind started creating these images going along with the music, and it was awesome."
A short time later, Bart saw the movie adaptation of "West Side Story" and was just as taken with the film as he was with the musical soundtrack.
At several points during his time working in theater, Bart has tried to produce "West Side Story," but for one reason or another, those productions didn't work out, which makes directing Spokane Civic Theatre's production of "West Side Story," opening Friday, a check off his bucket list.
"To me, it's a dream come true to work on what I consider the singularly greatest piece of American musical theater," he said.
"West Side Story," inspired by William Shakespeare's "Romeo and Juliet," explores the rivalry between the Jets, a white gang, and the Sharks, a Puerto Rican gang, in mid-1950s New York City.
At the heart of the story is the forbidden love between associates of the two gangs and the aftermath of their romance.
Tony (Duncan Menzies) is a former member of the Jets and best friend of gang leader Riff (Preston Loomer), and Maria (Maddie Burgess) is the sister of Bernardo (Rio Zavala), who leads the Sharks.
When casting the role of Tony, Bart looked for someone who had a combination of ruggedness and romanticism, which he found in Menzies, who recently appeared in Civic's production of "Kiss Me Kate."
"(Menzies) is a beautifully classically trained singer who has great passion," Bart said. "He really exemplifies all those characters I was talking about."
With Maria, Bart needed someone who was both strong willed and believably naive and curious, qualities he found in 16-year-old Burgess.
"Because she's 16, she's had, I think, at that age, not as many experiences as someone older, maybe a 22-, 23-year-old person who can carry off looking young, may have so she just brings that natural naiveté to the role," he said. "She's sweet and oh my God, I believe she has a pitch perfect voice because it is absolutely gorgeous and she can find her note out of thin air in the few a cappella moments that the show requires."
The cast also features Jonah Taylor (Action), Logan West (Baby John), David Hardie (Diesel) and Eliza Johnson (Anybodys), all members of the Jets.
Jameson Elton, Grant Peterson and Seth Rohrenbach are the Jets chorus and dancers, and the Lady Jets are played by Emily Beloate, Samantha Bertagnolli, Hannah Farley, Emily Gjovik and Skyeler MacDowell.
Tre' Keough plays Chino, and Justin Bradshaw, Teo Damitio, Jerry Frunk, Arnoldo Heredia, Noah Marsh and Denny Pham are the Sharks chorus and dancers. The Lady Sharks are played by Marlee Andrews, Anika Bryceson, Dana Sammond and Amy Mariah Hille.
"West Side Story" also features Gary Pierce as Doc, Chet Gilmore at Detective Schrank, Ed Bryan as Officer Krupke and Robin Hill as Glad Hand.
The Broadway musical features a book by Arthur Laurents, lyrics by Stephen Sondheim, music by Leonard Bernstein and conception and choreography by Jerome Robbins.
The Civic production features music direction from Henry McNulty and choreography from Angela Pierson, who also plays Anita, Bernardo's girlfriend.
"West Side Story" runs through Oct. 15, but the theater will restage the production at the Martin Woldson Theater at the Fox for two nights in April as a collaboration with the Spokane Symphony.
Bart is hopeful the entire cast will be available for the shows, April 20 and 21, and said everyone is excited about the chance to perform with the symphony.
"To have that opportunity to perform this music with a full symphony and on the Fox stage, it is just an honor," he said.
Whether audiences see "West Side Story" during its Civic run or its brief appearance on the Fox stage, Bart hopes they're as captivated with the show as he was as a child home sick from school.
"I couldn't think of a better way to kick off our 71st season than to have this phenomenal piece of theater with this particular cast," he said. "I think it's going to be an incredible show, and I hope everyone has an opportunity to experience, I think, the greatest piece of American musical theater."
Local journalism is essential.
Give directly to The Spokesman-Review's Northwest Passages community forums series -- which helps to offset the costs of several reporter and editor positions at the newspaper -- by using the easy options below. Gifts processed in this system are not tax deductible, but are predominately used to help meet the local financial requirements needed to receive national matching-grant funds.
Subscribe to the Spokane7 email newsletter
Get the day's top entertainment headlines delivered to your inbox every morning.
---