Sports > WSU football
Washington State offensive line could be binded by tackles with lots in common
UPDATED: Fri., April 6, 2018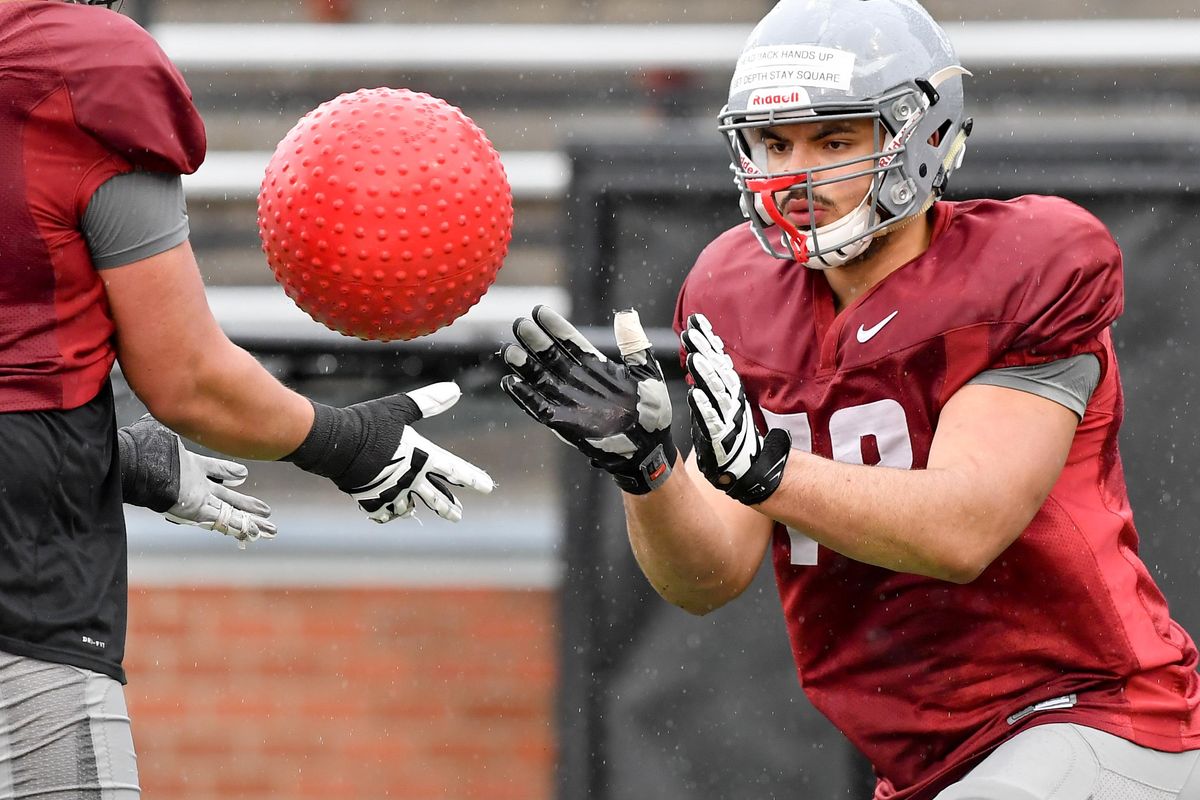 Washington State's Abraham Lucas runs through drills with fellow offensive linemen during a spring practice Thursday at Martin Stadium in Pullman. (Tyler Tjomsland / The Spokesman-Review)
PULLMAN – The players who could bookend Washington State's offensive line this fall have much more in common than a shared "offensive tackle" title.
On the left side is Andre Dillard, a redshirt senior who's listed at 6-foot-5, 306 pounds. On the right is Abraham Lucas, a redshirt freshman who stands 6-6 and checks in at 305 pounds.
And, unbeknownst to both players until Lucas showed up to Pullman on his recruiting visit, the Cougars teammates grew up within close proximity to one another. Just 20 miles of terrain separates Lucas' hometown of Everett from Dillard's nest in Woodinville.
Their prep careers overlapped for one season, in 2013, and Lucas' Archbishop Murphy Wildcats play in Washington's 2A classification – two tiers below Dillard's Woodinville Falcons – so the players never bumped into one another at the high school level.
"It's kind of funny," Lucas said. "I grew up like 20 minutes from him and I never even knew him."
But Lucas' official visit to WSU, and his subsequent commitment to the Cougars, spurred a team-wide joke that the second-year player may never hear the end of.
In their circle, he goes by "Little Andre" or "Little Dillard." Apart from their physical makeup and western Washington upbringing, the offensive tackles have another striking similarity. You wouldn't mistake them for identical twins, but if you were to pick a set of brothers from the Cougars' 93-man spring roster, Lucas and Dillard might be the first to come to mind.
"It's funny, I came up here (to visit) and they're like, 'Is this guy your brother?' " Lucas said. "(Andre) was like, 'Oh no, I'm hosting this guy.'
"I guess we have some sort of a resemblance. I guess I kind of see it, but I don't want to say that I see it just because I think that's kind of weird."
Not that Lucas minds having Dillard in his corner.
A fifth-year senior, Dillard becomes the elder statesmen of WSU's offensive line – one that recently graduated a former unanimous All-American, left guard Cody O'Connell, a three-time All-Pac-12 Conference right tackle, Cole Madison, and a 14-game starter, right guard B.J. Salmonson.
Dillard isn't far behind O'Connell or Madison when it comes to career accolades or games played and enters his senior season as a two-time all-conference honoree who's played in 29 games and started in 26. Dillard may have been WSU's best NFL Draft prospect on the OL had he declared after his redshirt sophomore season. Even with minimal improvement this fall, he'll have a chance to climb into the top two rounds of the 2019 Draft.
For an O-line that has so much to replace, Dillard isn't a bad place to start.
"As far as technique and stuff, I had really good role models I could look up to last year," Lucas said. "Cole, Cody, B.J. (Salmonson). Even now, Andre. He was my host when I first came up here and so I looked up to him a lot for technique because he's a really good tackle."
Dillard is as cerebral as they come, and the year Lucas spent in his shadow is beginning to pay off.
He could be starting four spots to the right of Dillard when the Cougars open the season at Wyoming in September. WSU's first offensive line grouping has been consistent since the Cougars started spring camp: Dillard at left tackle, Josh Watson at left guard, Fred Mauigoa at center, Robert Valencia at right guard and Lucas at right tackle.
"I think we're kind of settling in a little bit," Lucas said. "We're still trying to get a little feel for each other. But (offensive line coach) (Mason) Miller's whole thing is, he's going to put the best five on the field, which is what he's supposed to do. If there is changes around the first group, second group, I wouldn't be surprised because he has to find the starters and who's going to get the job done the best."
Granted, Lucas should know he's already receiving some pretty high marks from his new position coach.
"He's kind of getting some confidence as he grows," said Miller, who was hired in February to replace Clay McGuire. "It's kind of fun to watch. I haven't been around a young offensive lineman in a couple years – a talented guy like that (who's) that young. I'm excited to watch him grow, that's a fun process."
Local journalism is essential.
Give directly to The Spokesman-Review's Northwest Passages community forums series -- which helps to offset the costs of several reporter and editor positions at the newspaper -- by using the easy options below. Gifts processed in this system are not tax deductible, but are predominately used to help meet the local financial requirements needed to receive national matching-grant funds.
Subscribe to the Cougs newsletter
Get the latest Cougs headlines delivered to your inbox as they happen.
---