Sports > Gonzaga basketball
Rui Hachimura, Killian Tillie all in on returning to Gonzaga
April 14, 2018 Updated Sat., April 14, 2018 at 7:03 p.m.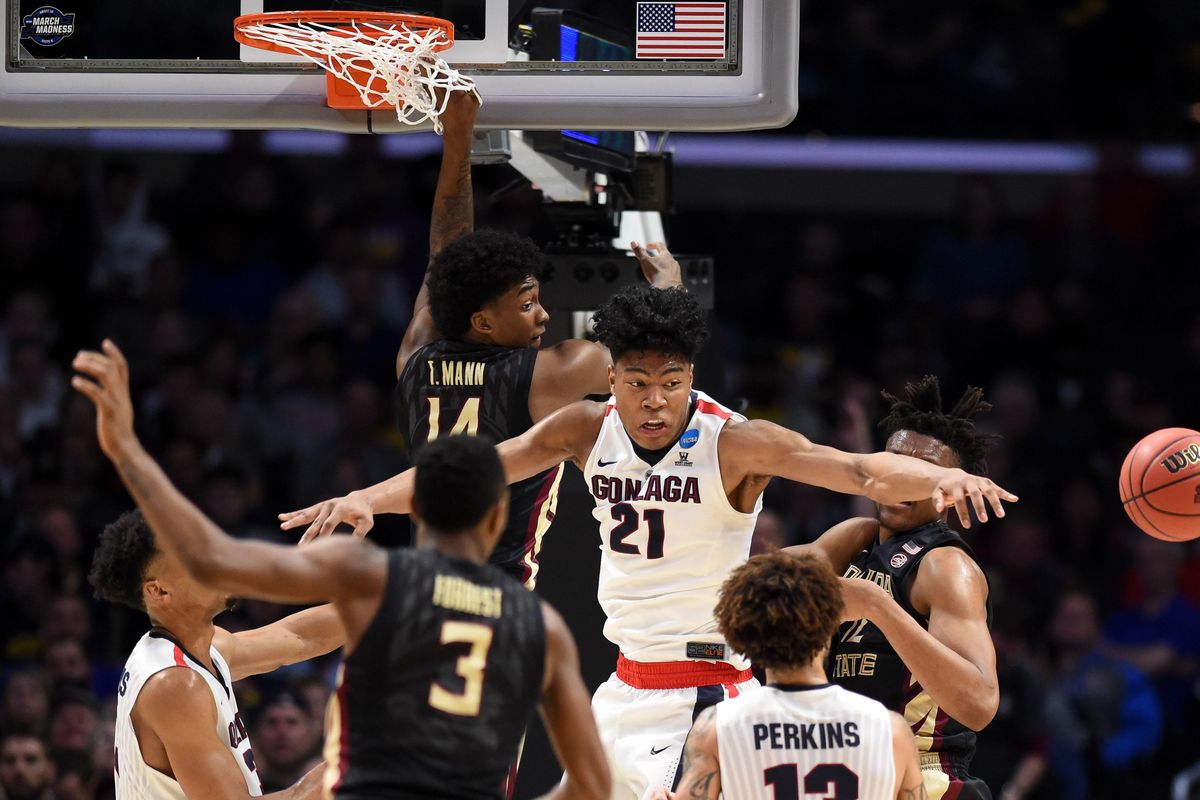 Gonzaga's Rui Hachimura (21) vies for a rebound in a crowd during the loss to Florida State. (Tyler Tjomsland / The Spokesman-Review)
Rui Hachimura and Killian Tillie weren't interested in declaring for the NBA Draft unless they were committed 100 percent.
Some among the 100-plus players who submitted their names are essentially dipping their toes in NBA waters with the intention of returning to college. By not hiring an agent, players can work out for NBA teams while preserving the option of returning to school.
That scenario didn't appeal to the Gonzaga forwards, who in the last week announced they'll be back for their junior seasons.
"No, I didn't want to do that," Hachimura said of declaring without hiring an agent. "If I'm going, go in. If not, don't go in. Halfway, I don't like that."
In Tillie's case, a lingering hip injury complicated his situation. He was sidelined against Florida State in the Sweet 16 and the injury has turned out to be more troublesome than originally thought. He's on the mend for at least several more weeks.
There was no guarantee Tillie would heal in time to work out for NBA teams. Even if he did, his conditioning would have been lacking and he wouldn't have been able to put his best foot forward. Players have until April 22 to declare. The deadline to pull out is May 30.
"It's a muscle problem," said Tillie, who doesn't think he'll play for his native France in international events this summer. "I have to rest it, take care of it."
One of the hardest things for the two players to decipher was the varying opinions of where they stacked up in the draft. The feedback from the NBA was all over the map. Projections ranged from the first round to going undrafted and having to pursue the free-agent route.
"You try to get as much information as you can, making sure they have as much information as possible to make an informed decision," GU assistant coach Brian Michaelson said. "The feedback was so wildly varying, every response possible, whereas last year with Zach (Collins) it was top 20. Whether it was 20 or eight or five, it was consistently in there."
Hachimura said the last two weeks were tough, to the point he was losing sleep.
"That was like a life decision," the Japanese native said. "It's not like, 'What kind of food are you going to get tonight?' "
Hachimura talked with GU coaches, his family, friends and "everyone has so many different opinions," he said. "I decided I wanted to stay here.
"First of all, I trust Gonzaga, the coaches, the program, and I feel like it's going to be great for me to improve my skills, my mentality, everything."
The feedback didn't paint a clear draft picture for the pair but it was beneficial for their outlook in 2019, which isn't considered a strong draft.
"If they come back and do this and this, everybody seemed to agree they'll have significant opportunities to go in the first round," Michaelson said. "The strength of this year's draft is pretty well established. It's extremely strong at their positions, which directly impacts both of them."
Basketball at higher levels is increasingly made up of position-less players with the versatility to score in a variety of ways and defend multiple positions. Tillie and Hachimura already check a number of those boxes, but there's plenty of room to expand their games.
For the 6-foot-10, 215-pound Tillie, that means adding size and strength, which should enhance his ability to guard all frontcourt positions and handle the physical play of defenders at the other end of the floor. It would probably help his durability, too. He's battled several injuries in his two seasons.
On the court, Tillie will work on ball-handling and creating his own shot.
"Obviously, develop my body, get bigger and stronger, and then work on my skills, dribbling, driving to the basket and keep improving my shot," said Tillie, who made a team-leading 48 percent of his 3-pointers.
The 6-8 Hachimura's priorities will be extending his shooting range, polishing his post moves and improving his defense, particularly away from the ball. He's had success beyond the arc playing for Japan, but he was just 5 of 26 on 3-pointers last season.
"I've already started working on 3s," said Hachimura, who anticipates playing for Japan in a FIBA tournament this summer.
Hachimura made huge strides last season on and off the floor, with his improving English a crucial factor in numerous areas, including communication with teammates and understanding scouting reports.
"His competitiveness, his confidence, the language/cultural things came so far in one season," Michaelson said. "If those improve the same way next year, it's going to be scary."
The return of Tillie and Hachimura, along with several other key returners, redshirts and incoming freshmen, position Gonzaga for its highest AP preseason ranking. The 2005-06 Zags, with Adam Morrison entering his junior season, were No. 8.
"I think we're going to have a great team," Tillie said. "We're going to have to do a good job of sticking the pieces together because we have good pieces."
Local journalism is essential.
Give directly to The Spokesman-Review's Northwest Passages community forums series -- which helps to offset the costs of several reporter and editor positions at the newspaper -- by using the easy options below. Gifts processed in this system are not tax deductible, but are predominately used to help meet the local financial requirements needed to receive national matching-grant funds.
Follow along with the Zags
Subscribe to our Gonzaga Basketball newsletter to stay up with the latest news.
---