Sports > International sports
Notes: Jack Nicklaus cautions from experience against a Masters letdown
Tue., April 17, 2018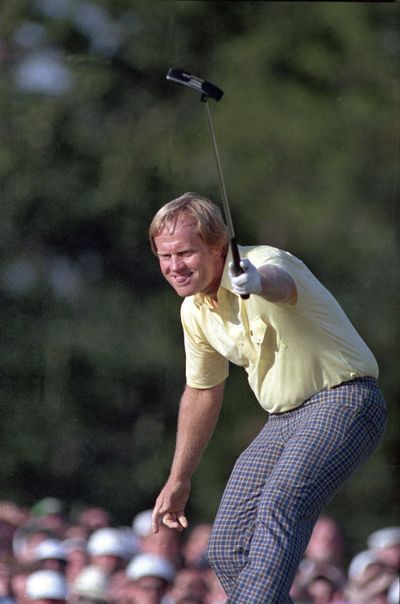 Tiger Woods built his comeback around the Masters, as was the case even in healthier years. He took a step back at Augusta National, not breaking par until the final round and finishing 16 shots behind Patrick Reed, the most he has trailed the Masters winner.
Woods wasn't alone in his disappointment.
Jordan Spieth geared his early part of the year toward being ready for the Masters, the major he says he most wants to win. He had a two-shot lead after the first round, and rounds of 74-71 meant even that closing 64 wasn't enough.
Phil Mickelson took himself out of the hunt with a 79 in the second round.
Jack Nicklaus can understand how they feel, and his message for anyone who puts so much emphasis on a green jacket is that the show goes on.
"I had to learn that there were other tournaments in the country after Augusta," Nicklaus said at the Masters after hitting the ceremonial first tee shot. "I played Augusta a lot of times and lost. I won in `63, `65 and `66, and I just expected to win every year. I thought I would just continue to do that."
Nicklaus missed the cut in 1967. He says that started a three-year trend in which it took him longer than it should have to get over not winning the Masters.
"That was a humbling experience to miss the cut after you've won it twice in a row," he said. "But then the next couple of years, I think that it probably destroyed the rest of my year. Because I was so disappointed at not winning at Augusta that I had a downer most of the year."
There's some truth to that.
He didn't go more than two tournaments before winning again after the 1963, 1964 and 1965 Masters. After he repeated at Augusta in 1966, he ran off five consecutive top fives before winning the British Open at Muirfield to complete the career Grand Slam.
But after missing the cut in 1967, he went five tournaments without winning and had one stretch of 10 straight rounds in which he failed to break 70. The following year when he tied for fifth at the Masters, Nicklaus didn't win again until the Western Open the first weekend in August.
And after a tie for 23rd in the 1969 Masters, he didn't win again until the Sahara Invitational in October.
"I put such a buildup to this tournament and the importance of winning that first major that it was to my detriment more times than a positive," he said.
Nicklaus figured it out. Over the next four years, he never went more than three events after the Masters before winning again. Twice, in 1971 and 1973, he won in his next start after failing to win the Masters.
Curtis Cup
Four years after Lucy Li qualified for the U.S. Women's Open at age 11, the Californian is headed to her first Curtis Cup.
Li was among eight women selected for the June 8-10 matches against amateurs from Britain and Ireland at Quaker Ridge in New York. Li is the first 15-year-old to make the American team since Lexi Thompson in 2010.
The other Americans selected for the team are UCLA star Lilia Vu, Andrea Lee, Jennifer Kupcho, Kristen Gillman, U.S. Women's Amateur champion Sophia Schubert, Lauren Stephenson and Mariel Galdiano.
Lee and Galdiano played in the most recent Curtis Cup, which Britain & Ireland won in Ireland.
As the world turns
For the second time since the World Golf Championships began in 1999, the PGA Tour is converting one of its regular tournaments into one of the four WGCs with a big purse ($10 million this year) and a limited field with no cut.
Doral had been longest-running PGA Tour event on the Florida Swing until it morphed into the WGC-CA Championship in 2007.
Now it's happening in Memphis, Tennessee.
Bridgestone chose not to renew its increasingly expensive title sponsorship of the WGC at Firestone, which had hosted an elite event since 1976. Starting next year, the WGC-FedEx St. Jude Invitational will move to the TPC Southwind in Memphis.
That will assure the strongest field for Memphis, which dates to 1958. But much like Doral in 2007, it becomes off-limits to PGA Tour regulars.
Based on this week's world ranking, only 16 players in the field for the St. Jude Classic last year would be eligible at a World Golf Championship.
Balance at the top
Each generation believes it had stronger and deeper competition, though there at least appears to be more balance.
Perhaps one way to measure that is through Tiger Woods.
When he won the 2008 U.S. Open for his 14th major, only seven other players in the top 20 in the world ranking had combined for 13 majors. Phil Mickelson (No. 2), Ernie Els (No. 5) and Vijay Singh (No. 9), each had three majors. Geoff Ogilvy (No. 4), Jim Furyk (No. 10), Padraig Harrington (No. 13) and Trevor Immelman (No. 15) each had one.
Just like then, four of the top five in the world have won majors (all but 23-year-old Jon Rahm).
However, 12 of the top 20 in the world from this week's rankings have won majors. The top 20 includes Mickelson (now with five majors), Rory McIlroy (four majors), Jordan Spieth (three majors) and Bubba Watson (two majors). Eight other players have won at least one major.
It's certainly younger at the top.
Woods was 32 when he won his last major, and only three players from the top 10 were in their 20s – Scott, Sergio Garcia and Justin Rose. This week, seven of the top 10 in the world are in their 20s.
Management moves
Jordan Spieth's manager has come full circle and is returning to IMG, and Jay Danzi is bringing his top client with him.
Danzi has become a partner with California-based William Morris Endeavor, which owns IMG. Included in the move is Jordan Lewites, who was handling much of Spieth's day-to-day operations, and Laura Moses, who heads up Spieth's foundation.
Spieth will be represented by WME and IMG.
"Jordan is a world-class talent, and we're excited to welcome him to the family," said Patrick Whitesell, executive chairman of Endeavor. "When you look at what he and Jay have already accomplished and consider WME and IMG's ability to amplify Jordan's reach across entertainment and sports, the possibilities are endless."
Danzi previously worked for IMG as global head of recruiting for its golf business. He left the Cleveland-based agency for Wasserman, and then started his own company (Forefront Sports Group) when he signed Spieth. The centerpiece of getting Spieth was a bold endorsement with Under Armour.
Lagardere bought Forefront in 2013. Along with managing the three-time major champion, Danzi was in charge of Lagardere's brand consulting, sales and golf consulting groups. He left Lagardere last month.
Divots
Ted Potter Jr. tied for 16th in the RBC Heritage, notable because he had missed his last five cuts dating to his victory in the AT&T Pebble Beach Pro-Am. … Satoshi Kodaira was the first player without PGA Tour status to win a regular PGA Tour event since Arjun Atwal at the Wyndham Championship in 2010. … Cameron Smith, a 24-year-old from Australia, tied for 32nd at Hilton Head last week and moved past Jack Nicklaus on the PGA Tour career money list. … Bryson DeChambeau moved into the top 50 in the world ranking for the first time, at No. 48. … With his tie for fifth in the Masters, Bubba Watson became the 16th player to surpass $40 million in career earnings on the PGA Tour.
Stat of the week
Rickie Fowler has been in the top 10 on the leaderboard in 20 out of the 32 rounds he has played this season.
Final word
"I will probably not wear it every day. But it is special." – Satoshi Kodaira on the tartan jacket he received for winning at Harbour Town.
Local journalism is essential.
Give directly to The Spokesman-Review's Northwest Passages community forums series -- which helps to offset the costs of several reporter and editor positions at the newspaper -- by using the easy options below. Gifts processed in this system are not tax deductible, but are predominately used to help meet the local financial requirements needed to receive national matching-grant funds.
Subscribe to the sports newsletter
Get the day's top sports headlines and breaking news delivered to your inbox by subscribing here.
---