Sports > National sports
Phase one: Richmond set to host races as redesign continues
Tue., April 17, 2018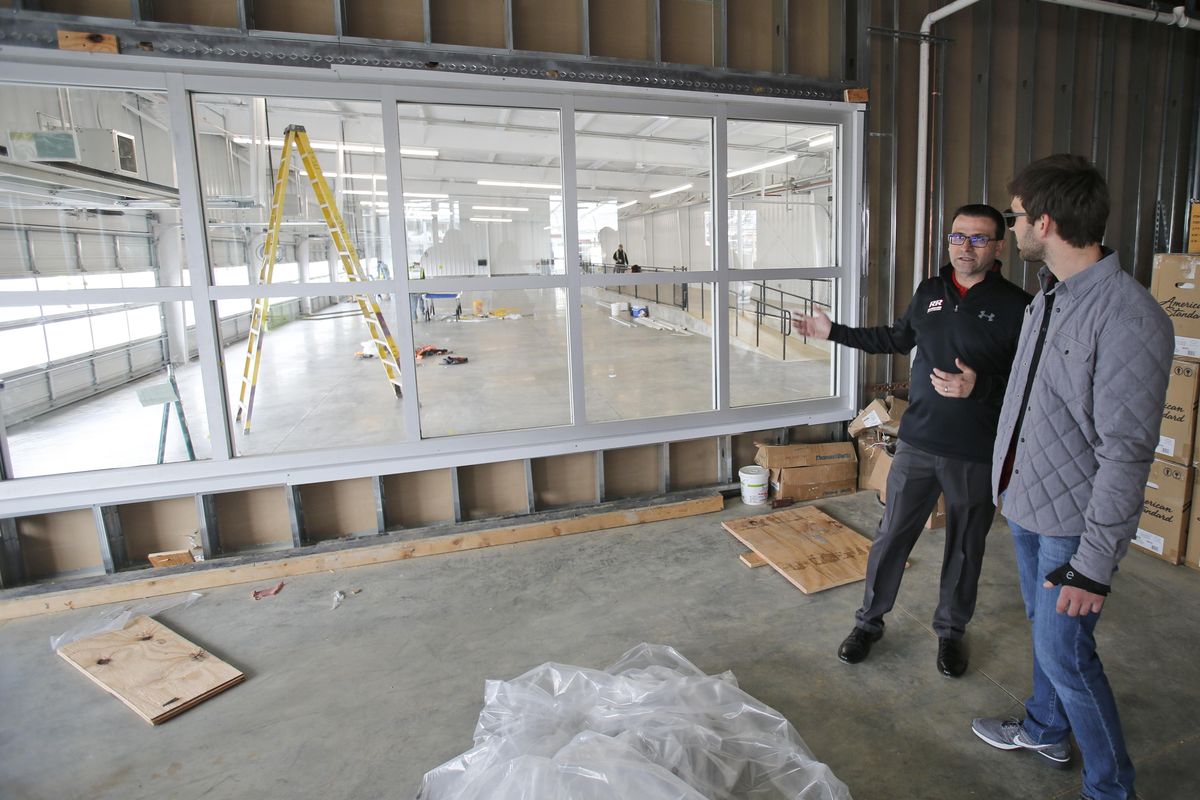 Richmond Raceway president Dennis Bickmeyer, left, talks with NASCAR driver Daniel Suarez in the new garage at Richmond Raceway in Richmond, Va., Wednesday, April 11, 2018. The infield was torn apart after last September's race with a new garage and pedestrian tunnel added. (Steve Helber / Associated Press)
RICHMOND, Va. – Dennis Bickmeier is days away from hosting a NASCAR weekend, and finally able to relax a bit.
For months, the president of Richmond Raceway has admittedly had days where he was afraid to go inside the track, where a $30 million renovation meant the only vehicles making laps were bulldozers, backhoes and steamrollers. Now, with the track hosting NASCAR Xfinity and Cup Series races Friday and Saturday, it's ready.
"Patience has been a little bit tough the last couple of weeks, I would say," Bickmeier said, new asphalt having filled a huge hole in Turn One and more recently replaced the piles of dirt in the redesigned infield. "We know we're going to be ready to go. It's just when you see it, when you're living it every day, it makes you a little bit nervous sometimes, but these guys have done an amazing job on the construction side to get us to this point."
Projects completed include a massive new garage, with a walkway that by the September race will allow 8,000 to 10,000 fans to watch teams work on the car up close. They'll access the infield via a new pedestrian tunnel under Turn One that is almost three times as wide as the previous one.
Also, old bleachers have been redesigned into a party deck area in Turn Four. The area will be called "Climax Corner," and, in a nod to NASCAR's roots, is sponsored by Virginia-based Climax Moonshine. One dollar from every ticket to the party decks will be donated after the race to local fire departments, Bickmeier said.
Once the weekend is completed, much of the infield asphalt will be pulled up and incorporated into concrete that finishes off the second half of the project in time for the fall face. There will be many new amenities added, too, including a party deck overlooking Victory Lane and gathering areas along the front stretch.
Bickmeier knew the redesign would take 18 months, and make the first weekend challenging.
Especially on days when it rained, or snowed.
"We've all been waiting for spring to arrive and so when you come down one day and you see 135 workers on the job site or more, and you come down the next day and there's like 15, it makes you nervous," he said. "I've tried to not come in as much on those days."
It wasn't until last week that visitors were allowed to come into the infield without a hard hat and neon vest, and crews have spent the time since polishing the improvements to make a good first impression on race fans.
"I think they are going to be able to get better contact with the driver and with the team, and that will be an experience," Bickmeier said. "The fans, it's going to be a huge change for them."
Local journalism is essential.
Give directly to The Spokesman-Review's Northwest Passages community forums series -- which helps to offset the costs of several reporter and editor positions at the newspaper -- by using the easy options below. Gifts processed in this system are not tax deductible, but are predominately used to help meet the local financial requirements needed to receive national matching-grant funds.
Subscribe to the sports newsletter
Get the day's top sports headlines and breaking news delivered to your inbox by subscribing here.
---