Sports > WSU football
Draft day: Washington State expecting at least three players to hear names called at NFL Draft
April 25, 2018 Updated Wed., April 25, 2018 at 11:09 p.m.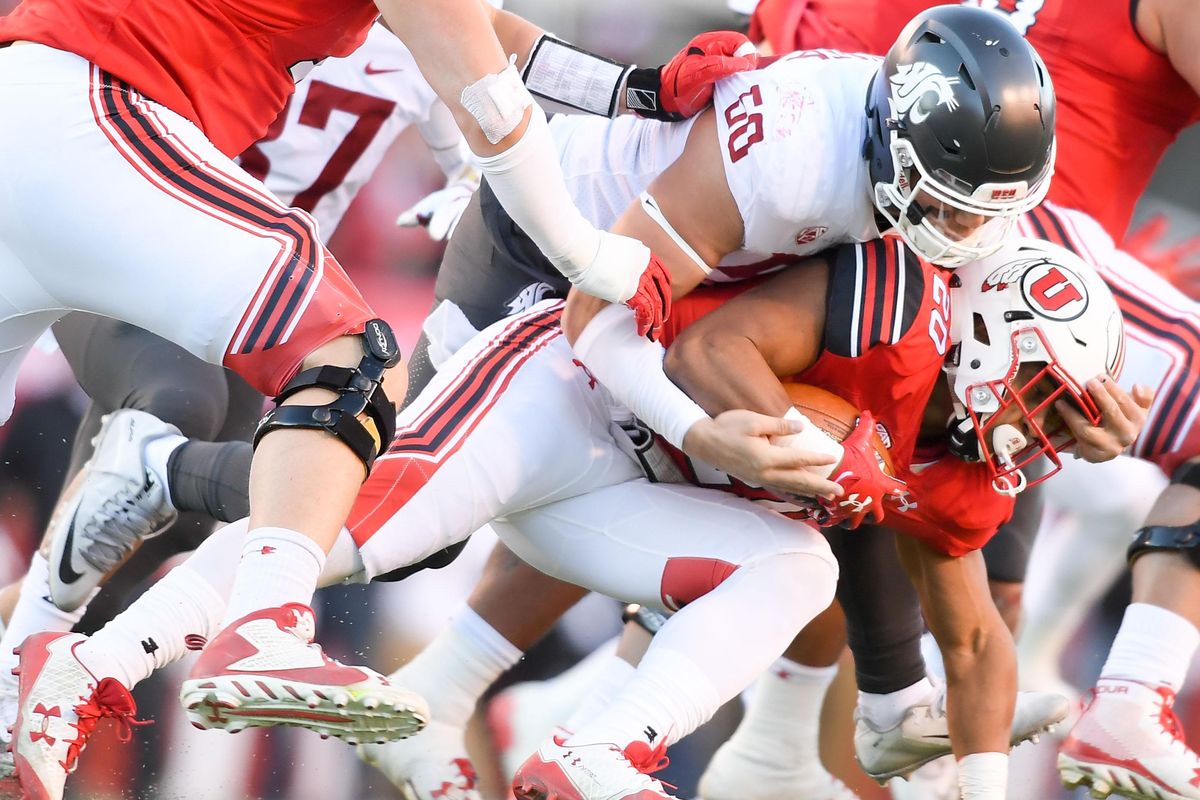 Washington State Cougars defensive lineman Hercules Mata'afa (50) brings down Utah Utes running back Jordan Howard (20) during the first half of a college football game on Saturday, November 11, 2017, at Rice-Eccles Stadium in Salt Lake City, Utah. (Tyler Tjomsland / The Spokesman-Review)Buy a print of this photo
The 2018 NFL Draft gets going Thursday night at AT&T Stadium in Arlington, Texas, and maybe it's fitting that, in the state where everything is bigger, Washington State could have its largest crop of players selected since 2005.
NFL teams snapped up three Cougars that year: cornerback Karl Paymah (Broncos), offensive lineman Calvin Armstrong (Packers) and defensive back Hamza Abdullah (Buccaneers). It's widely expected that three Cougars will be drafted over the course of the next four days. Two more are considered wild cards, so with four draftees, WSU would have its largest batch since 1998, and with five, it would be the most since the six-player class in 1990.
Here's a breakdown of the Cougars who could realize their dreams this weekend.
The locks
Cole Madison, Offensive lineman
As he approaches the most significant day of his football career, Madison rolls out a baseball analogy to explain how he thinks the weekend will play out.
"In my opinion, I've been given this great opportunity and I think I'm going to knock it out of the park," the former WSU tackle said Tuesday in a phone interview. "It's a long time coming, I was thinking about this when I started playing football when I was 8. 15 years of dreams about to come true, so it's really exciting."
Madison's draft position is still a wild card, so while the Burien, Washington, native doesn't plan to watch the Draft in its entirety, he says he'll be glued to television most of Friday and Saturday as rounds 2-7 take place.
Shortly after his name is called, Madison and a group of family members and friends will flock to The Park Public House in downtown Seattle – a bar owned by Madison's cousin – for post-Draft celebrations … and libations.
"Moment of truth coming in a couple of days but I'm really excited, not too nervous, I'll be happy wherever I land," he said.
Wherever that is, Madison knows he'll be asked to shift inside to guard or center. At 6-5, 314 pounds, he's undersized for an NFL tackle, but as a 47-game collegiate starter at right tackle, he's also inexperienced at both of the interior spots.
The Reese's Senior Bowl in January was Madison's first true audition at the positions he hopes to play for a long time at the next level.
"I was playing in the interior but also playing in a pro-style offense and working with plays – not just getting the calls at the line – and sitting in a huddle and listening to a big, long NFL-style play and blocking with tight ends and fullbacks," Madison said. "Showcasing that I could do that was huge."
Madison also wanted to demonstrate his proficiency as a run blocker. In his four seasons at WSU, the Cougars threw the ball 2,887 times and ran it just 1,201, so just like his quarterback, Luke Falk, Madison also wants to demonstrate he can thrive in a balanced offense.
"Coming out of a three-point stance was huge, too," he said. "And run blocking, that was a big thing."
Madison says his favorite part of the pre-Draft process has been building relationships, "be it the guys at the combine, the guys at the Senior Bowl, coaches, previous players. I've really been picking a lot of people's minds about what to expect. Any advice they could give me, which has been great."
One friend he's leaned on has been ex-WSU O-lineman and Spokane native Joe Dahl, who's three years into an NFL career with the Detroit Lions. Dahl's versatility has made him one of Detroit's most valuable assets on the O-line and he's already spent time playing all three positions for the Lions.
"I texted him before the Combine, before the Senior Bowl, before all the visits, seeing what I'm getting myself into," Madison said. "But he's been a rock for me these last couple of months with the advice he's given me. But his biggest thing for me has been, just be yourself and play your game, so that was good."
Madison's visited four NFL teams this spring – the Los Angeles Rams, Washington Redskins, Dallas Cowboys and Seattle Seahawks – and says a handful of others have shown interest. The Tennessee Titans have called multiple times over the past few weeks, as have both Bay Area-based clubs, the Oakland Raiders and San Francisco 49ers. Atlanta Falcons general manager Thomas Dimitroff and assistant general manager Scott Pioli both attended Madison's workout with the Falcons.
NFL.com's Mike Mayock lists Madison among his top-100 prospects, ranking the WSU tackle at No. 95, indicating he could be selected in the first three rounds. Chad Reuter of NFL.com has Madison coming off the board in the third round, with the 99th overall pick, to the Denver Broncos. ESPN's Todd McShay released a list of his top-300 prospects and ranked Madison No. 101.
Luke Falk, Quarterback
Most experts project the Cougars' record-breaking passer to be selected sometime on Friday or Saturday, but Falk thinks the later stages of his Thursday night could potentially get interesting.
"I feel like there's a shot to go in the late first round," Falk told ESPN's Adam Schefter in a podcast taped earlier this week. "But really, I think I'll be taken in the second."
Many of Falk's Air Raid predecessors have laid the groundwork, but the former WSU signal-caller hopes he can further change the stigma pinned to the QBs that trace their roots back to Hal Mumme and Mike Leach's offense.
"The Super Bowl was played by guys running stuff very similar to ours, both teams," Leach said following WSU practice last Thursday. "Green Bay does, too. Pittsburgh does, Dallas does. I mean a lot of them do, so I think (Falk) translates good to all of them."
Philadelphia's Nick Foles was recognized as the first Air Raid quarterback to win the Super Bowl, but Leach notes: "Really we had two because New England went the year before and threw it, what, 93 times or something."
Well, just 63, but Leach's point still rings true.
Falk also suggests he shouldn't be lumped into the same category as other Air Raid quarterbacks. Leach's model of the offense gives the QB more autonomy – and therefore more pressure – at the line of scrimmage.
"I think I had more on my plate on the line of scrimmage in terms of being able to get us into the right run checks and getting us in the right calls at times," Falk told Schefter. "Coach Leach's biggest thing was to get us into a play that had great value. I think from that standpoint, I'm a pure passer and I think I have a lot of things that translate for me to be a franchise quarterback. I'm very confident."
If Falk is selected on Thursday, the 2018 Draft could match the 1983 Draft for most QBs taken in the first round. This class is particularly top-heavy and features a few of Falk's rivals in the Pac-12, USC's Sam Darnold and UCLA's Josh Rosen, and a fellow former walk-on, Oklahoma's Baker Mayfield. (In the podcast, Schefter notes Falk went 2-0 against Darnold and Rosen in college).
Falk's name doesn't appear on Mayock's top-100 list, but NFL.com's Peter Schrager projects he'll go to the Cincinnati Bengals with the 13th pick of the third round. Reuter thinks Cincy will wait until the fifth round to grab Falk, with the 151st overall pick, while ESPN's Mel Kiper anticipates the WSU QB falling to the New England Patriots in the third round. McShay considers Falk the 96th-best Draft prospect and writes that he "has NFL-starter potential. He's a tall, lean rhythm passer with very good anticipation, accuracy, and pocket presence."
Said Madison of his former teammate: "That kid's just a pure winner and a leader. He worked his ass off his entire college career, coming from a walk-on to breaking all the records. It's not just him being the Air Raid system quarterback, he's the smartest football player I've been around with the things he knows and notices during games and be able to make adjustments on the fly. The IQ on that kid is unbelievable."
Hercules Mata'afa, Edge rusher
Throughout pre-Draft proceedings, NFL analysts, critics and many scouts have docked points from Mata'afa because of his size – he lacks it, they claim – and his position at the next level – he doesn't have one, according to the prognosticators.
Those things could keep the WSU defensive tackle in suspense all day Friday and well into Saturday, but Mata'afa's speed, ferocity and technical ability – not to mention the 22.5 tackles-for-loss he turned in last season as a junior – will be assets that are too hard to turn down as the weekend progresses.
"He's such a hard worker and he loves the game of football," Cougars defensive line coach Jeff Phelps said. "An owner's going to see that, a GM's going to see that I think and they're going to give him an opportunity. He may not be playing defensive line, he may be a linebacker, but I'll tell you, wherever they put him, they're going to get a great young man that once again loves the game of football."
At 6-2, 254 pounds, Mata'afa may not possess the girth or strength to be an every-down player on an NFL defensive line, but he has plenty of folks who'll vouch that he can be.
"No matter how you judge it, his size, whatever you want to say about him, he's doing it to guys who are 300-plus at this level," WSU defensive lineman Nick Begg said. "I think he's going to do it at the next."
Nevertheless, Mata'afa will still have an opportunity to disrupt the quarterback at the next level – an art he perfected last season in Pullman, racking up a conference-leading 10.5 sacks on route to becoming an All-American. Chances are, he'll just have to do it from a different launching point.
Mata'afa could transition to a hybrid Rush linebacker role or slide back into a strict middle linebacker position. He could potentially play defensive end in designed pass-rushing packages, but his versatility promises to be a massive upside wherever he winds up.
"They're getting an animal," Begg said of the team that picks Mata'afa. "He's a beast. … He's the kind of guy you want on your side of the ball."
Pro Football Focus is high on Mata'afa and suggest the Hawaiian is a top-60 prospect. Reuter projects that he'll be snagged in the fifth round, with the 140th overall pick, by the Indianapolis Colts. On McShay's list of 300, Mata'afa checks in at No. 140, which also translates to the fifth round.
On the cusp
Cody O'Connell, Offensive lineman
His size is impressive, his accolades even more so. What's kept the unanimous All-American out of most mock drafts and off almost every top-100/300 list is his lack of agility and lateral speed – perhaps the only downfalls of being a 6-9, 363-pound offensive tackle. A certain video revealing O'Connell's mishaps as he completed an obstacle course at the East-West Shrine Game probably didn't help his cause, either.
But again, the accolades are the accolades and the size is the size. If an NFL team believes it can mold O'Connell over a period of time, he could be a late-round steal.
"His football IQ's really good, he's a smart football player," Madison said. "He works hard, he's strong and he knows how to play the game."
Frankie Luvu, Rush linebacker
Luvu's head-turning senior season with the Cougars – one that saw him move from inside to Rush linebacker – has not gone unnoticed by some NFL suitors, who've reportedly shown late interest in the Tafuna, American Samoa, native. Luvu was explosive for the Cougars in 2017 with 6.5 sacks, 12 tackles-for-loss, two interceptions, two fumble recoveries and one pass breakup.
The Oakland Raiders and Detroit Lions have both reportedly brought in Luvu for official team visits.
UDFA possibilities
Jamal Morrow, Running back – Morrow's versatility and charisma could both go a long way in an NFL camp.
Tavares Martin Jr., Wide receiver – There's a few red flags and while he didn't post strong numbers at the NFL Combine, Martin Jr. did enough in three years at WSU to warrant a camp invite.
Robert Taylor, Safety – The Bay Area native told Cougfan.com he recently worked out with the San Francisco 49ers.
Marcellus Pippins, Cornerback – Was a shutdown corner in front of NFL scouts at the Tropical Bowl and recently worked out for the Raiders and 49ers.
Erik Powell, Kicker – Standout senior season (20-of-24 on FGs with three 50-yard kicks) should earn the four-year specialist a free agent deal somewhere.
Gerard Wicks, Running back – His frame and running style translate well to the NFL and he recently worked out for the Kansas City Chiefs.
Local journalism is essential.
Give directly to The Spokesman-Review's Northwest Passages community forums series -- which helps to offset the costs of several reporter and editor positions at the newspaper -- by using the easy options below. Gifts processed in this system are not tax deductible, but are predominately used to help meet the local financial requirements needed to receive national matching-grant funds.
Subscribe to the Cougs newsletter
Get the latest Cougs headlines delivered to your inbox as they happen.
---