From coworking spaces to who is and isn't working a gig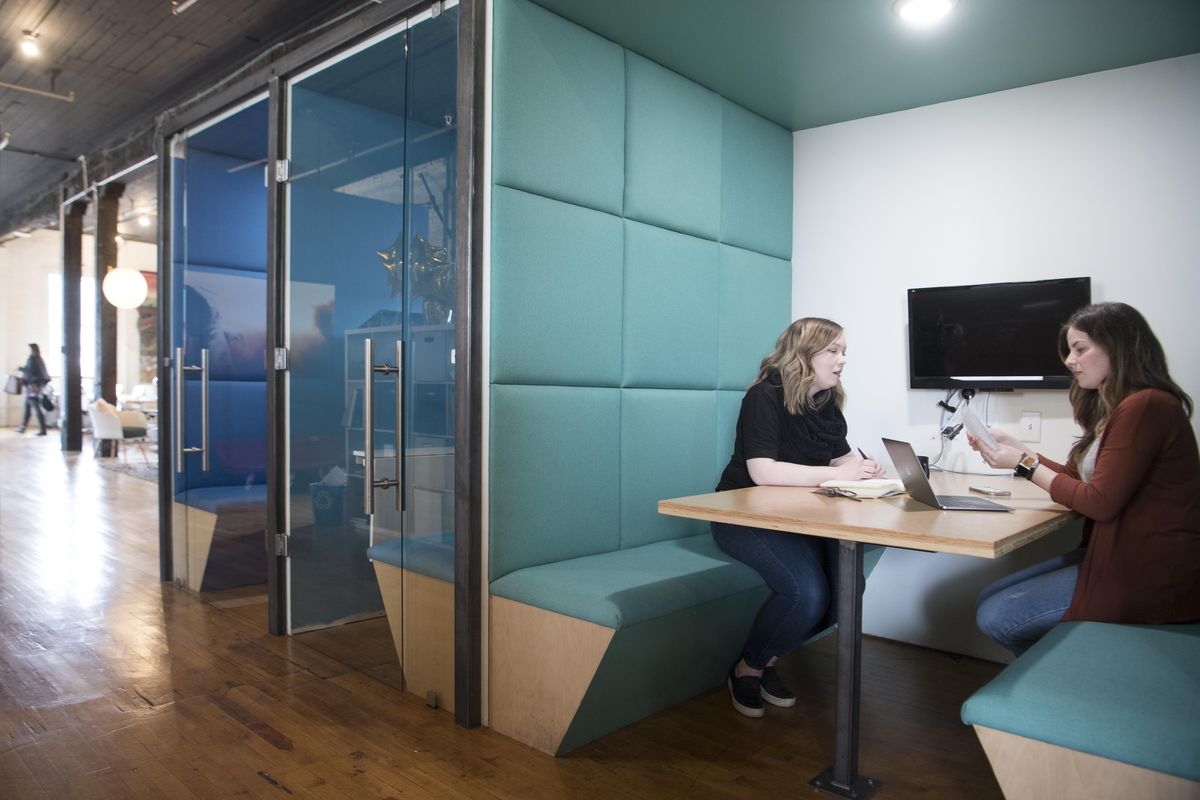 On one side of the room, individuals sit scattered among the rows of work tables, typing away and talking to their neighbor. Others are filling their cups with fresh coffee around a large kitchen island.
Across the room, private booths are taken up by those seeking a little more privacy for a business call.
And around the corner, a team is talking over its latest project. This isn't a typical office, though.
Members are freelancers, small-business owners, contract-based employees and startups. Some industry experts would clump them into the "gig economy." But ask them, and they may say differently.
Compared to, say, Uber drivers, Etsy sellers or those on sites such as Postmates or TaskRabbit, defining the gig economy and measuring its impact against part-time or self-employed workers can prove to be a difficult task. Currently, the federal government doesn't have an accurate way to track such job fields in its surveys, and some workers may not even know the best way to label themselves.
One thing is certain, though – the game is changing for independent workers, with the evolution of work spaces and technology.
Coworking
Fellow Coworking consists of more than 80 members, ranging from architects to painters, engineers, designers, leaders of tech start ups, financial advisers, lawyers or professors, and many more. Memberships come in all sizes, from a one-day-a-week, $54 monthly membership to a permanent desk for $325 a month. Members are provided the amenities of a traditional office including Wi-Fi, coffee, workstations, printing and conference rooms.
Amanda Dixon, community manager at Fellow Coworking, said the business, now 2 years old, started in a 1,100-square-foot space a few blocks from its current location in the historic Washington Cracker Co. building at 304 W. Pacific Ave., which is five times larger.
"It sounds so ideal," she said, "but very few people thrive working from home."
But for a monthly membership, these independent workers, small businesses and freelancers are able to reduce their overhead costs, have a professional setting to host clients and pull from a varied pool of ideas and expertise.
Across downtown, Praxis Coworking opened roughly three months ago and is still in the early phases of growth with six members. The 3,500-square-foot space in the Holley-Mason Building on Howard Street allows members to rent 30 square feet of work space along with access to the common-use areas of the office for $275 a month.
"It is all the amenities of a large office with none of the risk," said Praxis co-founder Robbi Anthony, noting the coworking space includes a conference room, studio, basic office necessities, kitchen space and a space for after-hours gatherings. "I like to say people come for the rent and stay for the community."
The perks
Julia Derosier, of Don and Julia Photography, said they've been a Praxis Coworking member for only a few months after having run their 5-year-old business out of a downtown studio and most recently, their home.
"It is nice to have a space away from home," she said. "It helps with the work-life balance."
Derosier said they previously rented a studio space in the same building they lived in, but when they decided to move, they lost the bundle deal that gave them the studio.
If it wasn't for Praxis, she said, they would probably be working at coffee shops or the library, "but there's only so much coffee you can drink."
On top of providing a physical work space, coworking allows professionals from all fields to come together in ways traditional offices or independent businesses aren't able to.
Benji Wade, co-founder of Fellow Coworking and founder of Treatment, a creative services and advertising agency in Spokane, said the connections members are able to establish at Fellow Coworking is the most interesting aspect.
"It is really exciting how it happens," he said. "That story is the most powerful one about this space and business. … We have created far more pathways to work together. It is not a centralized institution, but these are things that impact the community."
And they extend beyond the office, too.
"Here we do a lot to foster community for our members," Dixon said. From lunches together every Thursday and collaborating on projects to the friendships that have formed, she said the atmosphere is very positive.
"It is a very organic way to foster networking," Dixon said, which she expects to help further grow coworking spaces.
Members hold many jobs and positions, in and out of the main work they do from their Fellow Coworking space, Dixon said. The joke is that everyone has a job that makes money – one for fun and a nonprofit where they sit on the board, she said.
Members of coworking spaces aren't the traditional 9-to-5 workers but are part of a growing area of independent employment that remains a puzzle for those in it, economy experts and the federal government.
Gig vs. independent
From Uber drivers to freelance tech gurus, Etsy sellers, adjunct professors or consultants and those on sites such as Postmates or TaskRabbit, the growth of professionals venturing out on their own is on the upswing.
Advances in technology have allowed individuals more freedom to work remotely, launch their own businesses and connect with customers via a single button on an app.
According to MBO Partners' "The State of Independence in America" report in 2017, the number of self-employed Americans age 21 and above rose to 40.9 million, up 2.8 percent from 2016. MBO Partners estimates that by 2022, that number will rise to 47.6 million, aided by an evolving infrastructure of products, services and programs, a strong market and as success of side gigs is seen.
"Now more than ever, it is apparent that people are independent by choice, and that there is no 'standard' portrait of an independent worker. Independents are not just an undifferentiated mass of young Uber drivers, those working because they can't find full-time jobs, or older quasi-retired consultants. Rather, independents … are distributed across every demographic, age, gender, skill, and income group," the report states.
The most complete federal data on the gig economy, however, isn't expected until later this year.
" (The federal government will) have to reclassify our whole survey process," said Ryan Herzog, an associate professor of economics at Gonzaga University. "Being able to classify jobs as gig, full time or part time … we don't have those questions built into our survey."
Some experts in the field use the term freelancing, others contractors, and yet others prefer small business while some clump them all together under the umbrella of the gig economy. But ask those at the coworking spaces if their members are part of the gig economy and the answer will likely fall somewhere along the lines of "maybe?"
Defining what and who fits remains a bit murky. The Brookings Institution defines the gig economy as "the matching of freelance workers or service providers to customers on a digital platform or marketplace," while others may say the connection doesn't need to be made online or via a smartphone.
Still others, such as Marion McGovern, author of "Thriving in the Gig Economy,"define it as people working in alternative ways than the traditional full-time career society has come to understand.
McGovern breaks it down as a pyramid view to better understand the complexities. At the bottom she places on-demand-type services like drivers and delivery workers. The next step up would include more personal services the consumer wants a bit more knowledge about, such as handymen and videographers. And the top tier, she said, would include professionals in a specialized field such as scientists, lawyers, coaches and makeup artists.
Herzog agrees a lot of gray area exists when it comes to defining gig economy, but he views it as someone who is working on a more voluntary basis or doing the work as a second income. He said by his understanding, a contract worker by comparison is "essentially replacing a core function" of what a company needs, such as contracted FedEx drivers or a company employing contracted IT specialists.
"Contract workers have no control over their rate, but with Uber and TaskRabbit, you have some control. So to a degree, if you are using the gig jobs as a side job, you are self-employed, but when you're a contract worker you are part of a company," Herzog said.
To Dixon, the Fellow Coworking community manager, the freelance and contract-based members at Fellow Coworking are different than gig workers because gig working is much broader, typically falling into a random and temporary style of work.
For Wade, he sees gig workers as individuals trying to make ends meet through a variety of odd jobs.
"It is nowhere where anyone wants to be," he said. "I hope it (the term gig economy) goes away."
---