Sports > Outdoors
2018: The year outdoors
Dec. 29, 2018 Updated Sat., Dec. 29, 2018 at 9 p.m.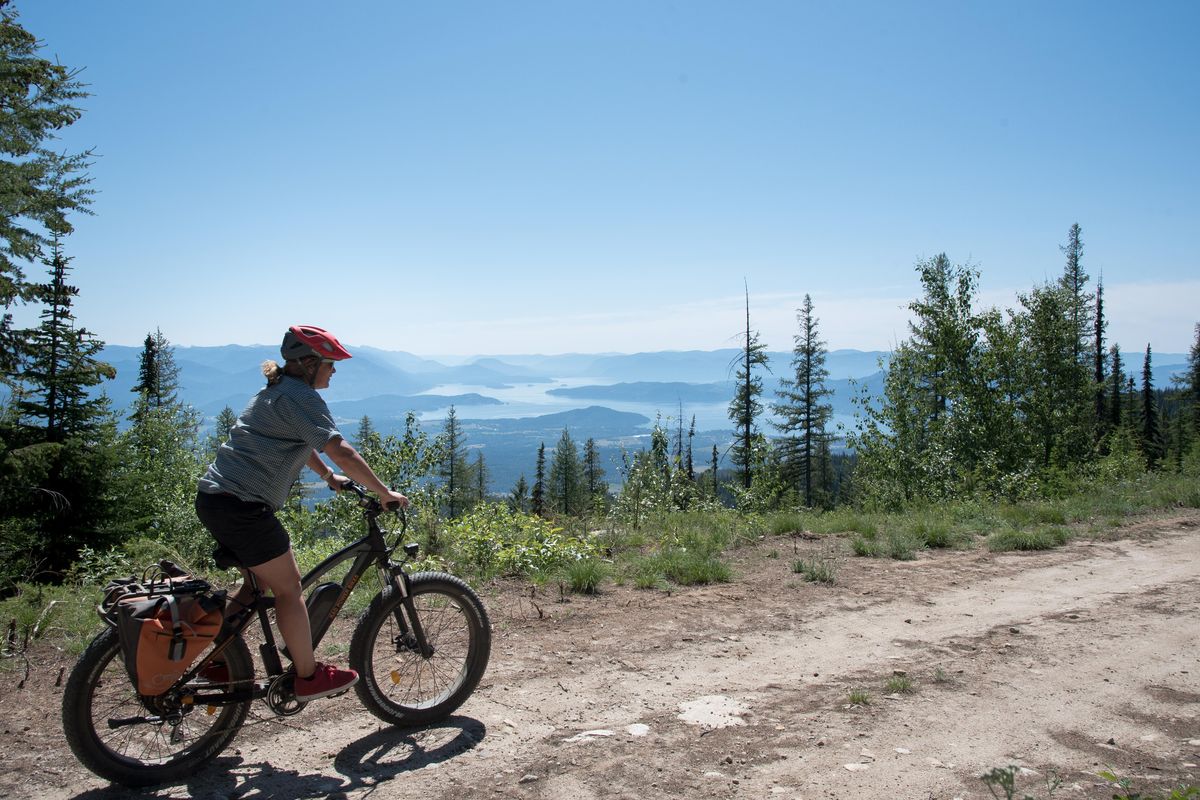 Dani Demmons ride an electrically assisted mountain bike on Monday July 16, 2018. Demmons leads Schweitzer Mountain Resort's hosted e-bike mountain bike tours. The two-hour tour takes participants on a roughly 10-mile loop and is perfect for people new to biking or who aren't in the best shape. (Eli Francovich / The Spokesman-Review)
From mountaintops to kayaks, the Pacific Northwest is heaven for outdoor enthusiasts. That bounty means there is no shortage of outdoor stories.
This year, those stories ranged from the inspiring to the concerning. Stories published in The Spokesman-Review's outdoor sections highlighted the brilliance of human adventure and dove into the politics and details of environmental policy, conservation and wildlife management.
Below is a recap of some of the year's most important stories starting with everyone's favorite subject: recreation.
Recreation
First off, Mt. Spokane Ski and Snowboard Park's long-planned expansion debuted in December with skiers hitting 279 new acres.
Closer to town, Evergreen East Mountain Bike Alliance announced plans to build a pump track on Beacon Hill. Construction started, although the track won't be complete until 2019.
A bit farther afield, the Ferry County Rail Trail moved forward after county commissioners approved the next stage of the project in May.
Schweitzer Mountain Ski Resort broke an all-time resort snowfall record during the 2017-18 season. The Idaho resort had 417 inches of total snow, surpassing the previous record of 412 inches during the 1998-99 season.
Playing outside got only easier with the Pacific Northwest Forests app. The phone application covers national forests in Washington and Oregon and gives users information about trails, campgrounds, permits, weather, fire, recreation activities, frequency of use and more.
Trail work started at Mica Peak in June. Meanwhile, the Vision Quest trail opened near Newman Lake and in Idaho, trail work started on the 518-acre Post Falls Community Forest.
Colville photographer Joanie Christian won a coveted Denali Road Lottery spot. The nature photographer returned with breathtaking photos from the national park.
Spokane retirees Hank and Kathy Greer hit the road in a 16-month bike quest in June. As of Dec. 20, they were in Florida, although they flew back to Spokane to celebrate the holidays with their family and friends. Their adventure will resume in January.
E-bikes debuted at Schweitzer and the Lime bike and shooter sharing program came to Spokane for two months. More than 35,000 people rode the bikes and scooters, traveling 128,000 miles.
It wasn't all good news with the ever-present danger of outdoor recreation brought into sharp focus in July when one person died and two were injured when a guided-tour raft overturned on the Spokane River near the Bowl and Pitcher area of Riverside State Park.
The accident occurred when two passengers on one of the rafts were caught off balance when the raft hit a current, and they fell into the water. The passengers who had gone overboard grabbed onto a perimeter rope running around the raft, and the current pushed the boat into a rock. It capsized. The woman who drowned was visiting from Colorado.
Conservation
An American-based nonprofit gave the Chilean government more than 1 million acres of land in March, helping to create a sprawling protected park area about the size of Switzerland.
The donation was one of the largest private land gifts. Spokane native and part-time resident Nancy Schaub had a hand in it all.
The Washington Fish and Wildlife Commission approved the final purchase of a 20,000-acre acquisition in February. The 20,000-acre wildlife area will be named the Big Bend Wildlife Area. Much of that land is 7 miles downstream from Grand Coulee Dam.
The Puget Sound chapter of Pheasants Forever donated 94 acres of land to the Washington Department of Fish and Wildlife in September. The donation connects WDFW's 2,291-acre Revere Wildlife Area with the 14,000-acre Bureau of Land Management Escure Ranch, creating a haven for waterfowl hunters and bird watchers.
New wildlife undercrossings and overcrossings opened on I-90 near Snoqualmie Pass. The animal crossing will connect the north and south Cascades, two ecosystems long fragmented by the state's busiest road.
Salmon returns were miserable, prompting a rare fishing closure on the Columbia River in September. In November, Idaho Fish and Game announced that the spring steelhead season would be closed due to the threat of lawsuit. Just days before the closure was set to begin, an agreement was made between IDFG, conservation groups and sport anglers to keep the spring season open.
In July, starving orcas in the Puget Sound garnered international attention and spurred calls for Washington to more effectively protect salmon. In December, a task force convened by Gov. Jay Inslee recommended studying breaching dams on the Snake River.
In November, Idaho fish managers got some good news when three adult coho salmon, the first from an effort by the Nez Perce Tribe to re-establish an extinct run, returned to the Lostine River.
Late in December, President Donald Trump signed into law a bill allowing state agencies to kill sea lions blamed for feeding on salmon.
There were no bright spots for mountain caribou, however. In the spring, biologists discovered that the South Selkirk caribou herd had only three surviving members, all female. In November, Canadian wildlife officials announced that they would relocate the surviving members of the herd farther north, effectively removing caribou from the Lower 48 despite decades of conservation work.
Northern Pike continued to make their way down the Columbia River system. Spokane Tribe of Indians fish biologists caught a 45-inch-long, 27.5-pound northern pike in November. The Colville Tribe, one of the three managers of Lake Roosevelt, caught a pike 10 miles from Grand Coulee Dam. The invasive pike pose a threat to native fish populations, including salmon.
A surging walleye population in Lake Pend Oreille worried biologists and some anglers. According to biologists, the lake's walleye population is doubling every three years. That's not good news for the lake's kokanee fishery.
Voters in Bonner County rejected the proposed 13,000-acre Scotchman Peaks Wilderness area in a May advisory vote. Although the vote has no legal significance, the outcome prompted Sen. Jim Risch, R-Idaho, to not reintroduce legislation that would have created the wilderness area.
Cougars were on everyone's minds in 2018 with a series of high-profile – and in one case deadly – sightings and attacks. Former S-R editor Rich Landers shared his insights on surviving encounters with dangerous wildlife and in March biologists captured and tagged a massive cougar north of Chewelah. The big cat weighed 197 pounds.
Perhaps most worrisome, a U.N. climate change report in October gave the world a dire diagnosis. According to the report, humanity must now make unprecedented changes in energy, transportation and other systems during the next decade to hold global warming to moderate levels. In November, voters rejected a proposed carbon fee initiative in Washington after major oil companies pumped more than $30 million into the no campaign.
At the same time, warming Washington waterways continued to stress fish. In July, temperatures in the lower Yakima River exceeded 80 degrees, lethal for fish species like sockeye.
Management
Riverside State Park may expand after the Washington State Parks and Recreation Commission gave park staff a green light in July to consider adding properties to the park, including the Waikiki Springs property, the Lake Spokane campground and the McClellan Conservation area.
The Washington State Parks and Recreation Commission voted unanimously to rename the John Wayne Trail in May. The cross-state trail is now called the Palouse to Cascades State Park Trail, which many noted, is quite the mouthful.
In February, Idaho fish managers decided that Priest Lake's abundant lake trout population would not be suppressed despite some concerns the trout were damaging efforts to revive the lake's kokanee population.
The Washington Department of Fish and Wildlife introduced simplified statewide fishing rules in July. Among many changes, the new rules made a number of Spokane-area lakes year-round spots. Anglers greeted the news happily while some resort owners worried it would hurt the bottom line.
Wolves continued to be a contentious issue. The state's wolf population increased for the ninth consecutive year. Wolves also killed and injured cattle in Northeast Washington with some ranchers and politicians calling it the worst year. WDFW responded by, for the first time, ordering the killing of wolves from three separate packs. The Center for Biological Diversity and Cascadia Wildlands filed a lawsuit seeking a restraining order to stop the killing in August. The lawsuit alleged that WDFW "relied upon a faulty protocol and failed to undergo required environmental analysis."
A famous Yellowstone wolf was legally killed by a hunter in November, eliciting some public outcry. Local photographer Craig Goodwin shared his experience photographing the famous wolf nearly a year prior to its death.
In March, Yellowstone National Park banned felt wading boots in an effort to block the spread of aquatic invasive species.
Washington increased its commitment to stopping aquatic invasive species with the opening of its first permanent watercraft check station. There were several close calls, with Montana officials finding invasive zebra mussels clinging to a boat headed toward Washington.
In April, for the first time, elk hoof disease was documented east of the Cascades. Lab results and observations by wildlife managers indicated that elk hoof disease has reached the Trout Valley of Klickitat County.
In January, the U.S. Fish and Wildlife Service proposed delisting Canada lynx, much to the surprise of Washington State biologists who study the elusive big cats. That was one of several changes either proposed or enacted to the Endangered Species Act.
For instance, a set of new rules proposed by President Trump would, among other things, make it so Endangered Species Act protections don't automatically apply to species designated as "threatened," and the Department of the Interior would develop estimates of the economic impact of designated areas as critical habitat for endangered species, instead of following past rules of putting sole focus on the role of habitat in supporting endangered populations.
In November, the House of Representatives voted to delist gray wolves, although that bill likely won't advance through the senate. The Colville National Forest substantially trimmed the amount of proposed wilderness in its draft forest management plan, although that might change.
Washington wildlife officials continued to wrestle with decreasing hunter numbers. With roughly one-third of WDFW's budget coming from hunting and fishing license fees and associated federal money, a nationwide (and statewide) decline in participation left agencies wondering how to make up the difference.
What's next?
One big story to watch in 2019 is how Spokane-area land managers, politicians and land-lovers respond to an increasing human population.
In particular, the Olmstead 2.0 plan offers a hopeful way forward as humans continue to put pressure on the natural world. The Inland Northwest Land Conservancy's effort hopes to coordinate conservation and recreation efforts regionwide.
Climate change will continue to be an important story as the effects on Washington and the region continue to appear.
And wolves will continue to grab headlines. With the population continuing to grow, some believe how the state manages the apex predator must change.
As always, look for stories highlighting the beauty and grace of the natural world.
Local journalism is essential.
Give directly to The Spokesman-Review's Northwest Passages community forums series -- which helps to offset the costs of several reporter and editor positions at the newspaper -- by using the easy options below. Gifts processed in this system are not tax deductible, but are predominately used to help meet the local financial requirements needed to receive national matching-grant funds.
Subscribe to the sports newsletter
Get the day's top sports headlines and breaking news delivered to your inbox by subscribing here.
---