News > Spokane
EWU plans major expansion into Spokane's University District as anchor tenant of Avista's planned 150,000-square-foot Catalyst building
Feb. 6, 2018 Updated Tue., Feb. 6, 2018 at 9:45 p.m.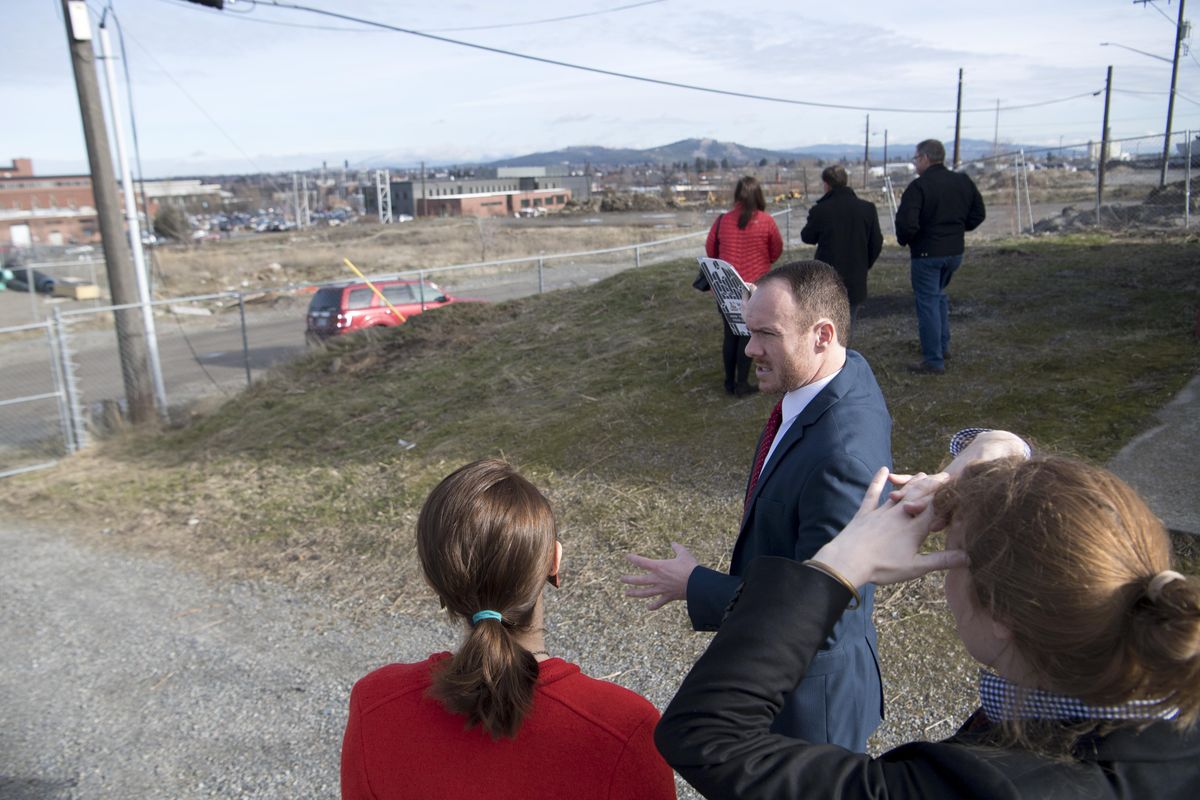 Lars Gilberts, gesturing, director of the University District, points out the large lot on the south side of the railroad tracks in the University District where Catalyst, a development arm of Avista, will build a high tech building which will bring together tech business and University classrooms. The building was announced Tuesday, Feb. 6, 2018. (Jesse Tinsley / The Spokesman-Review)
Eastern Washington University plans to move three degree programs and around 1,000 students from its Cheney campus to a building along East Sprague Avenue – a major expansion of EWU's footprint in Spokane's University District that will allow for more growth in its science and engineering departments.
Construction of the five-story, 150,000-square-foot "Catalyst" building is scheduled to begin in September, with completion expected in April 2020.
The building will rise on a 5.5-acre lot at the south landing of the U-District pedestrian bridge, which is being built over the wide rail corridor that cuts through the area. The lot is owned by Avista Development, a subsidiary of Avista Corp.
"The vibrancy that's happening on the north landing area of the University District is exciting," Avista CEO Scott Morris said at a news conference Tuesday morning. "But remember: The University District begins at Sharp Avenue, and it ends at the hospitals (on the lower South Hill). … So today what we're doing is continuing the vision."
The first of several Avista projects in the area, the Catalyst building will feature environmentally friendly materials, a central atrium, high-tech labs, classrooms, offices and common areas that are expected to foster collaboration among students, researchers and private companies.
The building was designed by Michael Green Architecture of Vancouver, British Columbia. McKinstry, which remodeled the U-District's SIERR Building in 2011, will handle the mechanical and electrical engineering, plumbing, fire protection and more.
The structure will rely on cross-laminated timbers, a super-strong wood product from California-based Katerra. They will be produced at the company's new factory in Spokane Valley.
Avista spokeswoman Debbie Simock said construction will cost more than $50 million.
Plans for the Catalyst building emerged nearly a year ago, but until Tuesday the company had not named any prospective tenants. Katerra will rent some space in the building, but EWU will be the "anchor" tenant, occupying some 57,000 square feet.
Details are still being worked out, but the university plans to move all or parts of its computer science, electrical engineering and visual communication design programs to the new site, along with 40 to 50 faculty members. Upper-division courses are most likely to be relocated.
EWU officials said the move will amount to roughly 1,000 more undergraduate and graduate students in the U-District.
'A major change of direction'
EWU President Mary Cullinan said she jumped at the opportunity when Morris, the Avista CEO, pitched the Catalyst project around a year and a half ago.
"We've been out of space on the Riverpoint campus for some time," Cullinan said.
The campus is home to EWU's College of Health Science and Public Health and College of Business and Public Administration, and the university already has more than 3,000 students taking one or more classes there.
That's nearly twice as many students as Washington State University has in Spokane, although WSU has received much attention for its nursing and pharmacy programs and its new medical school.
"It surprises a lot of people that we actually have more students there," EWU spokesman Dave Meany said.
During the past three years, EWU's total fall-quarter enrollment, including undergraduate and graduate students, has averaged about 12,400. Meany said enrollment has been relatively flat for many years, although it spiked above 13,000 after the housing market crash, when many people sought degrees to improve their job prospects.
For EWU, the Catalyst building is one of two major developments breaking ground this year. After a protracted fight, state lawmakers in January passed a capital construction budget that includes $67 million for EWU's Interdisciplinary Science Center.
The three programs that will move to the Catalyst building are part of EWU's College of Science, Technology, Engineering and Mathematics, which officials said has been growing faster than any other segment of the university. Dean David Bowman said the college granted more than 200 degrees last year, up 60 percent from the 125 degrees awarded in 2012.
Bowman said the move will enable those programs to continue growing and encourage students to explore disciplines that don't explicitly match up with their degrees. In "the real world," he said, the lines are much blurrier between mechanical and electrical engineering, math and physics, biology and geology.
"There are not any walls in the real world," he said.
EWU Provost Scott Gordon said the move will alleviate some crowding at the Cheney campus, where he said some programs are "bursting at the seams." And, he said, it will cater to the needs of employers and encourage talented students to stay and invest in the region.
"The STEM fields are growing because the region's STEM workforce is growing," he said. "Certainly, the pace of change of business is faster than the university can keep up with."
Jim Murphy, a former Spokane County Superior Court judge who sits on EWU's board of trustees, said the Catalyst move represents "a major change of direction for Eastern Washington University."
"All of the board members are very excited about it," he added.
Avista changed course
At the news conference Tuesday, Morris credited Latisha Hill, Avista's senior vice president for development, for making the Catalyst project happen after her predecessor, who had thought up the idea, retired in 2016.
"How fortunate for Avista that we have a woman who is as dynamic and as courageous and as tenacious as Latisha Hill," he said.
Avista bought the land for the Catalyst building in December 2016. Morris said the utility originally planned to build a substation on it, but changed course as the pedestrian bridge came to fruition.
"Avista was very fortunate," he said. "Sometimes it's better to be lucky than good."
Project planners said the Catalyst building will be state-of-the-art in sustainability.
"What we're really trying to do is have a future-proof building," McKinstry CEO Dean Allen said. "This building will be net zero ready. That means it's going to be able to produce all of the energy that it's going to consume."
Katerra says its cross-laminated timbers, made from compressed layers of wood scraps, can replace steel and concrete in high-rises and parking garages. And they can be made from the small-diameter trees crowding Eastern Washington forests, which foresters are eager to thin to reduce wildfire intensity.
Additionally, the building will feature low-flow plumbing fixtures, shower rooms to encourage bicycle commuting, LED lighting, energy-efficient heating and cooling systems, sun shades in the lobby and a gray water system that uses harvested rainwater.
The efforts at sustainability "will make this the very best building in Washington," Allen said. "Period."
Local journalism is essential.
Give directly to The Spokesman-Review's Northwest Passages community forums series -- which helps to offset the costs of several reporter and editor positions at the newspaper -- by using the easy options below. Gifts processed in this system are not tax deductible, but are predominately used to help meet the local financial requirements needed to receive national matching-grant funds.
Subscribe now to get breaking news alerts in your email inbox
Get breaking news delivered to your inbox as it happens.
---