Sports > Gonzaga women
Jill Barta, Gonzaga cruise past Pacific for 15th straight victory
Feb. 8, 2018 Updated Thu., Feb. 8, 2018 at 10:11 p.m.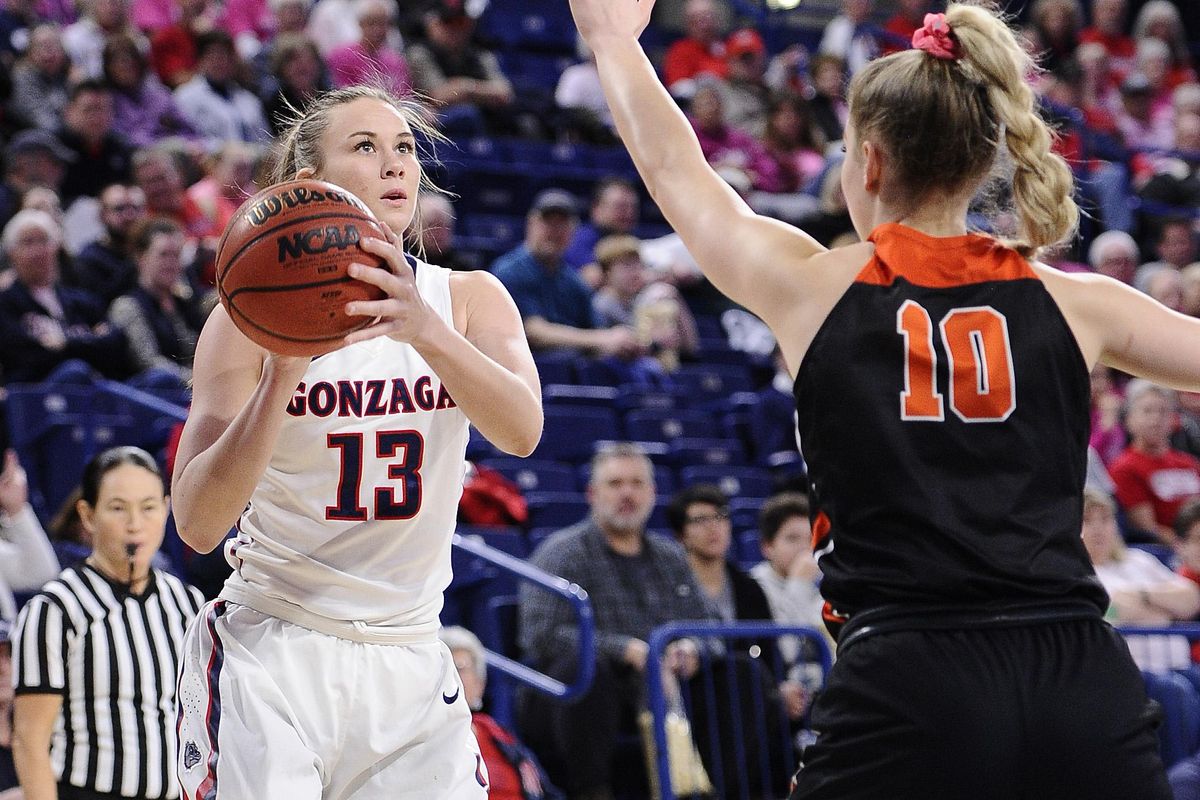 Gonzaga Bulldogs forward Jill Barta (13) shoots the basketball against Pacific Tigers guard Savannah Sumsion (10) on Thursday, Feb. 8, 2018, at the McCarthey Athletic Center. (James Snook / Special for The Spokesman-Review)
The Gonzaga women reached a few milestones Thursday night.
They also shed an annoying millstone – namely the Pacific Tigers, 90-66, before an appreciative crowd at the McCarthey Athletic Center.
Pacific had won two of its three previous visits to the Kennel, but GU's utter dominance in the paint kept the Tigers at bay all night.
"They're a difficult matchup for us, and they will be as long as they stick with that dribble drive," GU coach Lisa Fortier said. "But when they made a few cuts into our lead, our bigs demanded the ball."
Did they ever.
Zykera Rice dominated on the baseline for 13 points on 6-for-8 shooting, Chandler Smith had 12 points and nine boards to narrowly miss a double-double, and Jill Barta did what she usually does.
Dominate.
"I'm always proud of her when she has a big scoring night and she rebounds, or she defends," Fortier said.
On Thursday, Barta did all of the above. Her 10th double-double of the season also was one of her best: 25 points, 12 boards – five of them on the offensive glass. Barta also helped hold the Tigers to 36-percent shooting inside the arc.
GU outscored Pacific 44-18 in the paint and owned the boards 47-33. Up 46-34 at halftime, the Zags never led by less than 14 in the second half.
The Bulldogs' reward was a 15th straight win and 20th of the season as they close in on a second consecutive West Coast Conference regular-season title and 12th in the last 13 years.
The Bulldogs (20-4 overall, 13-0 WCC) lead second-place BYU by four games with five to go.
Saint Mary's, which visits the Kennel on Saturday, is five games back after a 10-point loss to Loyola Marymount on Thursday.
"Confidence is up, but we're looking forward to the next few games," Smith said.
The Zags will go forward without a dear friend.
Sister Laura Michels, a member of the university's ministry team and chaplain for the women's basketball team, died Wednesday.
"Sister Laura is about the happiest person I've ever met in my life," Fortier said. "It's been hard for me personally because she's always told me how proud she was of me, and I know she feels the same way about our players."
Fortier's players felt the loss, too.
"She was sweetest, nicest person," Smith said. "We're going to keep her in our thoughts and prayers."
Despite the adversity, the Zags were strong from the beginning against the Tigers (12-12, 6-7).
GU made six of its first eight shots, turning a 4-all tie into a 13-6 lead.
GU built the momentum from there. Point guard Laura Stockton hit a buzzer-beating 3-pointer and Barta converted after a nifty drive for the first double-digit lead of the night, 18-8 just 4 minutes into the game.
The crowd of 5,384 had little to be upset about other than a questionable call early in the second quarter that sent Stockton to the bench with her second foul.
GU struggled to contain Pacific guard GeAnna Luaulu-Summers, who was 6 for 8 from beyond the arc and finished with 25 points.
"We didn't stop her, but we had our advantages as well," Fortier said.
Besides their dominance inside, the Bulldogs shot 51 percent from the field and 50 percent (7 for 14) from beyond the arc.
Local journalism is essential.
Give directly to The Spokesman-Review's Northwest Passages community forums series -- which helps to offset the costs of several reporter and editor positions at the newspaper -- by using the easy options below. Gifts processed in this system are not tax deductible, but are predominately used to help meet the local financial requirements needed to receive national matching-grant funds.
Subscribe to the sports newsletter
Get the day's top sports headlines and breaking news delivered to your inbox by subscribing here.
---