News > Travel
Five things to know about 'Hamilton'
Fri., Feb. 9, 2018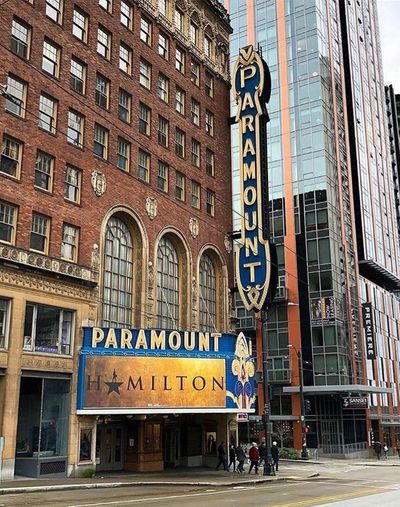 Chance are pretty good that if you've been paying any attention whatsoever to the popular culture in the past three years, you've heard of "Hamilton: An American Musical."
Lin-Manuel Miranda's ground-breaking musical about founding father and inaugural U.S. treasury secretary Alexander Hamilton has earned massive praise for its inventive, multi-ethnic casting and its blending of hip-hop, history and Broadway. It won 11 Tony Awards, the Pulitzer Prize for drama and its original cast recording, released in September 2015, has gone triple platinum. More than three years after its premiere, "Hamilton" remains one of the hottest shows on Broadway. It's also featured in an extended engagement in Chicago and is wowing fans on the West End in London.
So yes, a lot of people like "Hamilton," even if they've not seen it. Which is why when producers announced a second U.S. tour that would launch in Seattle before heading to Portland, Spokane-area theater fans perked up.
Of course, those shows sold out pretty darn quick. Now, there are scattered seats available for most shows through Ticketmaster's Verified Resale program (see www.ticketmaster.com), and fans can win a chance to buy $10 orchestra section seats through the "Hamilton" lottery (see Page 8 for details). Still, with interest running high, we thought we'd take a few minutes to highlight a few things people might want to know about "Hamilton."
1. "Hamilton: An American Musical" is sung through, meaning that most of the show is presented in song and can be heard on the cast recording. Miranda wrote the music, lyrics and book – the story, in theater terms – with orchestrations by Alex Lacamoire. The two had previously worked together on Miranda's first Tony-winning musical, "In the Heights."
2. The story is historical, not history. While Miranda pulled in many elements from the historical record – the Reynolds affair, Hamilton's quarrels with Thomas Jefferson, his creation of a federal banking system, his Caribbean roots and so on – other bits are embellished for dramatic effect.
3. There are now two companies touring "Hamilton" around the United States. The tour that launched in Seattle on Tuesday is called the Philip Tour, named after Alexander's son, Philip, who was killed in a duel in New Jersey at age 19. The first tour, now in Tempe, Arizona, is named after Angelica Schuyler, Hamilton's sister-in-law.
4. The cast recording is amazing. Released in September 2015, "Hamilton: An American Musical" is one of only four cast recordings to make the Billboard 200 album chart in the past 50 years, along with "Dear Evan Hansen," "The Book of Mormon" and "Hair," according to Playbill. As of this moment, it's still on that chart, too, for the 123rd week. It won the Grammy Award for best cast recording and hit No. 1 on Billboard's rap albums chart.
5. The cast recording is not the be all, end all of "Hamilton" music. In December 2016, after the original cast recording had been out for more than a year, Miranda unveiled "The Hamilton Mixtape," which features a variety of artists re-recording songs from the show: John Legend tackles "History Has Its Eyes on You," the Roots get down with "My Shot," Kelly Clarkson sings the lovely "It's Quiet Uptown," and Regina Spektor takes on "Dear Theodosia." The mixtape also includes some original Miranda demos and debuted at No. 1 on the Billboard 200. In 2018 comes a new program, called Hamildrops. Each month, there's new "Hamilton" content released. In January, we got a song cut from the show, "Ben Franklin's Song," recorded by the Portland band Decemberists. In February, they offered up a remix of "I Wrote My Way Out" featuring Royce da 5'9", Joyner Lucas, Black Thought and Aloe Blacc. Both songs are available on various streaming services, including Spotify, Apple Music and YouTube.
Local journalism is essential.
Give directly to The Spokesman-Review's Northwest Passages community forums series -- which helps to offset the costs of several reporter and editor positions at the newspaper -- by using the easy options below. Gifts processed in this system are not tax deductible, but are predominately used to help meet the local financial requirements needed to receive national matching-grant funds.
Subscribe now to get breaking news alerts in your email inbox
Get breaking news delivered to your inbox as it happens.
---