News > Travel
Just the ticket: Things to do while in Seattle for 'Hamilton'
Feb. 8, 2018 Updated Fri., Feb. 9, 2018 at 4:31 p.m.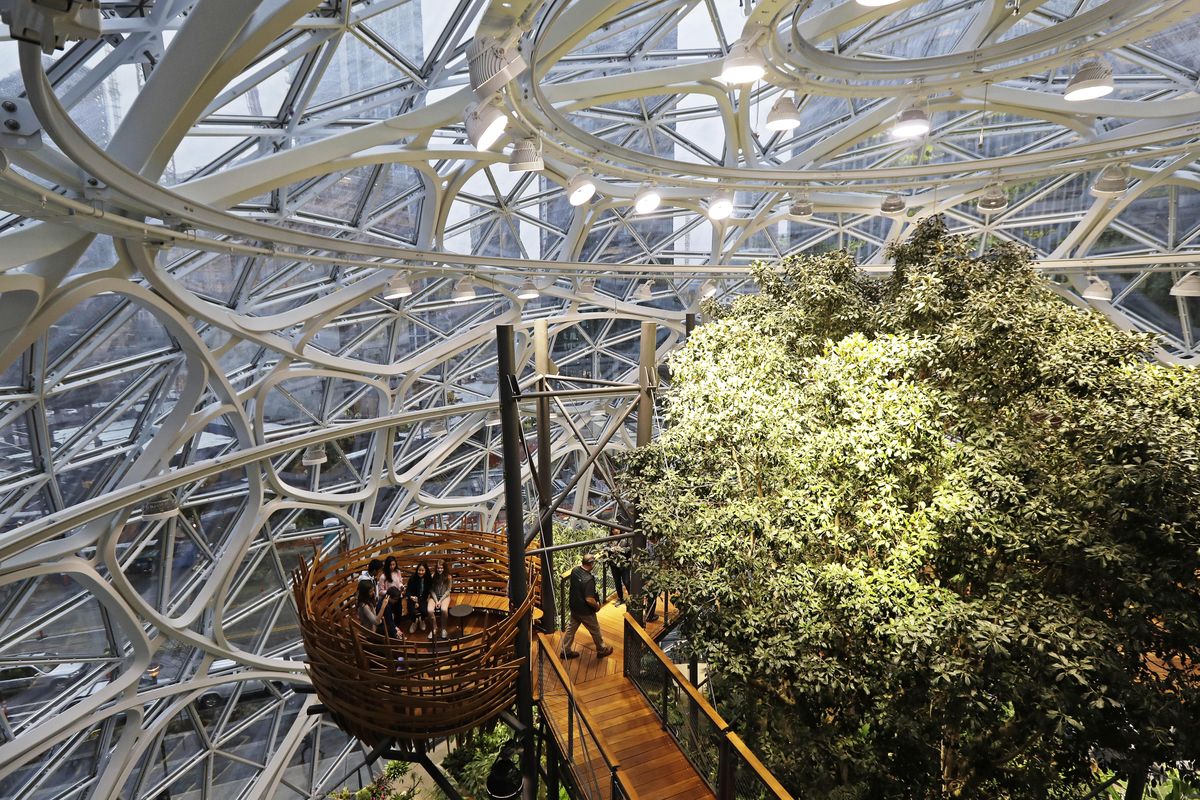 Guests sit in an area of the Amazon Spheres known as "the nest," on Jan. 29, the day of the Spheres' grand opening in Seattle. (Ted S. Warren / Associated Press)
If you're a theater buff, you probably already know that the magic of Broadway descend upon Seattle this past week, as Lin-Manuel Miranda's 11-time Tony Award winning American musical "Hamilton" opened at the Paramount Theatre on Tuesday, for 46 performances running through March 18.
Although most tickets are sold out (or now priced upwards of $300), don't despair if you didn't snag your seats months ago. Producers have announced the #HAM4HAM digital lottery, offering 40 orchestra level tickets for every performance, (excluding a few matinees) for a jaw-dropping $10! Read on for details on how you can enter to win these coveted seats. But meanwhile, here are a few other ideas for exhibits, events and live performances you may wish to consider to round out your upcoming trip to Seattle.
Springtime Arrives Early at the Northwest Flower and Garden Festival
This year marks the 30th anniversary of the nation's second largest garden show at the Washington State Convention Center. This year, its "Garden Party" theme celebrates with 18 full size display gardens created by some of the region's most noteworthy landscape designers, 100 free seminars offering ideas for gardeners of every skill level and a new fast-paced competition between local floral artists in "Floral Wars," when in less than an hour, three elaborate floral creations are made by each contestant. It opened Wednesday and continues through Sunday. Go to www.gardenshow.com for tickets and a full schedule of events.
'La La Land' Comes to Life with the Seattle Symphony Orchestra
Here's a romantic idea for sweeping your Valentine off their feet. On Tuesday and Wednesday – Valentine's Day – the Seattle Symphony Orchestra will perform the Academy Award winning score from the motion picture "La La Land" at Benaroya Hall, alongside the original voice recordings, as the six-time Oscar awarded film plays on a big screen above the orchestra. For tickets and information, go to www.seattlesymphony.org/concerttickets/calendar/2017-2018/symphony/lalaland
National Geographic Live Presents 'Between River and Rim'
Whether you've hiked miles within the Grand Canyon or simply stood gazing in awe on its South Rim, you'll view stunning images and video that will bring you face to face with its glory-and myriad threats this National Park treasure faces. Award-winning writer Kevin Fedarko and photographer/filmmaker Pete McBride will tell of the adventure they shared last year, when the two transected the length of the canyon on foot. National Geographic Live brings noted National Geographic photographers, scientists, filmmakers, and adventurers to audiences around the world to share their behind-the-scenes stories onstage. The pair will be at Benaroya Hall on Feb. 25, 26 and 27, as part of a series presented by the Seattle Symphony. For tickets, visit www.seattlesymphony.org/concerttickets/calendar/2017-2018/nat-geo/benaroyahall/between-river-and-rim
Visit Understory – Amazon's Magical Forest in the City
After years of planning, building and curating an astounding collection of 40,000 specimens of 400 exotic plant species from more than 30 countries, the futuristic Amazon geodesic "Spheres" are finally finished on the tech giant's home campus in downtown Seattle. The 90-by-130foot transparent structure and its two smaller companion spheres were designed to allow up to 800 people a place to think and work in a magical natural landscape-under glass-within the city – complete with a river, waterfalls and tree house meeting rooms. To visit, you can go on one of Amazon HQ's tours at 10 a.m. and 2 p.m. on Wednesdays, or you can reserve a time to visit Understory, a visitor's center that through video, exhibits and photographs, tells the remarkable story of the Spheres' creation. While the rest of the country obsesses over where the next headquarters will be, go to www.seattlespheres.com and book an hour to take a closer look.
Stay and Play during Seattle Museum Month
If you're a guest at one of 57 Seattle downtown hotels during the month of February, here's a fun perk: Seattle Museum Month offers 50 percent off admission to a diverse collection of museums including Chihuly Garden and Glass, the Museum of Flight, Seattle Art Museum, University of Washington's Burke Museum and numerous others. Just go to www.seattlemuseummonth.com for a complete list of participating hotels and museums and book your Stay and Play package.
Smooth Jazz at Dimitriou's
Since 1986, The Pacific Jazz Institute has offered patrons one of the country's most esteemed venues for fine musical performances at Dimitriou's Jazz Alley. February is a stellar month at the club, with Judy Collins in the house on through Sunday, David Benoit on Feb. 18 and Hammond B3 organ master Dr. Lonnie Smith on Feb. 27-28. Book a table for cocktails at the early or late shows, or take in dinner too. To see a full performance calendar and reserve seats go to www.jazzalley.com.
Seductive Supercars on Display
An afternoon well spent for car aficionados involves a short drive to Tacoma to ogle the massive collection of automotive treasures that fill 165,000 square feet of gallery space at America's Car Museum, The Le May Collection. Of particular note through May is the Exotics @AMC which rotates luxurious sports cars currently including a 1984 Ferrari Testarossa, 2007 Lamborghini Gallardo Spider and 2004 Porsche Carrara GT and 12 others. On the evening of Feb. 24, "Drive the Blues Away" offers full museum access along with live music, appetizers and spirit, wine and craft brewery tastings. March 8 brings Race Night at AMC, with racing simulators that will have you competing on courses like Daytona and Darlington Raceway. To view a full line up of exhibits and events, go to americascarmuseum.org.
The lottery
Back to those $10 Hamilton seats. Here's how to throw your name in the hat:
Register online with the "Hamilton" app (www.hamiltonmusical.com/app) at the App Store or the official lottery website (www.hamiltonmusical.com/lottery).
The lottery opens at 11 a.m. two days before each performance and closes at 9 a.m. the day before the show.
Provide your email and cellphone number. Whether or not you win, you'll receive a text or email notice at approximately 11 a.m. the day prior to the performance you've registered for.
A link will be provided to buy your ticket online with a credit card by 4 p.m.
Only two non-transferable tickets per winner – so scalping is out.
Robyn Roehm Cannon is a travel and lifestyle writer who lives between Spokane and Seattle. Follow her www.facebook.com/robyn.r.cannon, Instagram @robynroehmcannon or Twitter @robyn_roehm
Local journalism is essential.
Give directly to The Spokesman-Review's Northwest Passages community forums series -- which helps to offset the costs of several reporter and editor positions at the newspaper -- by using the easy options below. Gifts processed in this system are not tax deductible, but are predominately used to help meet the local financial requirements needed to receive national matching-grant funds.
Subscribe now to get breaking news alerts in your email inbox
Get breaking news delivered to your inbox as it happens.
---