Sports > Area sports
Grip on Sports: The miles may not be all that many but WSU and Gonzaga's basketball programs are a world apart right now
Fri., Feb. 9, 2018 A GRIP ON SPORTS • If you wanted the starkest contrast possibly between the two most high-profile college basketball programs in the region, you found it last night. Read on.
••••••••••
• Washington State and Gonzaga both played on the road in a conference game Thursday night.
The latter wasn't on the top of its game but toughed out a win against a well-motivated opponent in a decently raucous gym.
The former wasn't on the top of its game either, but it folded, losing by 32 against an average-to-poor opponent in front of a sleepy crowd.
Toughness versus, well, whatever you want to label the mental attitude the Cougars are displaying right now. Just don't use any synonym of toughness though.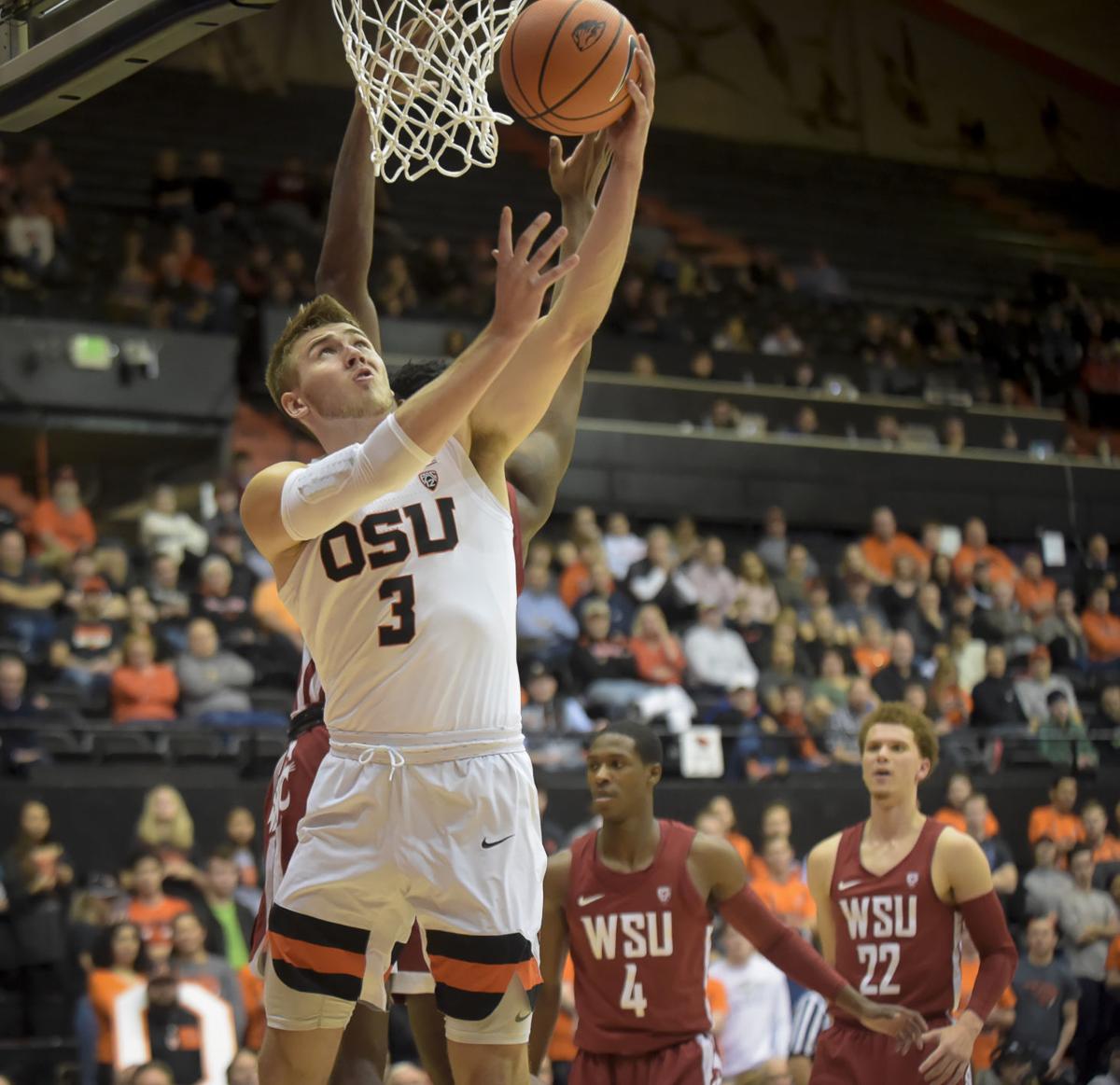 WSU is 1-10 in conference play, on its way to either 2-16 – if it can win at California in a couple weeks or one of its four remaining home games – or 1-17. That's Paul Graham-bad territory.
But the record is one thing. Bad teams happen. Somebody has to be the cellar-dweller in each conference. However, when bad teams quit competing, that's when conference records like what the Cougars have occur.
One thing is obvious. When Ernie Kent has the type of player he needs, he is a pretty good college basketball coach. He showed that at Oregon.
Problem is, he hasn't been able to attract that type of player to Pullman. It's more like the scene in The Untouchables where Sean Connery complains about someone bringing a knife to a gunfight. Then gets gunned down.
The Cougars have the wrong weapons. This group was never going to be able to play the way Kent wants, up-tempo, constantly putting pressure on opponents with quickness and speed. Without the right fit, it's a losing battle in the Pac-12.
So he's tried to adjust, tried to play differently. But the Cougars just aren't built to play that way, to compete in the trenches every possession. The game begins to spiral away and they fold. Sometimes early (like last night), more often late. Again and again. There is no faith what they are doing will work.
As a result, Washington State fans have lost faith in Kent's program.
Contrast that with how GU won last night. When the offense floated away for stretches, the Zags dug deep on the defensive end, got stops and held the Tigers at bay.
With shots not falling, they outworked – or out-toughed, if you prefer – Pacific on the glass for a few much-needed second-chance points.
It's what teams do that expect to win. They put their faith in their system. It's proved itself over and over again. Each team begets the next, each win begets another, each possession another chance to show their resilience.
When Mark Few began at Gonzaga two decades ago, he knew he couldn't attract the four- or five-star recruit to Spokane. So he recruited tough-minded, smart guys who could play the way he wanted – then. As success came, the type of player GU could attract changed – and Few evolved. Now the Zags can play with anyone in the country.
Kent came into Pullman professing he could recruit the type of player he always had. That the way he won in Eugene would translate to Washington State. He couldn't and it hasn't. And in his fourth year, the Cougars have taken steps backward.
Even if WSU wins out this season – raise your hand if you think that's going to happen – the Cougars will still end up 8-10 in conference, under .500 in an average-to-poor Pac-12. Actually, under .500 again. Kent's Cougars have never broken even in conference play, and have endured the dreaded 1-17 record already. That level of ineptitude is still in play this season.
Forget winning the way the team up the road wins. There's no chance of that. The goal now should be to compete the same way. But even that looks to be far, far away.
•••
WSU: Before we get to the basketball game, the Cougars announced their spring football practice dates. Theo Lawson has that story. … Not only do we have the AP story we ran this morning, we also have coverage of the 94-62 loss from the Oregon newspapers. It includes photos. … Maybe all you care about is the spring football coverage. After all, Washington State is a football school these days.
Elsewhere in the Pac-12 from Thursday, the biggest game – we know because Bill Walton was on the coverage – was in Tucson, where UCLA handed Arizona another upset loss. The Wildcats are not defending well again. … USC fell apart late again and lost at Arizona State on a last-second shot. … Utah just bulled its way past Stanford. The Cardinal are struggling. … Washington's winning streak was snapped by an Oregon team that looked woeful its last time out. … Colorado has to improve quickly.
Gonzaga: The Zags escaped the trap set by Pacific and won 71-61. Jim Meehan was in the Spanos Center and has this game analysis. He also has the three keys to the win. … The guys in the office put together a highlights package. … Before the game Jim reported Johnathan Williams earning one of the final 10 spots on a prestigious awards list. … David Stockton will tryout for a spot on the U.S. World Cup basketball squad. … Gonzaga's international recruiting is still earning headlines. … The women were are home and continued to dominate in conference play. They defeated Pacific handily. Jim Allen has the game story. Included in that is sad news of the unexpected death of Sister Laura Michels, who served as the women's basketball and baseball spiritual advisor. … James Snook has a photo report from the women's game. … Around the WCC, Saint Mary's win streak reached 19 as the Gaels won at Loyola Marymount in advance of Saturday's showdown with Gonzaga. … BYU bounced back with an easy win over Santa Clara. … Portland lost at USF. … San Diego picked up a win against Pepperdine.
EWU and Idaho: The two Big Sky rivals meet again tonight in a Moscow doubleheader. Peter Harriman has a preview of the men's game and we can pass along one from the women's game as well. … Elsewhere in the Big Sky last night, Montana stayed undefeated by rolling over Portland State in Missoula. … Weber State tried to stay within shouting distance with a home win over North Dakota. … Northern Colorado picked up a road win at Idaho State. … Montana State handled Sacramento State in Bozeman.
Preps: The playoffs continue, with girls and boys games around the area.
Seahawks: It's been a long time since the Hawks have had this many questions in an offseason. One of the biggest has to do with Richard Sherman. … Quarterback salaries in the NFL are going up and up and up.
Mariners: Don't expect any surprises with the starting rotation before spring training starts.
Sounders: A new season, new uniforms. Or kits, as soccer folks call them.
•••       
• There have been many mediocre Pac-12 basketball seasons in the past couple decades. But this year may be the most mediocre. No great teams, few good ones and a lower end that is hard to watch. Until later …
Local journalism is essential.
Give directly to The Spokesman-Review's Northwest Passages community forums series -- which helps to offset the costs of several reporter and editor positions at the newspaper -- by using the easy options below. Gifts processed in this system are not tax deductible, but are predominately used to help meet the local financial requirements needed to receive national matching-grant funds.
Subscribe to the sports newsletter
Get the day's top sports headlines and breaking news delivered to your inbox by subscribing here.
---