A&E > Stage
Creative consultant Jake Schaefer makes Civic directing debut with 'Songs for a New World'
Thu., Feb. 15, 2018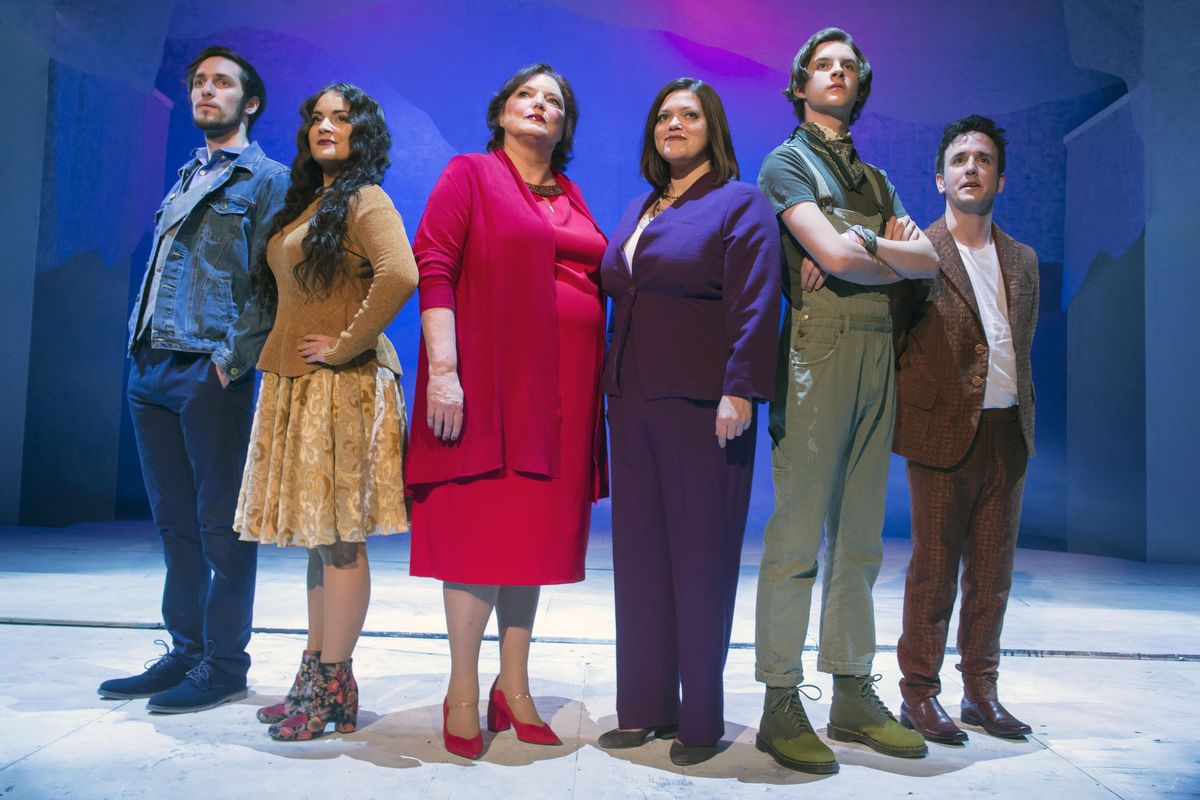 The ensemble cast from the Spokane Civic Theatre production of "Songs for a New World," left to right: Jonah Taylor, Marlee Andrews, Melody Deatherage, Christina Coty, Jameson Elton and Jace Fogleman. (Colin Mulvany / The Spokesman-Review)
When he was 10 years old, Jake Schaefer starred as the Munchkin Mayor in a Spokane Civic Theatre production of "The Wizard of Oz" directed by Kathy Doyle-Lipe.
A summer or two before that, he participated in a camp directed and produced by Jean Hardie, a staple of local theater.
After several years away, Schaefer can hardly contain his excitement about returning to the place where he began his creative life, this time as creative consultant.
"I'm so crazy about this place and these people, from the staff to the performers," he said. "My single position is on this place winning and everyone that comes even near it feeling that spirit."
Schaefer's first time in the Civic director's chair since returning to the theater in December is a production of Jason Robert Brown's "Songs for a New World."
In "Songs for a New World," the audience meets a handful of characters – the captain of a ship, a woman making a drastic move to get the attention of her neglectful husband, an expectant mother, a man in love, a teenager who dreams about becoming a basketball star, reunited lovers, a soldier – who all have one thing in common: One moment could, or has, change their lives forever.
An atypical musical, "Songs for a New World" trades a plot peppered with songs for a collection of songs, one right after the other, that tell a series of stories with a connecting theme.
The musical opens Friday and runs through March 4.
"The music is real varied in the sense that there's ballads and there's duets and there's uptempo group numbers," Schaefer said. "The songs are so dynamic. It provides such a vehicle for the performers."
"Songs for a New World" stars Marlee Andrews, Christina Coty, Melody Deatherage, Jameson Elton, Jace Fogleman and Jonah Taylor, and each actor portrays multiple characters.
Schaefer said this musical is sometimes performed with actors wearing all black so audiences can more easily tell, with the addition of a scarf or a hat, when the actor transitions from one character to another.
But Schaefer made the artistic choice to go in the opposite direction, dressing each actor in their own color: Coty is purple, Elton is green, Deatherage is red, Andrews is yellow amber, Fogleman is brown and Taylor is blue.
"Every look is complete and succinct at the same time but then they were built to, when everyone is on stage, look really complimentary," he said. "Visually that through-line is even more provided so in the sense that there is real style in this show."
In order to update this production to work with six actors instead of its typical four, Schaefer reunited with music director Henry McNulty, who also participated in that summer camp as a child. McNulty rearranged some of the vocals and wrote new harmonies.
"He's like a beam of light and is super sophisticated," Schaefer said.
He used the same sentiment when talking about the cast, calling Taylor one of the most pliable performers he's ever worked with, Andrews a director's dream who can make blocking look organic, and Elton, the youngest cast member at 15, a major talent and one of the most disciplined performers he's worked with.
"There is a force of nature in each of them in different ways, and as a group, it's crazy," he said. "The group numbers, just the harmonies, you would think it's something we've rehearsed for six months."
Schaefer said "Songs for a New World" is often overlooked as a revue or a cabaret but wants to make it clear that this is a fully mounted production.
He also noted audiences shouldn't worry about not connecting with the characters because they change so frequently but rather think of the show as a chance to connect with 16 stories as each song has a beginning, middle and end.
"There's a few swear words, yes, but nevertheless it's a show for everyone," Schaefer said. "At the end of the day, more than anything, we really wanted to represent the community, the people of the area, the personalities. The stories themselves are very widely representative in the sense that there literally should be a little bit of everyone found within a song or two in this show."
After "Songs for a New World" is up and running, Schaefer will bounce back and forth between Spokane and Los Angeles.
Since returning to Spokane, he can't shower enough praise on every member of the crew who has contributed to this show, including lead set designer and technical director David Baker, operations manager Kelli Cunningham, who is stage managing "Songs for a New World," and executive director Mike Shannon.
He said he and the rest of the Civic team have found a unified front as far as their mission for the theater and he wants to do all he can to ensure that mission is successful.
"We are not a community theater in the sense of quality," he said. "We are the theater for the community of Spokane and that's exactly how we lead every idea…
"I'm very committed to this place winning. This means too much to too many people."
Local journalism is essential.
Give directly to The Spokesman-Review's Northwest Passages community forums series -- which helps to offset the costs of several reporter and editor positions at the newspaper -- by using the easy options below. Gifts processed in this system are not tax deductible, but are predominately used to help meet the local financial requirements needed to receive national matching-grant funds.
Subscribe to the Spokane7 email newsletter
Get the day's top entertainment headlines delivered to your inbox every morning.
---