News > Spokane
New LGBTQ group fills a need for Spokane area seniors
Wed., Feb. 21, 2018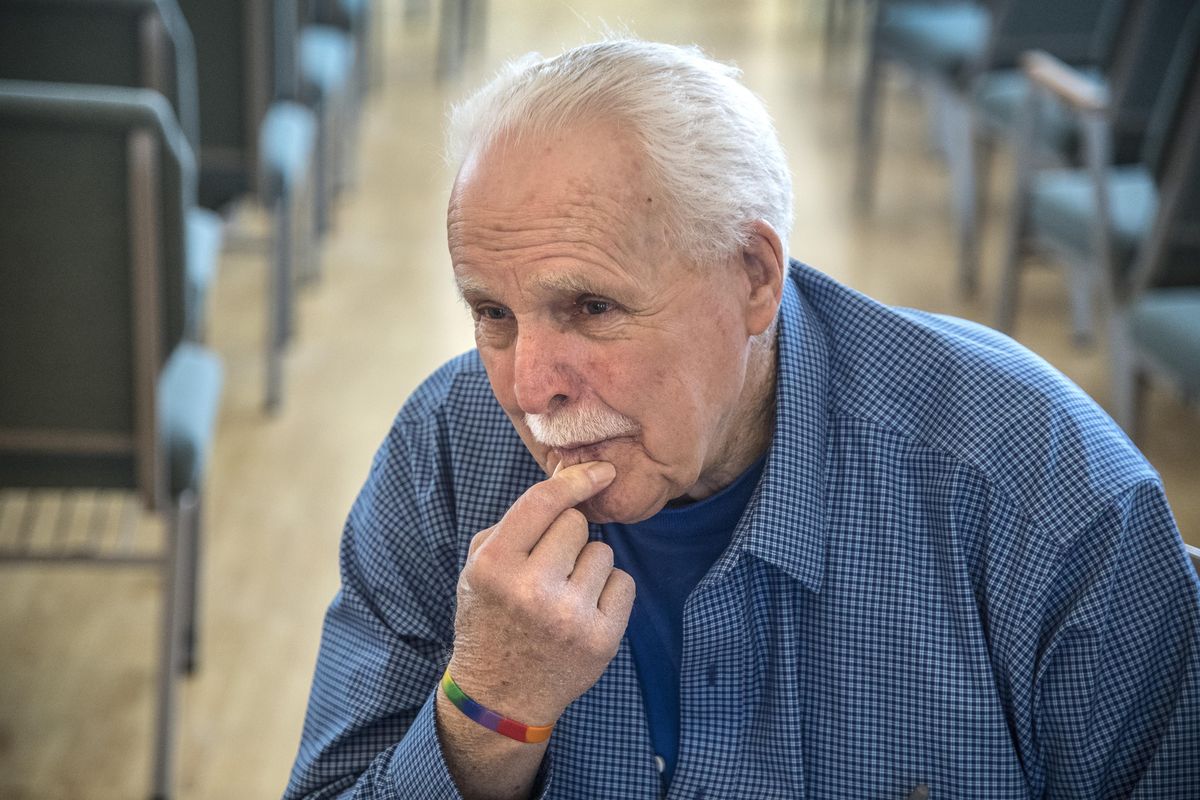 Al Steuart reflects on his life as a gay man during a gathering for senior LGBTQ persons, Saturday, Feb. 17, 2018, at the Unitarian Universalist Church in Spokane. (Dan Pelle / The Spokesman-Review)
Senior citizens identifying as LGBTQ now have a new group to make friends and discuss community issues.
A group of a dozen LGBTQ seniors gathered for their inaugural meeting Saturday at the Unitarian Universalist Church, where they discussed aging, mentorship, concerns with hospice care, acceptance in the community and common struggles they face in their age group.
When Spokane's LGBTQ community center closed in 2014, it left a need for seniors to connect, Al Steuart said.
"I've been trying to get a group together for LGBTQ seniors since me and my partner moved to Spokane in 2014," Steuart said.
Steuart and his partner connected with PFLAG when they first arrived in Spokane. They have also been involved with the Inland Northwest Business Alliance as well as served in mentoring programs at Spokane Falls Community College and the Odyssey Youth Movement.
"But most of (the members) were 10 to 20 years younger than we are," Steuart said. "We've been to the nYne – the bar downtown – but we don't drink, or care to spend two to three dollars for a soda."
Steuart said he talked with the pastor of the Unitarian Universalist Church and Nancy Avery, the head of the church's Pride Team, via email about setting up an LGBTQ group specifically for seniors. Avery put out an advertisement for the group Jan. 31 across social media.
Many attendees said they saw the group advertised in fliers at the senior center, newspapers, on Facebook and word-of-mouth.
Some individuals attended the group out of curiosity to see where it could lead, while others attended to make friends. Although the group is geared toward seniors, there isn't a set age to join.
Former president of OutSpokane and current board member Michael Jepson said many seniors expressed interest to him about forming an LGBTQ group.
"It's something I heard a lot about, but this is the first time I've seen anything really get traction," Jepson said.
Lynn Sexton said she found out about the meeting from a flier in a senior center.
"I liked there were people that wanted to have input and knew enough information about issues to participate," she said.
As individuals get older, it becomes more difficult to meet friends, especially if people don't have a friend group already in place. Also, events such as the Pride Festival are not always accessible for seniors or individuals with mobility issues, so a group for seniors is beneficial, she said.
The group touched on topics such as housing and the need to reach out to assisted living facilities to make sure LGBTQ seniors aren't isolated in those homes – both of which are important to Sexton.
LGBTQ senior citizens can become vulnerable to discrimination or mistreatment in an assisted living facility and it's especially a concern if they are in poor health, or lose the ability to care for themselves, said Tim Johnson, director of national projects for SAGE, a national organization dedicated to improving the lives of LGBTQ older adults through supportive and consumer resources.
"A lot of older adults needing this kind of service are not sure if they will be safe, if their relationships will be respected, or if residents would bully them," Johnson said.
LGBTQ seniors also rely on a network of service providers for health care and housing, so it's important to have allies in these areas that are affirming to ensure existing services are safe for them, said Johnson.
Some younger LGBTQ folks have more acceptance now from straight friends, which eliminates the need for community, or they just don't share the same experiences growing up LGBTQ, many group attendees said, so the group also can facilitate those talks on common struggles
"LGBTQ older adults are a really resilient and vibrant group of people," Johnson said. "They have been creating their own support network for years, and we're seeing that same energy and commitment to the community with senior support and services."
Jepson agrees it's nice to have a group where people understand and have something to contribute.
"It's wonderful to see the church and Nancy coordinate this. It shows how terrific the community has been," he said. "Older people can get lonely, and the group gives them a chance to meet new friends and get out of the house. It's a wonderful thing that's happening."
The group is planning future group events such as a movie night and will hold a get-to-know-you potluck March 31 at the Unitarian Universalist Church.
Local journalism is essential.
Give directly to The Spokesman-Review's Northwest Passages community forums series -- which helps to offset the costs of several reporter and editor positions at the newspaper -- by using the easy options below. Gifts processed in this system are not tax deductible, but are predominately used to help meet the local financial requirements needed to receive national matching-grant funds.
Subscribe now to get breaking news alerts in your email inbox
Get breaking news delivered to your inbox as it happens.
---