Sports > Gonzaga basketball
Recap and highlights: Gonzaga cruises past BYU 79-65, earns outright WCC regular-season title
Feb. 24, 2018 Updated Sat., Feb. 24, 2018 at 10:23 p.m.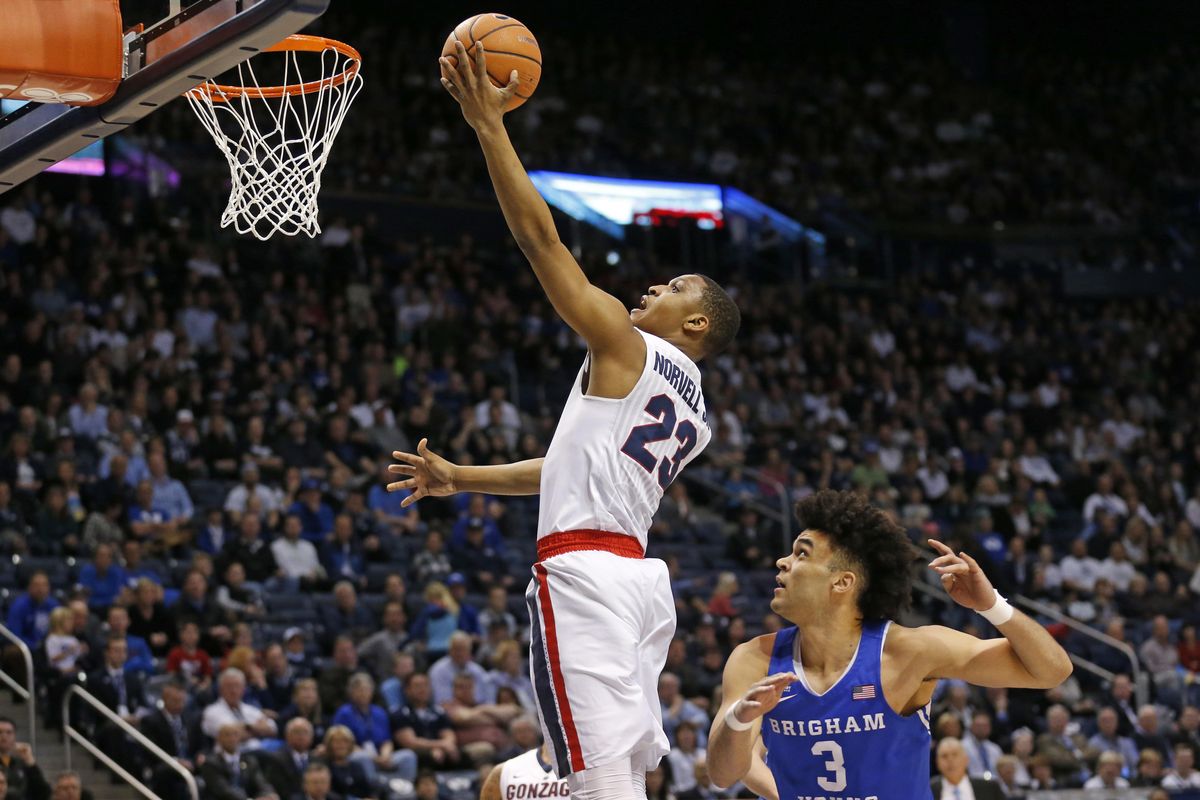 Gonzaga guard Zach Norvell Jr. (23) lays the ball up as BYU guard Elijah Bryant (3) looks on in the first half during an NCAA college basketball game Saturday, Feb. 24, 2018, in Provo, Utah. (Rick Bowmer / Associated Press)
PROVO, Utah – Johnathan Williams scored 16 points to lead six players in double figures as No. 6 Gonzaga cruised past BYU 79-65 on Saturday at the Marriott Center.
With the victory, the Bulldogs (27-4, 17-1 West Coast Conference) claimed the outright regular-season title and secured the top seed in the WCC Tournament March 2-6 in Las Vegas.
Gonzaga also receives a bye into the tournament quarterfinals on Saturday, where it will face the winner of Friday's Loyola Marymount/Portland first-round contest. Tip is scheduled for 7 p.m. on ESPN2.
Joining Williams in double figures for the Zags was fellow starters Zach Norvell (15), Josh Perkins (14), Silas Melson (12) and Killian Tillie (10), along with reserve forward Rui Hachimura (12).
BYU was led by Yoeli Childs' game-high 19 points. The Cougars will be the conference's No. 3 seed behind Saint Mary's.
Gonzaga shot 55.4 percent from the field and 33.3 percent from 3-point range, while BYU shot 38.6 percent overall and 30 percent from deep.
Gonzaga also outrebounded BYU 38-29 and dished out 18 assists to the Cougars' 10.
Second half
Final – Gonzaga 79, BYU 65: Bulldogs end the regular season with thumping of BYU.
Six GU players in double figures, solid shooting and good defense. Zags now have a week to prepare for either LMU or Portland in the WCC quarterfinals.
Zags fans can't ask for much more out of this trip to Provo.
3:13 – Gonzaga 77, BYU 56: After a slow start, Williams has been unstoppable for Gonzaga this half. He's up to 16 points on 8-of-12 shooting.
GU doing a decent job of limiting turnovers (8), while dishing out plenty of assists (17).
Expect to see some reserves in the final minutes as GU wants to make sure and stay healthy ahead of the WCC tourney.
With the top seed, Gonzaga also avoids both Saint Mary's and BYU in its half of the bracket.
7:58 – Gonzaga 69, BYU 52: Too easy right now for the Zags. Perkins comes off a solid screen from Williams and then feeds the big man for an unguarded slam. Bulldogs shooting around 60 percent from the floor in the second half.
As it stands, Gonzaga will get the top seed into next weekend's WCC tournament in Las vegas, and will face either Loyola Marymount or Portland in the quarterfinals on Saturday.
If GU were to lose to BYU, it would share the regular-season title with Saint Mary's and would have the conference's second seed due to having a lower RPI than the Gaels.
That seems pretty unlikely though, as all five GU starters are now in double figures.
12:22 – Gonzaga 58, BYU 43: Excellent stretch here from GU, as Williams gets up to 10 points to go along with his five rebounds.
Bulldogs still shooting over 50 percent overall, and are winning the battle on the boards 25-20.
Zags make it a 12-3 run on a Hachimura jumper. Bulldogs looking to run away with the WCC regular-season title.
15:59 – Gonzaga 50, BYU 40: Well that's one way to start a half. Perkins drains a silly-long 3-pointer at the shot clock buzzer. He's into double figures with 12 points.
Outside of Perkins triple though, the Bulldogs are struggling to get shots to fall. GU also getting a little foul happy this half. Luckily for Gonzaga, BYU also can't buy a bucket.
Strong take by Norvell finally gets things going for GU. He's up to 10 points after a free throw.
First half
Halftime – Gonzaga 43, BYU 38: Complete turn of momentum here in favor of the home team as Bryant is up to 13 points and Gonzaga is turning the ball over far too often.
GU ends the half shooting 56.7 percent overall and 40 percent from deep.
Zags do get a little breathing room on Perkins 3-pointer near the end of the half. he has nine points, all coming from 3-pointers.
Melson still leading the way for Gonzaga with 12 points.
3:47 – Gonzaga 36, BYU 30: BYU starting to get things going a bit more on both ends of the court as they've cut the GU lead back to single digits.
T.J. Haws now with six points for BYU.
Melson now up to 12 points on 5-of-6 shooting, while Norvell and Tillie have seven points apiece.
6:10 – Gonzaga 34, BYU 22: Melson doing it all so far for GU, as he hits another 3-pointer. The senior guard is the first GU player into double figures with 10 points. He also has a pair of assists.
Gonzaga shooting an outstanding 68.8 percent from the floor in the opening half here, a number helped by shots like Williams' thunderous one-handed jam for his first points of the game.
Hardnett also into double figures for BYU, but no other Cougars player has more than five points.
11:46 – Gonzaga 23, BYU 10: Hot start from BYU guard Jahshire Hardnett, who has hit a pair of 3-pointers. But Gonzaga quickly answers back with a pair of triples of its own courtesy of Josh Perkins and Silas Melson, forcing a BYU timeout.
Rui Hachimura into the game for the first time for the Zags, hitting a tough jumper for his first points.
GU keeping the fireworks going with a big alley-oop from Perkins to Melson. The next trip down the floor Perkins drills a heat-check 3-pointer. Bulldogs putting their foot on the gas here.
15:42 – Gonzaga 6, BYU 5: Great defensive start for Gonzaga's Johnathan Williams on BYU big man Yoeli Childs. Williams already with a block an steal.
Odd look down in Provo tonight as BYU has asked to wear its blue uniforms, so the Bulldogs are in their home white jerseys.
Two early points apiece for Zach Norvell, Silas Melson and Killian Tillie for GU.
Gonzaga also doing a nice job on BYU's Elijah Bryant, who is 0 for 4 from the field to start this one. The junior is averaging 17.6 points per game.
Local journalism is essential.
Give directly to The Spokesman-Review's Northwest Passages community forums series -- which helps to offset the costs of several reporter and editor positions at the newspaper -- by using the easy options below. Gifts processed in this system are not tax deductible, but are predominately used to help meet the local financial requirements needed to receive national matching-grant funds.
Follow along with the Zags
Subscribe to our Gonzaga Basketball newsletter to stay up with the latest news.
---