A&E > TV
Around the remote: Death watch continues on 'Walking Dead'
Sun., Feb. 25, 2018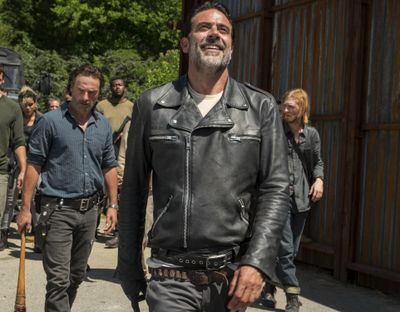 DON'T MISS: "The Walking Dead" – As the monster hit returns to resume its eighth season, our mood is somber. That's because the last time we were in the company of our zombie apocalypse survivors, poor Carl Grimes (Chandler Riggs) had been chomped on by a walker. With death now imminent, we can only sit by helplessly to see how his fate plays out. Have the tissues handy. (9 p.m. Sunday, AMC).
Other bets
SUNDAY: Snuff out the torch, the party's over. After 18 days of thrilling victories, agonizing defeats and baffling on-air gaffes, the 2018 Winter Olympics come to an end with the closing ceremony. (5 and 8 p.m., NBC).
MONDAY: "The Voice" returns for its 14th season, looking to make more beautiful music. Joining the coaches' panel for this round is Kelly Clarkson, who knows a bit about how these singing contests work. (8 p.m., NBC).
MONDAY: "Living Biblically" is a new sitcom about a film critic (Jay R. Ferguson), who decides to live strictly in accordance with the Bible to be a better person. Clearly, it's going to be an epic struggle. (9:30 p.m., CBS).
MONDAY: In the new comedic drama "Good Girls," three suburban moms grow weary of struggling to make ends meet, so they decide to rob the local grocery store. Chaos and hilarity ensue. The cast includes Christina Hendricks, Retta and Mae Whitman. (10 p.m., NBC).
MONDAY: We're hoping that "UnREAL" can rebound from a lackluster second season. The behind-the-scenes soap about a "Bachelor"-like series returns with a strong-willed feminist "suitress" (Caitlin FitzGerald), who will make life difficult for producers. (10 p.m., Lifetime).
TUESDAY: "Unsolved: The Murders Of Tupac And The Notorious B.I.G." is a 10-episode limited drama series that re-examines the mysterious deaths of legendary rappers Tupac Shakur (Marcc Rose) and Biggie Smalls (Wavvy Jones). It draws heavily from the experiences of two former LAPD detectives who led separate investigations into the murders. (10 p.m., USA).
WEDNESDAY: Believe it or not, "Survivor" is launching its 36th season. This "Ghost Island" edition features 20 new castaways and is pegged to the bad decisions of former players. Will they learn from past mistakes? Or will the past come back to haunt them? (8 p.m., CBS).
THURSDAY: The drama queens of "Scandal" and "How to Get Away With Murder" meet for the first time in a special crossover event. On "Scandal," Olivia Pope (Kerry Washington) gets a visit from attorney Annalise Keating (Viola Davis), who seeks her help in getting a class-action suit on the Supreme Court's docket. The action continues on "HTGAWM." (9 and 10 p.m., ABC).
THURSDAY: One of 2016's most acclaimed comedies, Donald Glover's "Atlanta," returns for its second season. The new episodes are subtitled "Robbin' Season" – a time when thefts, and desperation, increase around the holidays. (10 p.m., FX).
SATURDAY: OK, so they're not as prestigious as the Oscars, but the Film Independent Spirit Awards are often more lively and fun. Once again, some of Hollywood's smaller movies – in terms of budget – will be celebrated as Nick Kroll and John Mulaney serve as our hosts. (2 p.m., IFC).
Local journalism is essential.
Give directly to The Spokesman-Review's Northwest Passages community forums series -- which helps to offset the costs of several reporter and editor positions at the newspaper -- by using the easy options below. Gifts processed in this system are not tax deductible, but are predominately used to help meet the local financial requirements needed to receive national matching-grant funds.
Subscribe to the Spokane7 email newsletter
Get the day's top entertainment headlines delivered to your inbox every morning.
---