Sports > Gonzaga basketball
John Blanchette: Rui Hachimura finds friendly face 5,000 miles from home
Jan. 11, 2018 Updated Thu., Jan. 11, 2018 at 11:27 p.m.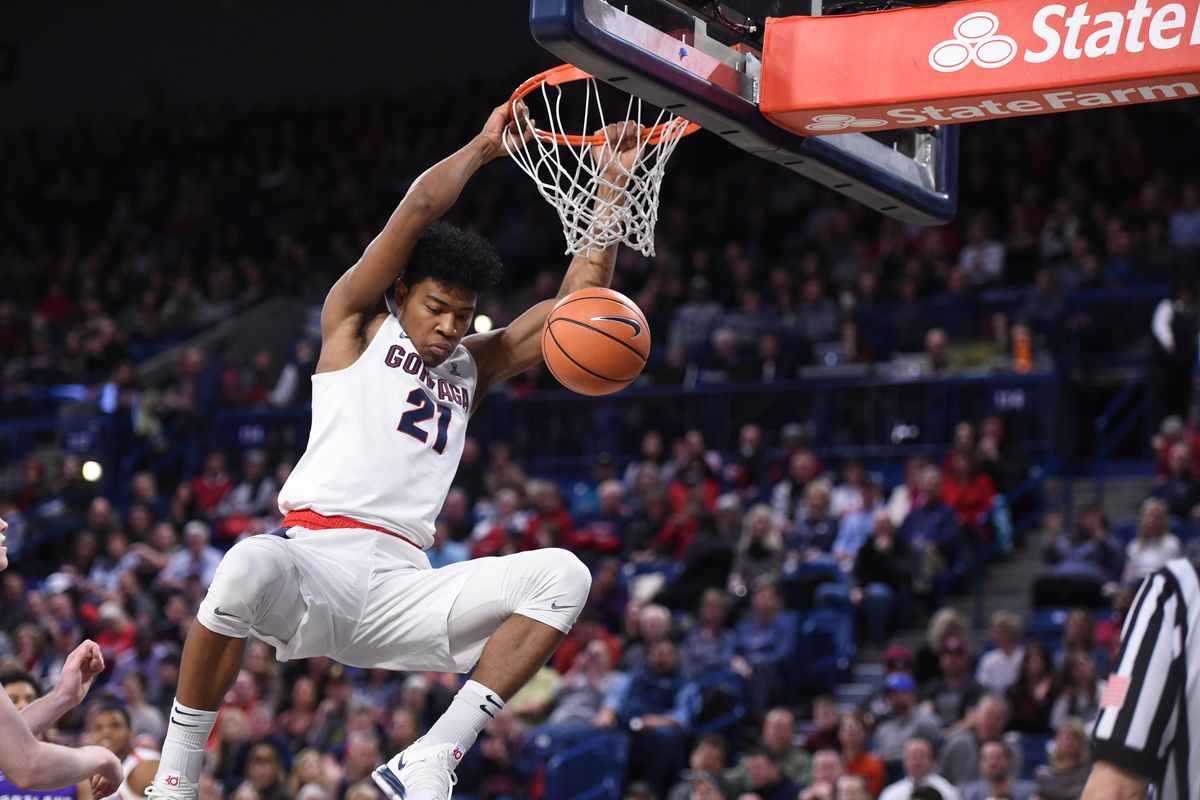 Gonzaga Bulldogs forward Rui Hachimura (21) dunks the ball during the first half of an NCAA college basketball game, Thurs., Jan. 11, 2018, in the McCarthey Athletic Center. (Colin Mulvany / The Spokesman-Review)
I got the sizzle but not the steak,
I got the boat but not the lake,
I got the sheets but not the bed,
I got the jam but not the bread
But, hey, I'm big in Japan
I'm big in Japan
– Tom Waits, "Big in Japan"
OK, it's only the chorus that works in this circumstance. Too much irony in the verse.
Because when they were high school kids, Rui Hachimura and Tahirou Diabate had the sizzle, the steak, the jam and the bread.
And they were big in Japan, at least as big as the game gets there.
Here, they're just part of the magical international melting pot – it's more of a vat, really – that is college basketball these days, Hachimura budding into a star at Gonzaga in his second year, Diabate finding his way in freshman fits and starts at Portland.
Still, to be on the same floor again, but 5,000 miles from home, took some getting used to Thursday night – at least for Hachimura.
"That was fun," he acknowledged. "Different."
And it came with one big bonus.
"He speaks Japanese well," said Hachimura, happy for the opportunity to converse in his native language. "He's a cool guy."
Sure, there was another bonus, too. The Bulldogs staged another of their West Coast Conference wipeouts of the beleaguered lower echelon, this one 103-57 over the Pilots and featuring the 3-point stylings of Silas Melson – would you believe seven of them? – and more coast-to-coast flourishes by Hachimura, who can do more with a defensive rebound than most players can with one on the offensive end.
When it was over, he'd matched his career high – first notched in that PK80 coming out against Texas – with 20 points, missing just 2 of 10 shots.
He's the Zags' leading scorer in WCC play with a 14.6 average, more than a five-point bump from nonconference play in nearly the same minutes – a signal of both his comfort level, and that of the rest of the team.
"Because it's kind of a two-way street," Gonzaga assistant Brian Michaelson said. "The individual player has to be confident. But he has to earn the confidence of his teammates and the staff – and five games into the league, he's really done that."
For Diabate, it was nothing nearly that smooth – but it's that kind of year. Portland's lack of size all but forced him into the starting lineup early and he was overwhelmed in the PK80 tournament against teams like North Carolina. He responded last weekend with games of 13 and 15 points against San Diego and Santa Clara, but his hard work in 31 minutes Thursday produced just two points and five rebounds – and a lesson.
"They crash the boards," he said of the Zags. "If we're going to think about beating Gonzaga, we're going to have to work more on boxing out after the shot because they got too many offensive rebounds."
But to see a familiar face in the postgame handshake line some 5,000 miles from home might have been a little salve.
A native of Mali, Diabate's lived with his family in France and the Canary Islands, as well, and is sort of Portland's answer to Ronny Turiaf – speaking five languages (Bambara, English, Spanish, French and Japanese) and being something of a social magnet.
He and Hachimura were a year apart in high school – Rui winning three straight Japan high school championships with Meisei in the Tohoku region, Diabate averaging 31 points a game – and 101 in one – for Teikyo Nagaoka in the Niigata prefecture maybe three hours away. They played against each other a couple of times before Hachimura left for GU – and Diabate said his game hasn't changed much.
"I wasn't surprised to see him out there driving and pump faking and doing all his stuff," Diabate said. "But he's built a better body. He's gotten stronger."
And he's good for at least one "Rui play" a game, maybe two. The prettiest Thursday was a weaving full-court drive late in the first half. The funkiest came later, when he twice blocked inbounds passes by Franklin Porter on the Pilots' baseline. When Josh Perkins got a hand on the third try, Hachimura scooped it up and went the distance again for a layup.
And it's not just for entertainment purposes.
"It's hard for the other team when you have a 6-foot-8 four man pushing the ball up the floor in transition," Michaelson said, "because we can run three guys to the 3 line who are pretty good shooters. Plus, he's really good at taking it the whole way."
Michaelson said he thought having Diabate in the other lineup "resonated with Rui and maybe dialed him in a little more. There was something on the line."
Because they're big in Japan.
Local journalism is essential.
Give directly to The Spokesman-Review's Northwest Passages community forums series -- which helps to offset the costs of several reporter and editor positions at the newspaper -- by using the easy options below. Gifts processed in this system are not tax deductible, but are predominately used to help meet the local financial requirements needed to receive national matching-grant funds.
Follow along with the Zags
Subscribe to our Gonzaga Basketball newsletter to stay up with the latest news.
---