Sports > Gonzaga basketball
Analysis: Silas Melson keeps Gonzaga rolling after Johnathan Williams' sidelined in win over Portland
Jan. 11, 2018 Updated Thu., Jan. 11, 2018 at 11:18 p.m.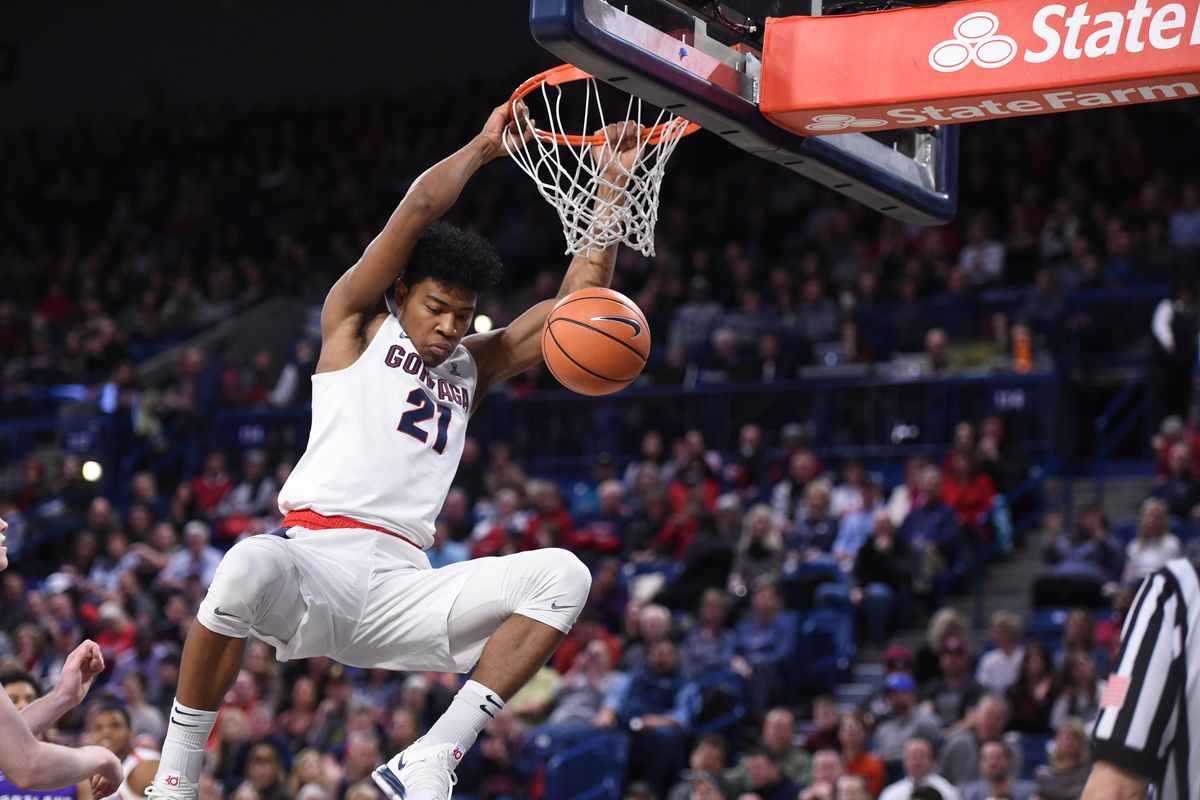 Gonzaga Bulldogs forward Rui Hachimura (21) dunks the ball during the first half of an NCAA college basketball game, Thurs., Jan. 11, 2018, in the McCarthey Athletic Center. (Colin Mulvany / The Spokesman-Review)
The night couldn't have turned out more differently for Silas Melson and Johnathan Williams, Gonzaga's only seniors.
Melson took a long-range view and made just about everything he looked at. He hit seven 3-pointers and stung Portland with a career-high 23 points.
Williams has had an interesting three-game stretch. He bumped knees with a Pepperdine player last Thursday but was still productive. He torched Loyola Marymount for 30 points on Saturday.
And he endured bumped knees Part II against Portland on Thursday and sat out the second half of Gonzaga's 103-57 victory at the McCarthey Athletic Center.
It appears to be just a scare for Williams, who ran some sprints and did some defensive slides in the hallway near the locker room while teammates were warming up for the second half. He thinks he'll be fine for Saturday's road date against San Francisco.
Williams' latest knee-vs.-knee was a little different than Pepperdine, where the contact was more straight on. This time, Williams absorbed a collision with Portland's JoJo Walker to the side of his right knee.
"I just didn't want to get out there and risk it," Williams said.
Williams' importance is obvious at both ends of the floor.
"He's such a versatile guy," point guard Josh Perkins said. "He can switch (on defense) 1 through 4. Give him the ball and he scores at a high clip, such a tenacious rebounder. He keeps everything together."
There wasn't much reason to bring Williams back since the Zags were up 41-25 when the 6-foot-9 forward hobbled off the court. Gonzaga's biggest conference games are coming up, beginning with USF and followed by Thursday's showdown against Saint Mary's.
Gonzaga (15-3, 5-0 WCC) had the upper hand against the Pilots (6-12, 0-5) in nearly every facet from the opening tip to the final buzzer. Melson was one of the main reasons for the lopsided win.
Known for his defensive prowess, Melson's pure shooting stroke came in handy against Portland's pack-the-paint 2-3 zone.
Melson hit a pair of 3s in the opening half and had three rapid-fire 3-pointers early in the second half as Gonzaga's lead reached 30 points. He played extended minutes with Perkins and Zach Norvell Jr. in some foul trouble.
The Zags have encountered numerous zone defenses, which has added to their comfort level.
"It helps a lot," Melson said. "We were getting shots on our terms. Rhythm shots are one of our keys and we did that from the start."
Melson has run hot and cold from distance this year, coach Mark Few said.
"He always gets on a little tear this time of year and hopefully that'll be the case," Few said. "The rim was looking pretty big for him."
Melson was heckled last Saturday by an LMU fan who loudly instructed the Lions not to bother guarding the Zag.
"I heard him," Melson said. "I looked at him and smiled. He said some nonsense, talking about I lost the game against Florida. Everybody hears all that. It just brings more fun to the game."
Melson has been getting up extra shots in practice, but he said the biggest key is showing patience on a team with numerous capable scorers and being ready when it's his turn.
"We squirted him down in his interview, he was still on fire," said Perkins, who had 13 points and seven assists. "He can shoot the ball. We see it every day in practice."
Gonzaga had a nice mix of paint points (50), high-post production and 3-pointers (13). Rui Hachimura added to his growing string of quality games with 20 points in just 24 minutes. Killian Tillie chipped in 15 points.
The Zags owned the boards (50-32). Their 16-point halftime lead was built largely on a 16-3 edge in second-chance points.
Portland's offense had issues with Gonzaga's length and athleticism. The Pilots made just 30 percent from the field.
One of the loudest ovations came in the closing minutes when manager-turned-walk-on Brian Pete made a baseline jumper for his first career points. His teammates bolted off the bench to celebrate at the time and after the final buzzer.
"I thought we handled our business well," Few said. "When we take care of the ball like that (six turnovers) in a really high-possession game and our defensive numbers were pretty good, especially in the second half, that's a good recipe for us."
Local journalism is essential.
Give directly to The Spokesman-Review's Northwest Passages community forums series -- which helps to offset the costs of several reporter and editor positions at the newspaper -- by using the easy options below. Gifts processed in this system are not tax deductible, but are predominately used to help meet the local financial requirements needed to receive national matching-grant funds.
Follow along with the Zags
Subscribe to our Gonzaga Basketball newsletter to stay up with the latest news.
---