Jock Landale leads Saint Mary's in 74-71 upset victory over No. 13 Gonzaga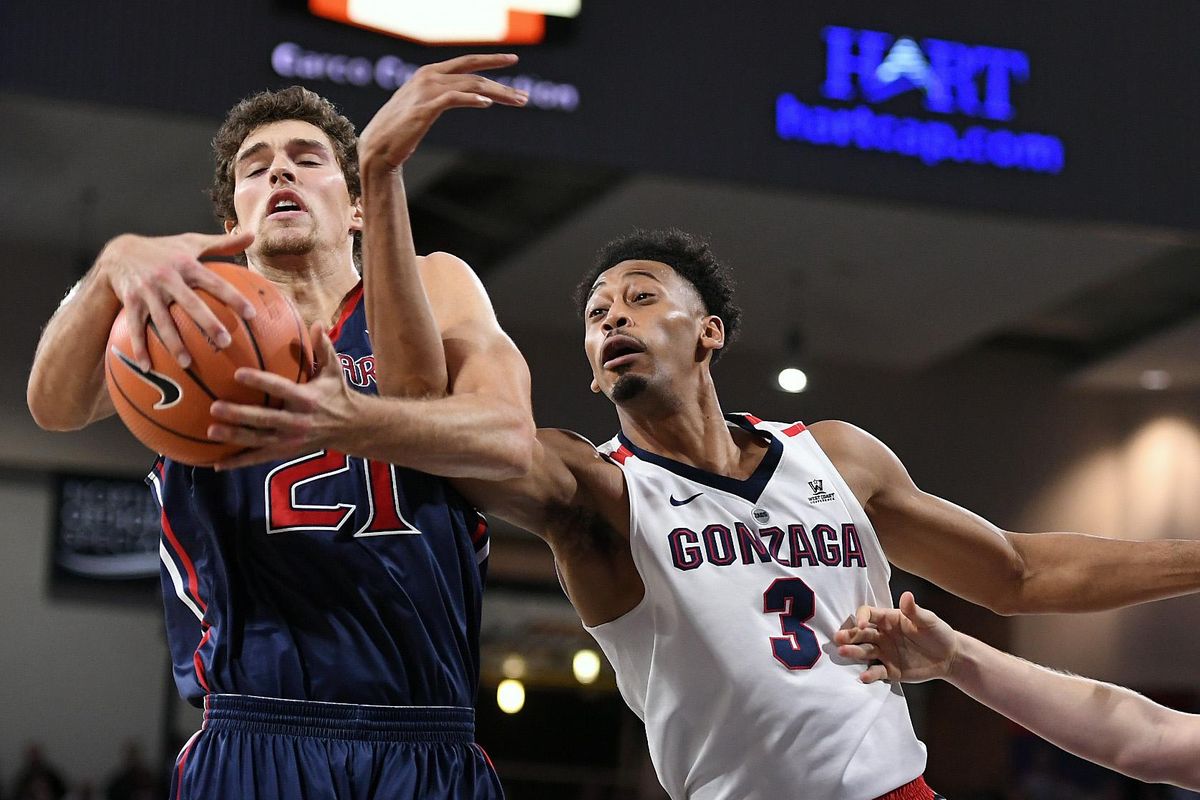 Jock Landale scored a game-high 26 points, 17 of which came in the second half, as Saint Mary's (18-2, 7-0) upset No. 13 Gonzaga (16-4, 6-1) 74-71 on Thursday in a rare loss for the Bulldogs at the McCarthey Athletic Center.
Landale was one of four Saint Mary's players in double figures, including Calvin Hermanson (16), Tanner Krebs (10) and Jordan Ford (10).
Gonzaga was paced by Rui Hachimura's career-high 23 points. The sophomore reserve forward finished 11 of 16 from the floor.
Gonzaga twice had a shot to tie the game in the final seconds, but neither Hachimura or Josh Perkins could connect from deep.
Johnathan Williams added 13 points and six rebounds for the Bulldogs, while Killian Tillie finished with 11 points and eight boards.
Saint Mary's shot 57 percent from the field and an astounding 62 percent from 3-point range in the win, while the Zags shot 48 percent from the floor and 27 percent from deep.
Gonzaga will now hit the road for a 5 p.m. Saturday contest at Santa Clara (KHQ).
Second half
Final – Saint Mary's 74, Gonzaga 71: Perkins shoots from way outside, but misses everything. Zags get one last shot, but Hachimura can't hit the 3-pointer at the buzzer.
First WCC loss for Gonzaga, while Saint Mary's stays perfect.
0:13 – Saint Mary's 74, Gonzaga 71: Perfect pass into Landale who finishes and puts the Gaels back up by three. Bulldogs burn their last timeout with the shot clock turned off.
1:06 – Saint Mary's 72, Gonzaga 70: 22 lead changes and nine ties in this one as Saint Mary's keeps with its efficient offensive plan – get the ball to Landale, who is at 24 points.
Hachimura up to 23 points, the last two of which came on a nifty post move and through quite a bit of un-whisteled contact.
3:38 – Gonzaga 68, Saint Mary's 68: Tides changing every possession in this one as both teams are finding a way to score.
Gonzaga gets a nice break as Perkins is fouled on a 3-point attempt near the end of the shot clock to take back the lead before the Gaels tie things right back up with Landale's left-handed hook. He's now up to 20 points.
Melson gets blocked in the lane on the last play before the media timeout and is slow to get up after the contact.
6:44 – Gonzaga 63, Saint Mary's 63: Williams joins the group of Gonzaga in double figures at 11 points after a nice putback following an offensive board.
Hermanson having a nice stretch though for the Gaels as he's up to 14 points. Tanner Krebs at 10 points for SMC, which now has four starters starters in double figures. Gaels tie things up on a Landale turnaround jumper.
Zags not getting much help from the perimeter in this one, making just 6 of 19 shots from deep (33 percent). Kispert and Larsen have also been held scoreless off the bench for the home side.
10:15 – Gonzaga 61, Saint Mary's 54: Bad series from Tillie as he turns the ball over after a rebound, followed by fouling a SMC 3-point attempt. This comes right after he made his fourth bucket of the game to send him to double figures with 11 points.
It also wouldn't be a nationally-televised game without showing the list of Gaels from Australia – there are six, including Landale who is up to 15 points. Also on that list is point guard Emmitt Naar, who is second in the country in assists per game. He's up to eight tonight.
Gaels rattle off a 7-0 run to cut the Gonzaga lead to two, but Perkins responds with his first 3-pointer of the game. Hachimura also adds six quick points off the bench as he's up to a career-high 21 points. Rui on another level tonight.
15:51 – Gonzaga 50, Saint Mary's 43: great start to the half from the Gonzaga big men as Tillie and Williams knock down 3-pointers.
Zags also doing good work on the defensive end highlighted by a Williams block on Landale. Bulldogs now have three blocks on the night.
Both Landale and Ford into double figures for the Gaels, while Williams, Tillie and Norvell are at nine for the Zags.
First half
Halftime – Gonzaga 42, Saint Mary's 38: Gonzaga's quickness really the difference in the past few minutes, showcased by a nice baseline slam by Hachimura.
The sophomore is now up to 15 points, two boards and a block.
Melson still at eight points, while Norvell is at seven. Zags shooting at 58 percent from the floor.
Landale leading the way for Saint Mary's with nine points, while the team is shooting 64 percent overall. Gaels with seven turnovers to Gonzaga's three. Teams have only combined for 10 fouls in a very quick half.
Each team also only has 13 rebounds – mostly because there haven't been many missed shots.
3:58 – Gonzaga 34, Saint Mary's 32: Heck of a start for Hachimura as Rui is the first player into double figures with 11 points. He's also 5 for 5 from the field.
Williams also up to six points after a nifty move once again on Williams.
Gaels shooting 62 percent from the field, while the Zags are hitting at a 54 clip.
5:59 – Saint Mary's 32, Gonzaga 30: What a drive and dish from Josh Perkins as he finds Hachimura for the up and under layup. Not sure that either team is playing bad defense – these are just good offenses.
Speaking of good offense, Silas Melson has knocked down a pair of 3-pointers. He's liking the look of the hoop at The Kennel recently.
Melson leads all players with eight points. Four Gaels have five points.
11:02 – Saint Mary's 22, Gonzaga 21: Fantastic vision from Landale as he finds Calvin Hermanson for a 3-pointer.
Zags going to the bench early on here with Rui Hachimura, Jacob Larsen and Corey Kispert seeing the floor.
Both teams shooting an incredible 70-plus percent from the field, while Saint Mary's is also shooting 75 percent from deep.
Hermanson, Landale and Jordan Ford each with five points for the Gaels.
14:46 – Gonzaga 13, Saint Mary's 10: Frantic start to this one with both teams finding an early offensive groove.
Zach Norvell Jr. – who has been quiet as of recent – knocks down the Bulldogs' first triple of the night, but the Gaels answer right back.
Big battle of the night will be between the big men with Saint Mary's Jock Landale and GU's Johnathan Williams. So far it's been Williams with the upper hand after a nice steal on Landale and a solid post move for his first two points.
Killian Tillie also off to a nice start with six points and a steal.
Gonzaga announces starting lineup
Bigs, point guards take center stage
There are quality matchups at all five spots, but we'll zero in on the bigs and the point guards.
Saint Mary's Jock Landale is a legitimate All-American candidate at 21.7 points and 10.3 rebounds per game. … READ MORE »
No. 15 Bulldogs vs. Gaels
NCAA BASKETBALL
At McCarthey Athletic Center, Spokane
➤ Thursday, Jan. 18: Saint Mary's Gaels at Gonzaga Bulldogs, 6 p.m. PT TV: ESPN
---