News > Spokane
North Central COPS shop has relocated to Knox Presbyterian on West Knox Avenue
Jan. 31, 2018 Updated Wed., Jan. 31, 2018 at 3:32 p.m.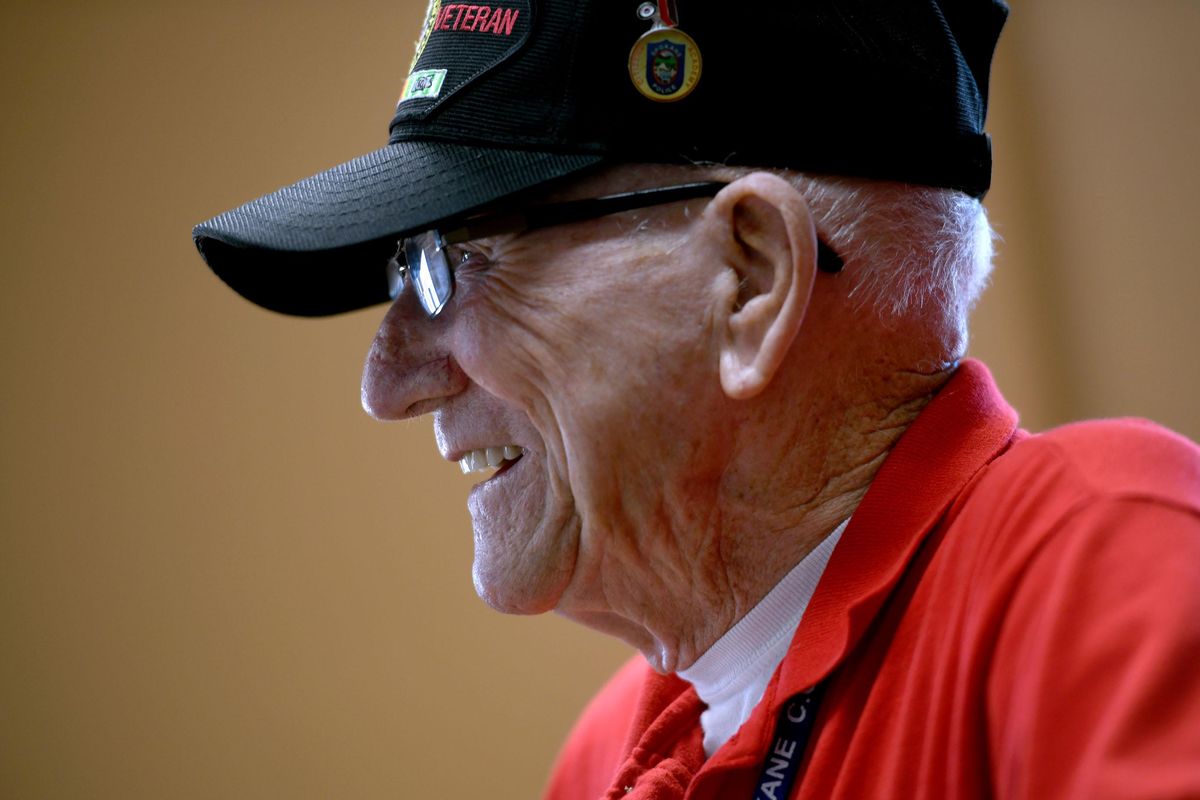 Vietnam veteran Cliff Drake is one of the volunteers at the new COPS station in the North Central neighborhood of Spokane. He talks about volunteering at the station on Thursday, Jan. 25, 2018. (Kathy Plonka / The Spokesman-Review)Buy a print of this photo
The North Central COPS shop has moved its offices to Knox Presbyterian Church at 806 W. Knox Ave.
The Community Oriented Policing Services station is open three days a week, and volunteer Cliff Drake said they would like to have more hours of operation but are in need of volunteers to do that.
"Hopefully, we'll be open five days a week," he said.
When North Central COPS shop lost its lease on West Shannon Avenue last year, Executive Director Patrick Striker knew they would have to find a new spot as soon as possible.
"There's a noticeable uptick in crime when it's not here," he said.
The new place needed to be visible and needed to "fit our needs for what we're trying to accomplish," Striker said.
He didn't need to look very far. As a member of Knox Presbyterian Church, he knew there were plenty of rooms the church didn't use.
The church, built in 1917, is highly visible. During the summer months, the Emerson-Garfield Neighborhood held its farmers market in the church parking lot until moving to a couple of blocks north to the parking lot at CCS Institute for Extended Learning. Striker approached the church, and it agreed to lease a space for $400 a month.
"And that's everything," Striker said. It includes water and electricity.
The old church building needed some work, and volunteer Kelly Cruz stepped up to help out. He put in a new ramp to make it wheelchair accessible and helped to fix the sidewalk. He also added extra electrical outlets – there were only two – built a kitchenette and completed other construction work.
The shop serves the area north of Indiana Avenue, south of Garland Avenue, west of Division Street and east of Ash Street: both the North Central and North Hill communities.
Striker said one of the concerns of the neighborhood is property crimes. Now that the COPS shop is open, residents can report complaints they see in the community that concern their safety.
He said that is very important to the Spokane COPS program. The C stands for community, and they are looking forward to being a part of it.
The shop also has many resources for residents. They offer fingerprinting services for anyone who may have had crime in their area. Forensic specialists train the volunteers for that. They also register bikes, patrol the neighborhoods and participate in the Family ID program.
"There are so many things that you can do," he said.
Neighborhood Resource Officer Dale Wells will have an office in the new shop where he can get to know the residents and their concerns.
Recently, he has been dealing with problem houses.
"Every neighborhood's got their problem houses," Wells said. He said he often deals with those in two ways: through mediation or through enforcement.
His office is still under construction at the new building, but once it's finished, he plans to be there every day when he's not out patrolling.
For now, the shop is looking for volunteers. Wells said when the old shop closed, they lost many of their volunteers. The volunteers went to other shops or just dropped out.
"I need volunteers to keep my office open," he said.
There is still a little construction Cruz is taking care of, and once the shop is up and running, Spokane COPS is planning a grand opening. It will be March 20 from noon to 2 p.m. Striker said he is planning a ribbon cutting, tours, information about their services and, hopefully, a barbecue.
"I think this is going to be a good location for us," Striker said.
Local journalism is essential.
Give directly to The Spokesman-Review's Northwest Passages community forums series -- which helps to offset the costs of several reporter and editor positions at the newspaper -- by using the easy options below. Gifts processed in this system are not tax deductible, but are predominately used to help meet the local financial requirements needed to receive national matching-grant funds.
Subscribe now to get breaking news alerts in your email inbox
Get breaking news delivered to your inbox as it happens.
---