6th District candidates make final push leading up to primaries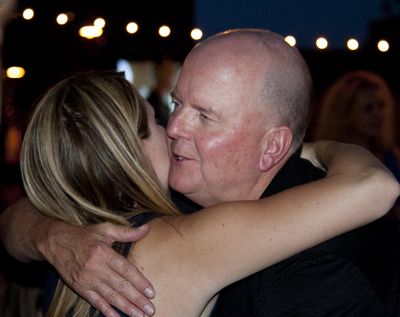 With the primary election a little more than a week away, 6th District House candidate Dave Wilson has raised several thousand dollars more than his opponents. None of the candidates thinks that guarantees a victory.
As of the most recent report from the Public Disclosure Commission, the Democrat, who formerly ran for Congress as an independent, has raised more than $30,000 – significantly more than either Democratic candidate Rion Ametu or Republican candidate Jenny Graham. The other GOP candidate, John Aiken, couldn't be reached and hadn't raised any money except his own $100 donation.
The two candidates with the most votes will advance to the November election, regardless of their party affiliation.
Nearly two-thirds of Wilson's funding came from individual donations, followed by roughly $9,000 from political action committees.
Despite Wilson's financial advantage, his opponents remain undeterred. Ametu, the other Democratic candidate, said he's optimistic about his campaign. He said he wants to focus primarily on blue-collar workers and families.
"I think the important thing about this race is not to fall into the old routine of just voting Democrat," he said.
Despite that emphasis, it's been Wilson who earned most of the financial support from local unions – $2,400.
Ametu said he's still connecting with workers but is just more focused on meeting people than fundraising.
"I didn't get financial support from unions, but I got a lot of individual support from people in unions," he said.
For Ametu's campaign contributions, which totaled a little less than $6,000, about two-thirds of the contributions came from individual supporters.
Several Democratic supporters believe both Ametu and Wilson would be a good fit for the 6th District, which encompasses western Spokane and the West Plains.
"They really do care. They're doing it for the right reasons," said former Spokane County Democratic Party Chairman Andrew Biviano. "I think they're both great."
Biviano and other party members donated to both campaigns.
City Councilman Breean Beggs, who donated to Wilson's campaign, said he liked both of the Democratic candidates but was "sold" on Wilson and his ability to work in a more centrist district.
"Dave has been part of this community for decades," Beggs said. "It takes someone who's a really good listener and can translate those ideas."
Republican Graham said she wasn't worried about Wilson's fundraising lead, chalking it up to more campaigning experience: "I have zero doubt in my mind that I am the right person for that job. Dave Wilson has run before – he had connections."
Although she's never run for office, her work helping pass legislation which increased the statute of limitations for prosecuting sex offenders earned Graham the support of current and former Republican legislators like Sen. Mike Padden, Rep. John Ahern and Rep. Jeff Holy, who's giving up this seat to run for the 6th District Senate seat being vacated by Michael Baumgartner.
"She's the right one for the job. Very cool, calm and collected," Ahern said. "I want that lady elected."
Of the funding she's raised, a little more than half of her roughly $12,000 came from individuals, followed by PACs and business contributions.
Her stance on issues like food taxes and business earned her support from the Washington Hospitality Association and Washington Food Industry Association.
Spokane County Treasurer Rob Chase, who's running for County Commissioner, also donated to Graham's campaign. He said he admired her on a personal level and for her legislative work.
"I've known Jenny for eight years now," he said. "I think she's a good candidate."
Curiously, Graham also received a $100 donation from Aiken, who is running against her. He could not be reached for comment.
All three candidates said they were busy with door-to-door campaigns this past week.
Wilson is expecting a tough race with Ametu and Graham, but believes he's the most qualified candidate: "I've lived here a lot longer, started and ran a business, I'm pretty well-known in the community. I think Jenny Graham is going to get through on the Republican side, and that's true on her end, too."
Washington primary elections will take place Aug. 7.
---