Sports > Area sports
Washington Huskies baseball two wins away from first College World Series berth
UPDATED: Thu., June 7, 2018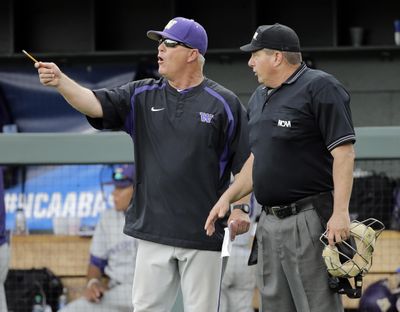 SEATTLE – Reminders are all around the Washington baseball facility. The Huskies make clear their No. 1 goal: to get to Omaha, Nebraska, home of the College World Series.
One sign in the Huskies' clubhouse reads: "Destination Omaha" in all capital letters. The team regularly meets inside the 1,400-square-foot Omaha Room. And the north wall in that meeting room is covered by a floor-to-ceiling photo featuring the stadium in Nebraska, along with the slogan: "The Forecast for Omaha is Purple Reign."
"From Day One in this program, we always talk about going to Omaha and how special that would be," senior designated hitter Joe Wainhouse said. "It always seems like this real tough goal, something that's really far out there."
Unexpectedly, the Huskies did arrive in Omaha last week. It wasn't their final destination, just a place for their chartered plane to refuel midway through the flight from Seattle to South Carolina for UW's NCAA regional appearance. The Huskies didn't even exit the plane, but they did see the 45-minute layover as a serendipitous stop at the start of their postseason push.
"To make that stop was pretty funny," senior shortstop Levi Jordan said, "and hopefully we can make our way back there."
After sweeping through the four-team regional in South Carolina last weekend, the Huskies earned the program's first berth to the Super Regionals. They are now just two wins away from their ultimate goal, and all that stands in the way of the College World Series – and a formal return to Omaha – is Cal State Fullerton, a perennial national power that has been to the CWS 19 times and won four national championships.
The Super Regional in Fullerton is a best-of-three format. Redshirt freshman left-hander Lucas Knowles (5-5, 4.01 ERA) is scheduled to start Game 1 for the Huskies. First pitch is set for 11 a.m. Friday on ESPN2.
Game 2 is scheduled for 3:30 p.m. Saturday (ESPNU) and Game 3, if necessary, is set for 6 p.m. Sunday (ESPNU).
"We are excited," Jordan said. "Cal State Fullerton is a great team from what I've heard. But to be quite frank, we don't really care who we're playing. We just want to play baseball and we want to play baseball the way we've been playing baseball for the last month."
The Huskies (33-23) have won 10 of their last 12 games, and won their final five Pac-12 series to sneak into the postseason.
"We're hot and we're feeling good," second baseman A.J. Graffanino said.
Added Jordan: "Who in the country wants to play us right now with how we're playing?"
UW coach Lindsay Meggs said the Huskies' success this season is not only a sign of the program's rise in prominence, but also of the strength of baseball in the Northwest. The Huskies' roster includes 19 players who attended high school in Washington.
"Part of our (recruiting pitch) from the beginning has been that, if we can get this program to the College World Series, you can be part of something that makes history – really defines what this program could be from here on out," said Meggs, in his ninth season as the UW coach. "And I think our guys really embrace that. I think they feel a little bit disrespected being from the Northwest, that people might say there aren't as many players out here as there are in California, Texas, Arizona, and I think they feel like they're as good as anybody."
After a rough start to the season – they had a 7-8 record their first month – the Huskies went 20-10 in the Pac-12 and on the final day of the regular season were one inning away from winning their first conference title in 20 years. Still, with an RPI of 63, the Huskies were believed to be one of the last teams to earn a postseason bid.
"Not many people have talked about our program," Meggs said. "You've heard all this RPI stuff and where we are, and I've always laughed at that. One of my biggest hopes is this is a great example that the RPI needs to be blown up and reevaluated. It's silly.
"So I think our guys have a little bit of an edge because they have that chip on their shoulder about where they're from to begin with, and the fact that nobody expected us – other than us – to have a chance to do this. And that really means a lot to them, to send a message and to do it the right way."
Local journalism is essential.
Give directly to The Spokesman-Review's Northwest Passages community forums series -- which helps to offset the costs of several reporter and editor positions at the newspaper -- by using the easy options below. Gifts processed in this system are not tax deductible, but are predominately used to help meet the local financial requirements needed to receive national matching-grant funds.
Subscribe to the sports newsletter
Get the day's top sports headlines and breaking news delivered to your inbox by subscribing here.
---