A&E > Seven
Local music spotlight: Kosh uses music to connect to the crowd
June 14, 2018 Updated Thu., June 14, 2018 at 5:59 p.m.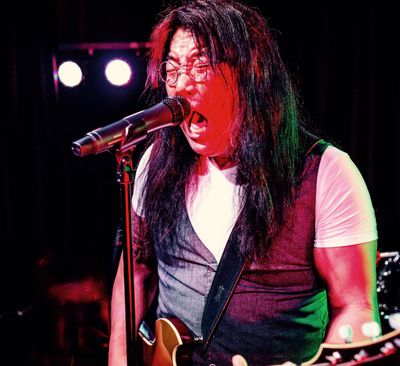 Koshi Shioya, more commonly known by his stage name Kosh, is passionate about his music above all else. The local musician, based in Coeur d'Alene, has been performing in the area since 2008, but has been playing guitar since he was only 13. His stage name comes from his nickname, which is a play on his middle name used by friends and family. He notes with a laugh that audiences often have a hard time with his name; he says it is pronounced like "kosher." In addition to sharing his music, Kosh would like to leave fans with this sentiment: "Be kind to musicians. We work hard for what we do."
Q. How would you describe your sound for someone who has never seen you perform?
A. What I do is I try to take all popular music, from classic, old, new, and I just try to simplify it to my own sound, which is kind of labeled as an "island feel." I don't purposefully try to do that, but it just comes off that way because I want to bring a really laid back atmosphere when I'm performing. You know when you go to a tropical island and you're sitting at a resort and there is a guy performing? Bringing the ambiance of the whole area? That's me.
Q. Do you perform mostly covers or do you write original songs as well?
A. I do have a slew of originals that I have written … but when I perform I only perform popular music, unless somebody requests an original to be performed. For me, it's more important that when people are listening they recognize the songs and that they can sing along.
Q. What styles of music or musical artists do you take inspiration from?
A. Well, I grew up in the hard rock, heavy metal era so I'm kind of partial to '80s style music as far as my personal taste, and a lot of the Seattle grunge style music of the '90s is what I really like… Stone Temple Pilots are one of my favorite bands. Currently I love Bruno Mars, Ed Sheeran; I love all those guys. Bruno Mars is one of my favorite musicians right now because he's the real deal. He does it all, sings it all, performs, dances; he does everything. In my opinion, in today's world he's just one of the best.
Q. What would be your dream venue to play?
A. I really prefer intimate settings where the audience is there for the music, and not just as an added feature. Although I love all the places I perform at, most of them I'm just ambiance for the venue, but there are some places that I perform at where they (the audience) are actually there just to hear music; those are always going to be my favorite and the most engaging.
Q. What are the biggest challenges and biggest rewards of playing music?
A. It always feels to me that music is an afterthought and is not a first priority. My concern right now is that there are so few younger musicians coming up through the ranks that I really feel like live performance is kind of a dying breed, and that makes me pretty sad … The biggest rewards: Even if it's just one person or one table that's really just absorbed in the music and in the moment; I just love that engagement. I've had people actually propose to whomever right in front of me as I'm performing. Those are the moments that always make it worthwhile … Just to be able to connect with people that I'm performing for and around.
Q. What are your favorite songs to perform or which songs appear to be crowd favorites?
A. I find that people love the Beatles. I perform a song by Paul McCartney called "Maybe I'm Amazed." It's a song that was written for his wife that died of cancer and it was one of the very first songs that was released after the Beatles broke up. To me, that was one of my bucket list songs, and I just love performing it and I always get a good response from it.
Q. What advice do you have for any other Spokane locals who might be interested in pursuing music or starting a band?
A. Love your art. Give it your all. Rehearse. I feel that nothing is given to you, nothing is handed to you, and it's not easy. You've got to get out there and hustle; you've got to hit the pavement, you've got to knock on doors. There's never a free ride, you know? It's perseverance. I find that the musicians that cut through are the ones that persevere and just know that it's not going to be just given to them. You really have to have the passion. That's a key word right there: passion. You've got to be really passionate about it, and that goes with anything you do, especially the arts. You've got to be passionate about it; it's definitely not about the money. When you're an artist it's all about passion.
Local journalism is essential.
Give directly to The Spokesman-Review's Northwest Passages community forums series -- which helps to offset the costs of several reporter and editor positions at the newspaper -- by using the easy options below. Gifts processed in this system are not tax deductible, but are predominately used to help meet the local financial requirements needed to receive national matching-grant funds.
Subscribe to the Spokane7 email newsletter
Get the day's top entertainment headlines delivered to your inbox every morning.
---