Sports > Seattle Mariners
Wade LeBlanc shuts down Red Sox in Mariners' 1-0 win
UPDATED: Sat., June 16, 2018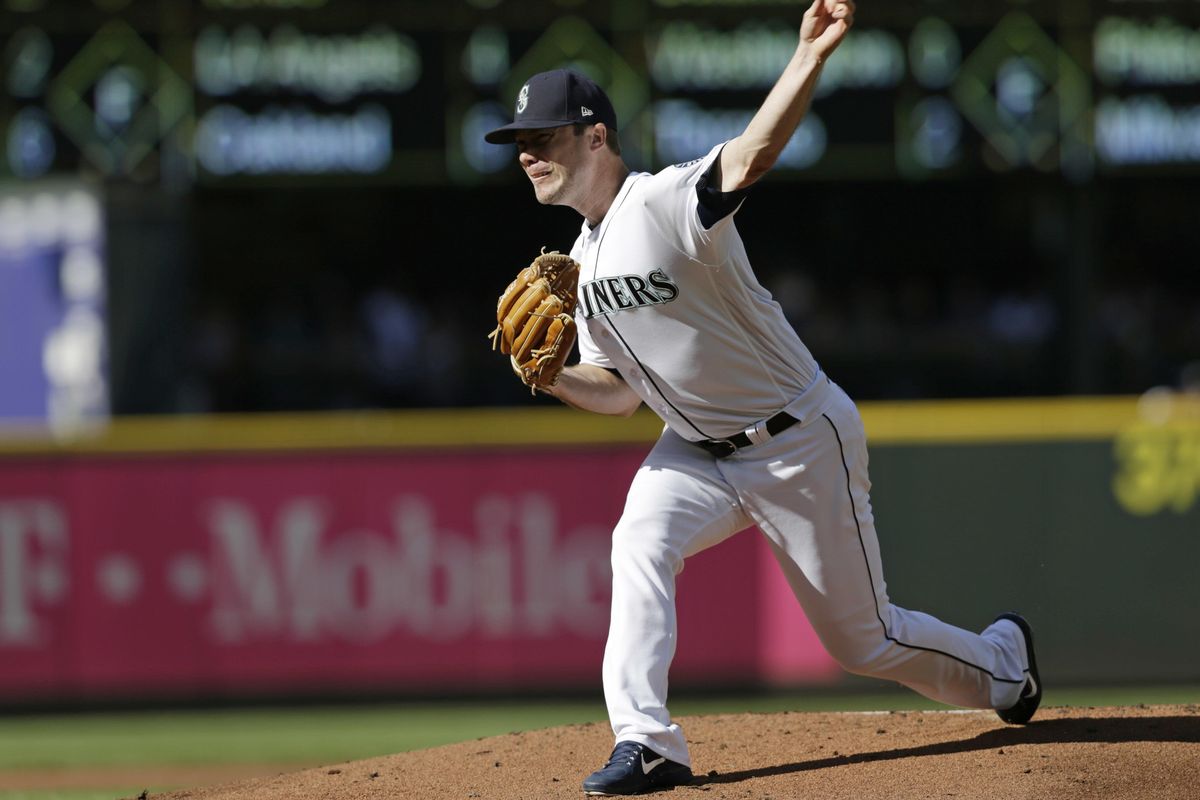 Seattle Mariners starting pitcher Wade LeBlanc works against the Boston Red Sox during the first inning of a baseball game Saturday, June 16, 2018, in Seattle. (John Froschauer / AP)
SEATTLE – Despite having a fastball that doesn't reach 90 miles an hour, Wade LeBlanc effectively shut down one of the best lineups in the American League.
LeBlanc pitched into the eighth inning and Nelson Cruz had an RBI single as the Seattle Mariners beat the Boston Red Sox 1-0 Saturday night.
LeBlanc gave up just two hits and struck out nine over 7 2/3 innings. After a single by Mookie Betts on the opening at-bat of the game, he retired the next 22 batters until Eduardo Nunez singled with two outs in the eighth.
"What a changeup he had today. That has been his bread and butter his whole career, but today was probably the best one we've seen all year," Mariners manager Scott Servais said. "He knows his craft very well and when he gets on a roll like that, he just keeps riding it."
LeBlanc (3-0) wasn't a part of the Mariners starting rotation until the first week of May. But since replacing an injured Erasmo Ramirez in the rotation, LeBlanc has shined for the Mariners. He's posted a 2.06 ERA in nine starts and Saturday's gem was the best of the lot.
A near-capacity crowd at Safeco Field saluted LeBlanc with a standing ovation as he left the field after Nunez's single.
"That's a really neat moment. Guys that throw 86 (mph) don't really get standing ovations really often," LeBlanc said chuckling. "I definitely wanted to kind of take them in and show my appreciation for it."
Alex Colome got pinch-hitter Mitch Moreland to pop out to end the eighth, and Edwin Diaz struck out the side in the ninth for his 27th save.
It was LeBlanc's first start of more than seven innings pitched since his first outing of the 2011 season with the San Diego Padres. His nine strikeouts were also his most since striking out 10 against the Los Angeles Dodgers that same season.
"He reminds me of that guy on the wall over there," Red Sox manager Alex Cora said gesturing toward a photo of Jamie Moyer. "LeBlanc was outstanding. Back-door cutters, front-door sinkers and mixed up his breaking ball halfway through the game, all on the edge of the strike zone."
LeBlanc had a little help from Dee Gordon at second base with diving stops to rob Rafael Devers and Xander Bogaerts of base hits.
The Mariners needed LeBlanc's stellar outing as they struggled to get a lot going against knuckleballer Steven Wright.
Wright (2-1) held Seattle to just one run and five hits with two walks and four strikeouts over seven innings.
Three singles – all to left field – off Wright in the third inning gave the Mariners their early advantage. Gordon reached with one out while Mitch Haniger and Cruz each singled with two down.
"We got just enough off of a really tough knuckleballer," Servais said. "Our guys are not used to seeing that and he was really good. The ball was dancing everywhere. He threw a lot of strikes with it.
"Our guy was just a little bit better."
It snapped Wright's string of 2 1/3 scoreless innings, which topped the stretch of 25 scoreless innings by Oakland's Daniel Mengden for the longest in the majors this season.
The Mariners signed first-round pick Logan Gilbert earlier in the day. The right-handed pitcher from Stetson University posted a 2.52 ERA while going 11-1 with 157 strikeouts and 23 walks in 15 starts. His 157 strikeouts lead NCAA Division-I baseball this season.
Local journalism is essential.
Give directly to The Spokesman-Review's Northwest Passages community forums series -- which helps to offset the costs of several reporter and editor positions at the newspaper -- by using the easy options below. Gifts processed in this system are not tax deductible, but are predominately used to help meet the local financial requirements needed to receive national matching-grant funds.
Subscribe to the sports newsletter
Get the day's top sports headlines and breaking news delivered to your inbox by subscribing here.
---