Washington State's Robert Franks says decision regarding next season will come 'down the line'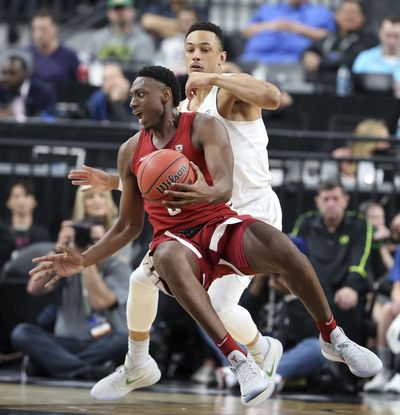 Robert Franks reconstructed his body last offseason and took his game to new heights, collecting Pac-12 Conference Most Improved Player honors after nearly tripling his scoring average and doubling his rebounding totals from his sophomore season.
Franks' development was no doubt a boon for the Cougars, but it also created a scenario that WSU fans probably hadn't contemplated before the 2017-18 season began. The junior forward must now decide if he wants to return for a senior season in Pullman or pursue a career in professional basketball.
That's a decision Franks hadn't made as of Wednesday night and one he expects will come later this month.
"The season's over, that's not something I'm thinking about right now at the moment," Franks said after WSU's 66-64 overtime loss to Oregon in the Pac-12 Tournament. "It'll come down the line in a couple weeks."
Franks, a 6-foot-7 forward with good shooting range and a strong post-up game, is an interesting pro prospect, but by no means a guaranteed NBA Draft pick if he should decide to leave. Nbadraft.net had listed him as a potential second-round Draft choice and in February, the website ranked him as the 40th-best pro prospect.
The NBA allows underclassmen to declare for the draft, partake in the draft combine and receive professional evaluations. Players are then able to withdraw from the draft as long as they do so within 10 days after the conclusion of the combine.
"If he has the opportunity to do that, he should," Kent said. "And we'll know more on that in the next few weeks, because I think the NBA does an excellent job of rating players now. They go through the league, they ask every team in the league to rate players and they come back and give you a great assessment as to whether or not they feel you should do this, just by the numbers game."
Franks averaged 17.4 points per game as a junior – seventh in the Pac-12 – and shot 40.5 percent from the three-point line. He was the Cougars' second-leading rebounder with 6.7 boards per game and converted 85 percent of his free throws. It comes after a sophomore season that saw Franks score 6.3 ppg, shoot 31.1 percenf from beyond the arc, grab 3.3 rpg and shoot 73 percent from the foul line.
"If he's in the ballpark where they say come to the combine, do those things, he needs to go through those things and do those things," Kent said. "Whether he goes or not, that's going to be up to him and his family and everything. But he first has to get the opportunity."
---