State 1A, 2B, 1B boys track and field: Riverside's Ben Shaw wins two more events on final day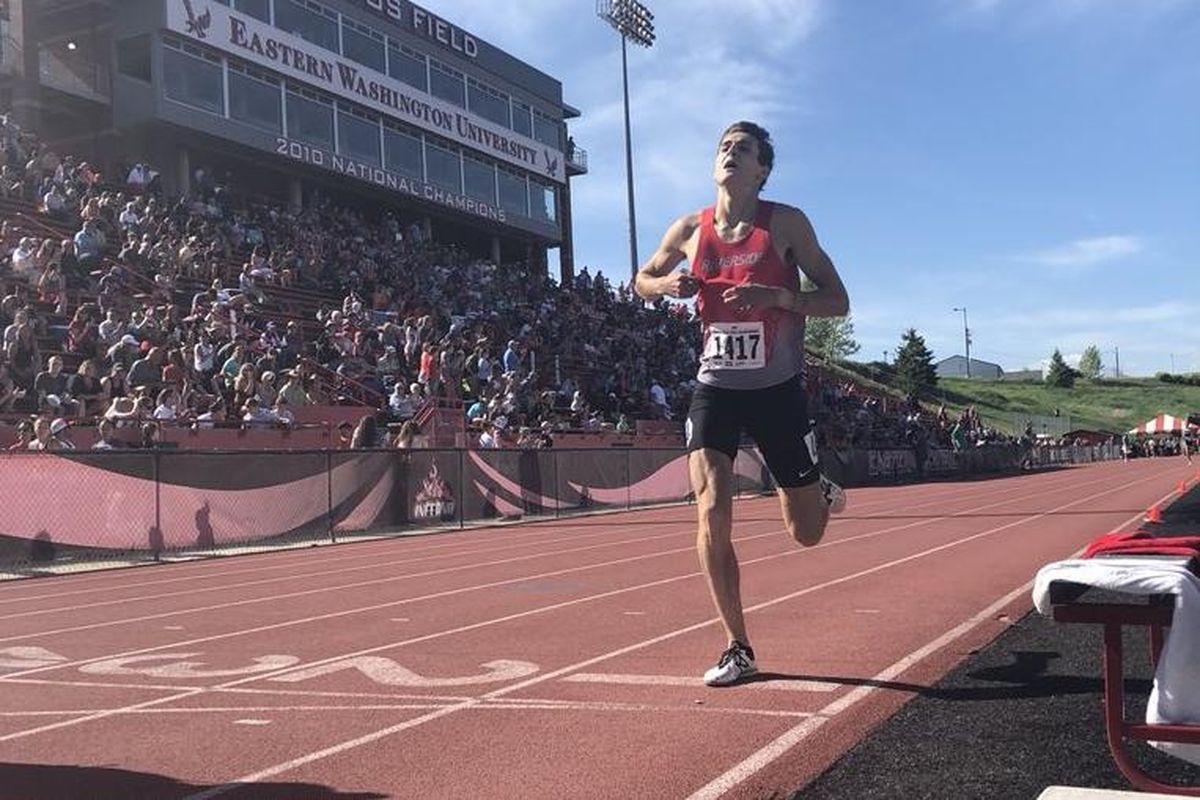 Ben Shaw's fun was spread out at the State 1A, 2B, 1B track and field championships.
After capturing the 1,600-meter title on Thursday, Shaw had Friday off to rest for the 3,200 and a leg on Riverside's 1,600 relay team on Saturday.
Shaw probably didn't need any rest, but he was fresh nonetheless as the state meets finished at Eastern Washington's Roos Field.
He cruised to the title in the 3,200 – winning by 8 seconds in a time of 9 minutes, 27.94 seconds.
After a couple of drinks of water and a short rest, he ran a leg on the Rams' winning 1,600 relay (3:26.08).
Shaw teamed with Ethan Spencer, Mark Bryant and Michael Zanoni.
Shaw explained that he didn't have to run the final relay, especially coming so soon after his eight-lap 3,200.
"We're really tight and we all believe in each other," Shaw said. "They thought I could do it."
Shaw, who took second in state last fall in cross country, plans to do track and cross country at Idaho, where he wants to study engineering. He carries a 3.95 grade-point average.
"I went out a little slower than I wanted," Shaw said of the 3,200. "That wasn't my plan, but my main plan was to win."
Micah Holmes of Lakeside (Nine Mile Falls) was a double winner in the 100 (11.39) and anchoring the winning 400 relay (44.13).
He teamed with Dawson Dunlap, Logan Allen and Noah Cherrington.
Holmes said the wind in the 100 was difficult.
"It wasn't anything close to a (personal best)," Holmes said.
Andrew McGill of Freeman captured the title in the 300 hurdles (39.80).
He was third last year when a shoe came untied and he tripped over a hurdle.
"All the hard work paid off," McGill said. "This is only my second year running the hurdles."
Lakeside took second with 50 points, eight behind King's. Riverside took fourth with 36. Freeman placed ninth with 22 points.
1B
If it seemed like Liam Bracken of Republic was everywhere, well he was in many ways.
Bracken won titles in the 100 (11.51), 200 (22.87) and 400 (49.20, a meet record) and placed fourth in the high jump.
Last year, he did just three events. This year, he added the 100.
Asked why, he had a comical answer.
"Because it's fast and easy," Bracken said.
Bracken managed a personal best despite going into a stiff headwind.
In the 200, Bracken knocked off the defending state champ.
"I was tired, but I just ran faster than I usually run," Bracken said.
Valley Christian's David Karapetr, in his first year doing track, won the 800 in 2:01.11.
"It's kind of a God-given ability my coach noticed," Karapetr said.
He had a 3-second improvement over his previous best.
Devin Brisbois of Wellpinit won two state titles.
He captured the 300 hurdles (41.59) and teamed with Xavier Brown, Hunter Adolph and Gabriel Salinas to win the 1,600 relay (3:33.85).
Mount Vernon Christian won the team title with 95 points. Republic was a distant second with 44. Wellpinit placed seventh with 34 points.
2B
Mitchell Ward of St. George's won the 400 (51.21).
Thad McKinney of Northwest Christian won the javelin with a throw of 176 feet, 2 inches.
Kalama captured the team title with 63 points. NWC took fourth with 40. Reardan placed eighth with 27 points.
---