Alberto rains turn creek into raging river; cars swept away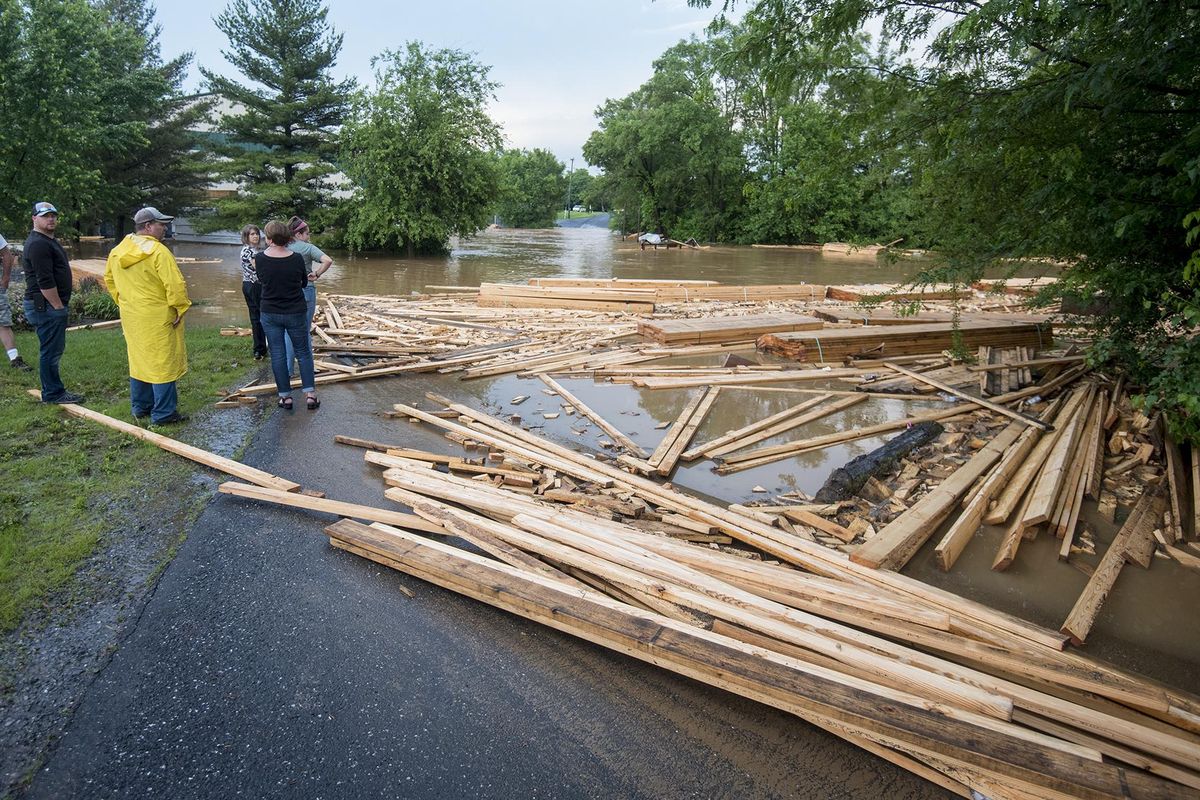 Heavy rains generated by subtropical Storm Alberto unleashed flooding in Virginia that washed out bridges, damaged homes, closed schools and transformed a normally peaceful creek into a raging river that swept away cars with people still in them. At least one person was killed and rescuers were searching for others.
Rescue crews searching in and around Ivy Creek found the body of one of two occupants of a Toyota Prius that was washed off the road Wednesday night, Albemarle County police said. A search continued late Thursday afternoon for the second person, while farther north in Madison County, the sheriff's office said rescuers were searching for a female reported missing in water the night before.
The storm, already blamed for at least four deaths in the U.S. earlier in the week, was pushing across the Great Lakes on Thursday. But the National Weather Service said the potential for more rainfall and flash flooding would continue for the Southeast, the Ohio Valley and the mid-Atlantic through the end of the week.
Since making landfall on Memorial Day in the Florida Panhandle, Alberto's heavy rains have been widespread, with flooding reported from Alabama through Tennessee, Kentucky, Illinois, the Carolinas and West Virginia.
In Albemarle County, the Toyota Prius and a second car were swept into Ivy Creek around 9:30 p.m. Wednesday. The occupant of one car was able to swim to a safe location, police said in a news release. But witnesses saw a man and woman get swept away as they climbed out of the Prius, Albemarle County Fire Rescue Chief Dan Eggleston said at a news conference.
"Ivy Creek is normally a very docile creek but with 8 to 10 inches of rain … it turned into a swollen, raging river. And it just tossed and turned both of those vehicles," he said.
Authorities also responded to at least 10 other water rescues and received reports of damage to homes, the extent of which wasn't immediately clear, Eggleston said.
Schools in the county were closed due to poor road conditions. Authorities throughout the region posted photos of washed-out roads and bridges, and they warned people to avoid unnecessary travel. One photo posted by the city of Charlottesville showed a playground partially submerged under floodwaters.
Eggleston warned of the possibility of more flooding as soon as Thursday evening, when there was a chance of additional rain.
"Everything is just bubbling," he said. "The streams are overflowing right now. Everything's at full capacity, if not more. So any additional rain would just make them swell again."
Elsewhere in the Southeast, the storms triggered flooding and mudslides.
In the North Carolina mountain town of Boone, one of those mudslides was blamed for a gas leak and explosion that destroyed a home Wednesday afternoon, killing two people.
Four North Carolina dams being closely watched by a state team of special engineers were holding up, Gov. Roy Cooper said Wednesday. But Cooper went ahead and declared a state of emergency for his hard-hit mountain counties, saying the forecast for the rest of the week calls for isolated heavy rain storms that could instantly cause flooding in areas that have had 20 inches of rain in the past 15 days.
"This storm isn't yet over. I'm urging people to keep a close eye on forecasts," Cooper said.
A photo posted by The Asheville Citizen-Times showed a popular park in the tourist-friendly city overrun by water from the French Broad River.
Two deaths had previously been reported in the U.S. during the storm's passage. A television news anchor and a photojournalist were killed Monday in North Carolina while covering the weather, when a tree became uprooted from rain-soaked ground and toppled onto their SUV, authorities said. WYFF-TV of Greenville, South Carolina, said news anchor Mike McCormick and photojournalist Aaron Smeltzer died.
Authorities in Cuba say Alberto left four people dead there as the storm drenched the island in heavy rain. Interior Minister Julio Cesar Gandarilla said late Tuesday they died as a result of "recklessness" during the storm. He gave no details. The deaths occurred as authorities worked to contain an oil spill in central Cuba's Cienfuegos Bay that followed the flooding of nearby oil refinery.
---