News > Spokane
Setting course with grit, smile: Lakeside senior discovers inner strength amid heartache
Thu., May 31, 2018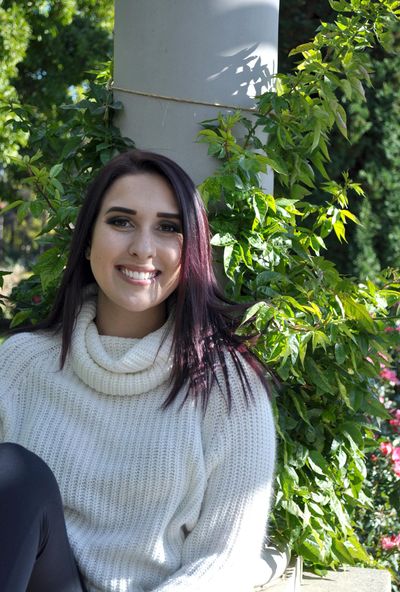 One of Lakeside High School senior Taelor Sheats earliest memories is hearing her parents screaming at each other over who would get custody of her in a divorce.
"I was 7," she said.
It would take another seven years before her parents actually divorced, but in the meantime Sheats was constantly caught in the crossfire.
"The anger was turned toward me instead of each other," she recalled.
Despite the turmoil at home, she was happy at school in Gig Harbor, Washington. She made the dance team and spent hours riding her rescue horse, Ben.
All that changed after the divorce.
"My dad got a new girlfriend right away," Sheats said. "I felt unwanted by both parents."
Gone was the horse and the home she loved, and she soon quit the dance team.
During her sophomore year she moved in with her boyfriend's family, trying to focus on being a teen.
"Tyler made it bearable," she said of her boyfriend. "With his family's help I made the cheer team."
But the emotional toll of her unstable family life began to exact a price.
"I had Tyler's family, but I needed my mom and dad. I didn't have them."
Tension with her mother increased to the point that Child Protective Services became involved. Things spiraled downward for the hurting teen.
"I dropped out of school. I didn't feel like I had the support I needed," Sheats said. "I was so frazzled."
Her boyfriend had gotten his own place, so she moved in with him, but their relationship began to unravel.
"We were just too young," she said. "And then I started hanging around with the wrong crowd, a really bad crowd. I started doing things I'm not proud of."
Some of those things included substance abuse.
"I just wanted to stay numb," she said.
Sheats went from happy teen on the cheer team to someone she couldn't even recognize. She drifted with the crowd, homeless for a time.
In April 2017 she ended up in Seattle where she watched a man overdose. The image haunted her.
"That was my wake-up call," Sheats said. "That's when I realized I needed to do better."
She reached out to her aunt and uncle in Nine Mile Falls who had offered to take her in when she was ready to turn her life around.
"They came and got me that weekend," she said, and they quickly enrolled her at Lakeside High School. But Sheats worried she was too far behind.
"The odds were stacked against me graduating because I had so many credits to make up."
Lisa Purdue, counselor at the school agreed that the road to graduation was steep.
"She only had 13 credits," Purdue said. "She was behind by 10 credits."
But then Purdue watched, amazed at how Sheats tackled the obstacles one by one.
"She's completely turned this thing around. She's grown up a lot."
Indeed, not only did Sheats complete the regular coursework she needed, but she enjoyed classes at NEWTECH Skills Center, too.
With her education on track, she got her driver's license and recently landed her first job.
"Taelor's got a lot of grit," Purdue said. "This young lady is incredibly positive. She's always got a smile on her face."
Already enrolled at SFCC, Sheats plans to pursue a nursing career.
"She's really excited for her future. I know she's going to do amazing at college," Purdue said.
And while there's a Mom-and-Dad-sized ache in her heart, Sheats said she's coming to terms with her parents' limitations, and is profoundly grateful to her aunt and uncle for taking her in and giving her a stable place to learn and grow.
"I feel like I went to hell and back, but my life is coming together," Sheats said. "I can fall down, and I can get back up again. It's uplifting to see who I am now and who I can be. There's a world at my fingertips."
Local journalism is essential.
Give directly to The Spokesman-Review's Northwest Passages community forums series -- which helps to offset the costs of several reporter and editor positions at the newspaper -- by using the easy options below. Gifts processed in this system are not tax deductible, but are predominately used to help meet the local financial requirements needed to receive national matching-grant funds.
Subscribe to the Coronavirus newsletter
Get the day's latest Coronavirus news delivered to your inbox by subscribing to our newsletter.
---