Civic explores difference between choice and destiny in 'Constellations'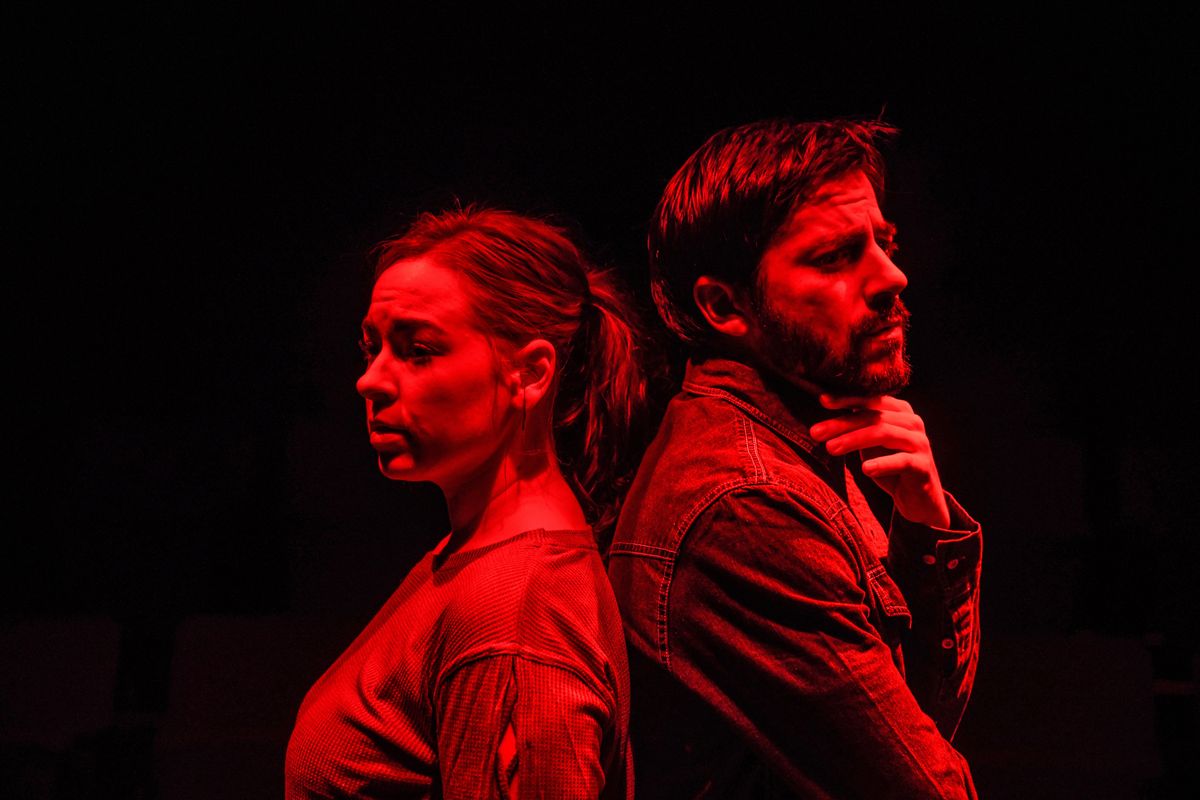 We all have those moments we wish we could redo.
Maybe we did or said something we regret, or maybe, if we had another chance, we'd say exactly what was on our mind instead of holding our tongue.
In Nick Payne's "Constellations," multiple universes allow quantum physicist Marianne (Chelsea DuVall) and beekeeper Roland (Max Elinsky) a chance to experience each redo.
"Constellations," directed by Pamela Kingsley, opens Friday at Spokane Civic Theatre and runs through Dec. 2.
"It's magical and moving and funny and sometimes hard hitting but it's always engaging because the audience travels roads not taken," Kingsley said. "It's like 'Gee, I wish I said that,' or 'Gee, I wish I hadn't said that.' We see all of that played out."
Kingsley said Payne has classified the play as a mix between "Groundhog Day" and "Somewhere In Time."
When auditioning actors for "Constellations," Kingsley was struck by the different energies DuVall and Elinsky presented, which mirrored the contrasting energies of Marianne and Roland.
"That these two people would come together is pretty extraordinary," Kingsley said about the characters. "It's one of those things that happens in the universe. Two people, totally different, meet and there's this wonderful starstruck chemistry that happens."
DuVall received a Master of Fine Arts in acting from the California Institute of the Arts, and Elinsky has worked in film and theater.
"The two of them complimented each other so beautifully, and what I saw in auditions screamed at me 'Roland and Marianne,' " Kingsley said.
Kingsley calls the process of working with just two actors on a show much more intimate and appreciates the opportunity it presents to dedicate rehearsal time to in-depth discussions about things like character, movement and the playwright's intent.
Kingsley has also spent a lot of time thinking about the way she wants to stage "Constellations."
Taking inspiration from the swirling constellations and the shape of beehives, Kingsley is presenting "Constellations" in the round.
After hearing about these inspirations, scenic designer/lighting designer/tech director Matt Egan ran with the idea and created hive-like flooring with a series of hexagonal pieces, some painted, others made of black mirrors that reflect light and images.
Kingsley also decided to enlist plexiglass cubes as seats for Marianne and Roland, creating an illusion of floating through space.
"Those were my inspirations, the hive and swirling constellations, the swirling universes around us…" Kingsley said, also noting the use of light and sound to move between universes. "Little bits of surrealism in each reality of each universe. How we get there is a little surrealistic."
"Constellations" is a not-so-typical boy-meet-girl story thanks to the introduction of the idea that multiple universes provide an infinite number of possibilities as to the direction one's life can take.
The show also grapples with the difference between choice and destiny. Kingsley said the play doesn't give audiences a definitive answer but rather leaves them with a question.
"Do we make our own way in this world or is fate leading us?" she said. "I think this play won't answer it but gives the audience a moment of inspiration."
Kingsley was particularly interested in exploring the emotion in "Constellations" (Payne wrote the play as his father was dying and he was falling in love with his future wife), but this play took on an even more special meaning when she realized it would be her 25th time directing at Civic.
"There's been a couple of decades in between the last time I've done it there so I'm coming back and celebrating with some people that I used to work with many, many years ago this milestone for me," she said.
Working in the Firth J. Chew Studio Theatre is also special for Kingsley. For one thing, she knew Chew, calling him a wonderful gentleman.
But she's also excited to be part of the studio theater's season, which features plays she said audiences won't see anywhere else.
"I really truly believe that the studio theater is going to be showing audiences in Spokane something significant the entire season," she said. "It's really an amazing season. And (creative director Jake Schaefer) said 'Wait till you hear about what we put together next season.' I don't think they've started that yet but I think the whole feeling is the sky's the limit."
---