Sports
Whitworth runs past Claremont-Mudd-Scripps 48-6 in Division III playoff opener
Nov. 17, 2018 Updated Sat., Nov. 17, 2018 at 9:54 p.m.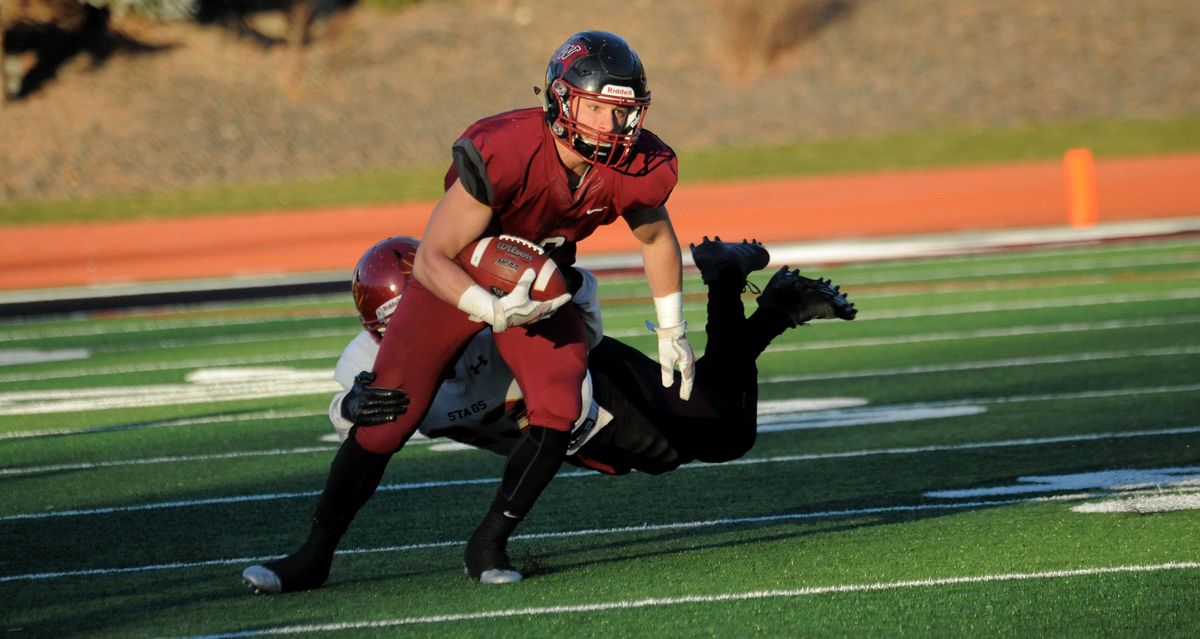 Whithworth's #2 Brayden Corona battles Claremont-Mudd-Scripps #23 Camrion Davis in the fourth quarter of the first round of the NCAA Division III playoffs at the Pine Bowl in Spokane on Saturday, Nov. 17, 2018. (Kathy Plonka / The Spokesman-Review)
Teams have tried all season to run the ball against Whitworth, and if there were a team equipped to do it well, surely that was the Claremont-Mudd-Scripps Stags.
But without their league MVP running back, the injured junior Garrett Cheadle, the Stags hardly tried to establish the run, and by halftime Whitworth had build a two-touchdown lead.
That was all the Pirates' defense would need, and Whitworth (10-0) dominated its opening-round NCAA Division III playoff game, a 48-6 victory Saturday at the Pine Bowl.
It sets up a game next weekend against undefeated Saint John's (11-0), the team Whitworth lost to 12 years ago in the second round of the 2006 playoffs.
This was Whitworth's second D-III playoff victory. It gives the Pirates a chance to match the 2006 team's school record 11 victories.
The Stags (7-4) came out throwing. They called nine straight pass plays to start the game, took a 6-0 lead on their opening drive (Tyler Adamson blocked the point-after attempt, his sixth this season) and drove into the Pirates' red zone on their second before missing a 26-yard field-goal attempt.
"We spent a lot of time preparing against the run," Pirates coach Rod Sandberg said. "Definitely caught us off guard and took us a little while to adjust and settle down. It was definitely what we were not prepared for."
But Whitworth adjusted and the Stags (33 carries for 37 yards) never got their ground game going.
Stags coach Kyle Sweeney said after the game that without Cheadle, the Southern California Intercollegiate Athletic Conference's Offensive Player of the Year, their prospects to run the ball dimmed.
Cheadle played a few snaps – and even faked a handoff on play-action – but didn't carry the ball.
After that first series, he was gone, holding his helmet on the sidelines.
"We knew as soon as we took Cheadle out of the game the gig was up," Sweeney said.
The Pirates answered with a pair of Cody McDonald field goals – from 34 and then 47 yards to tie it in the second quarter – and quarterback Leif Ericksen hit Nick McGill for a 5-yard touchdown to give Whitworth a lead it never relinquished.
With 1:04 left in the first half, Ericksen began and capped an 84-yard drive by finding Mason Elms on a wheel route, which the running back took 58 yards for a touchdown.
"He was my first read," the junior quarterback said. "They had a (linebacker) on with him and no one over the top. We've hit that route a couple times this year, but I've been a little short on it. I finally got it over the top past everyone and he ran away with it."
That made the score 20-6 heading into halftime. The Pirates added two touchdowns in the third quarter for a 34-6 lead.
Elms finished with 17 touches for 113 total yards. Ericksen completed 27 of 42 attempts for three touchdowns and an early interception.
Caleb Jones (a 36-yard reception) and Brayden Corona (a 27-yard run) scored the Pirates' final two touchdowns.
The Stags were a little more successful throwing the ball than they were running it. Freshman quarterback Zach Fogel – filling in for an injured starter – finished 10 of 28 for 189 yards, including a costly interception in the third quarter that set up the Pirates' third touchdown. He was also sacked six times.
"We love when teams try to beat us in the air," Pirates senior end Chad Wilburg said. "Once they start passing and they're scared to run on us, we love it because we get to pin our ears back and just go."
Whitworth has allowed two teams this season to run for more than 100 yards (Lewis & Clark for 128, La Verne for 131). Otherwise, no team has run for more than 60 yards.
Local journalism is essential.
Give directly to The Spokesman-Review's Northwest Passages community forums series -- which helps to offset the costs of several reporter and editor positions at the newspaper -- by using the easy options below. Gifts processed in this system are not tax deductible, but are predominately used to help meet the local financial requirements needed to receive national matching-grant funds.
Subscribe to the sports newsletter
Get the day's top sports headlines and breaking news delivered to your inbox by subscribing here.
---