Sports > WSU football
Washington State will have a Warrior pulling for them from afar: Klay Thompson
UPDATED: Sun., Nov. 18, 2018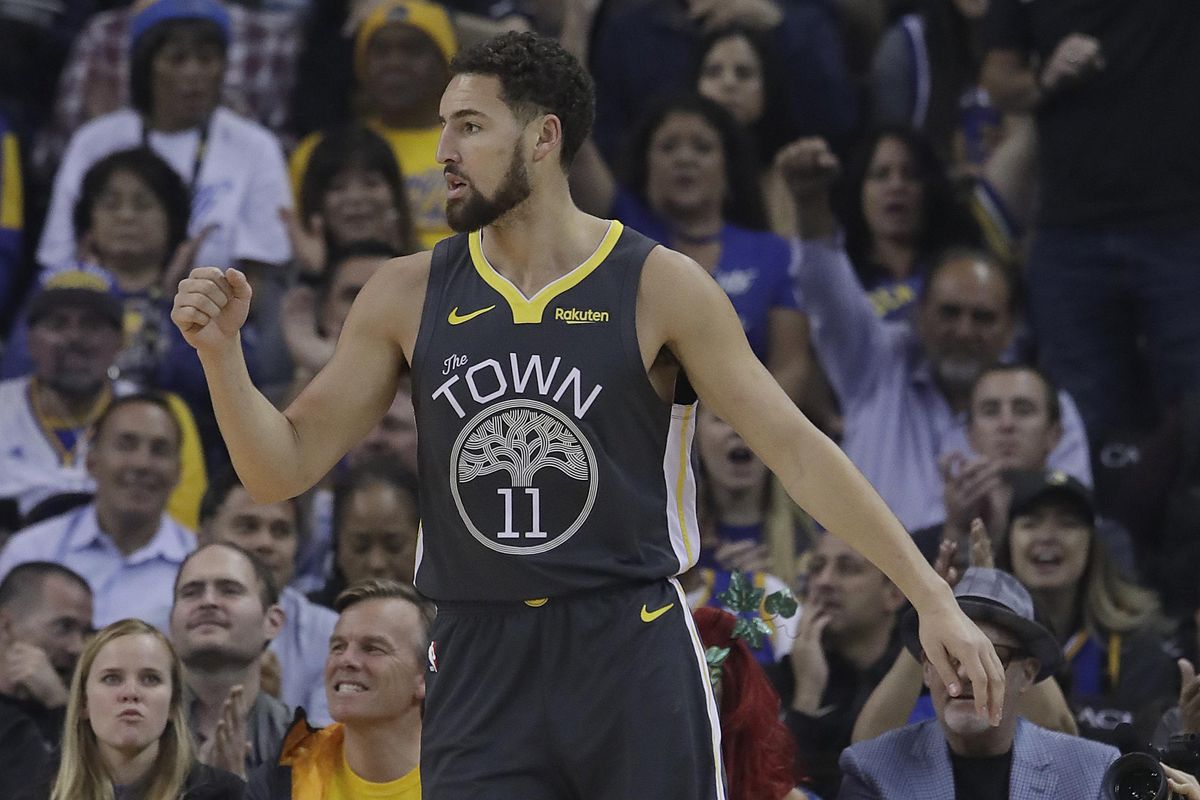 Golden State Warriors guard and former WSU star Klay Thompson is optimistic the Cougars will handle the Huskies in the Apple Cup. (Jeff Chiu / AP)
DALLAS – Since leaving Pullman in 2011 after his junior year, Klay Thompson has accomplished a great deal in the NBA.
Now 28, the ex-Cougar was the 11th pick in the 2011 NBA draft by Golden State. With the Warriors, he has been a key contributor to three NBA championship teams and is a four-time All-Star. Thompson also played on Team USA's gold medal-winning squad at the 2014 FIBA Basketball World Cup and at the 2016 Rio Summer Olympics.
But, prior to a recent road game in Dallas, the first thing he wanted to discuss was the Apple Cup game against Washington in Pullman coming up on Friday.
"This is our year to snap the streak and, at worse, we'll be Rose Bowl-bound," Thompson said of the Cougars' chances to end Washington's five-game winning streak. "I will be there for the Pac-12 Championship Game (the following week) if the schedule allows it."
In October, ESPN's College Game Day came to WSU for the first time and he was asked to attend before eventually deciding not to.
"Yeah, I was going to go. It was just between games, so there was a lot of travel (involved)," he said. "I'd love to go, but I couldn't. I wish I did now, but no one really remembers Game Day."
Even with Golden State currently focused on defending its third NBA title, Thompson still finds time to keep tabs on WSU football and calls himself an unabashed fan of current Cougars head coach Mike Leach.
"Oh, he's great for Pullman. You need someone who has that swagger to recruit there. He definitely has it," he said. "He has a track record as well. His offense is freakin' revolutionary (with) what he's doing at Washington State and did at Texas Tech. It's actually what we expected and it's cool to see. I'm a huge fan."
Thompson is also familiar with many of Leach's YouTube videos from his time at Texas Tech. However, he'd never seen the video where after a 2006 win at Texas A&M, Leach told the ABC sideline reporter that "sometimes a pirate can beat a soldier, you know."
"That's funny," Thompson said of Leach's quip. "I've seen his one-liners, they're great. They inspire me. I like how he has fun with the media because college football's so serious all the time. He keeps it lighthearted, which it should be because at the end of the day, it is a game. It's supposed to be entertainment."
On a team headlined by Steph Curry and Kevin Durant, individuals most NBA fans consider two of the top four players in the league, and defensive whiz Draymond Green, Thompson's contributions can sometimes get overlooked.
But that's not the case with Golden State head coach Steve Kerr, who has a full appreciation for No. 11's entire skill set, especially one underrated aspect of his value.
"I think his durability is probably the most underrated," Kerr said. "This is my fifth year with the team. Last year was the first time he had an injury that kept him out for any length of time.
"He's just a horse. He has to play both ends. We never let him rest on defense. He's almost always guarding a dominant point guard or wing. And then at the other end, he's running around like Reggie Miller or Rip Hamilton and coming off screens, so his level of conditioning and strength might be what's overlooked."
And Thompson was more than happy to discuss his durability, well after first knocking on wood inside his locker at American Airlines Center to ensure he didn't jinx himself by discussing what many players consider a taboo subject.
"Yeah, just blessed to have great stamina and really lucky that I've never had any catastrophic injuries," Thompson said. "There's a little luck involved, but I also just love playing this game, so it hurts me to sit out. I've played in like 96 percent of them in my career and I don't see that changing anytime soon."
Thompson is a laid-back guy who remains a key cog on one of the NBA's most impressive dynasties and considers himself incredibly blessed to be a Warrior. At the same time, he realizes his three seasons at WSU laid the groundwork for his current success in the NBA and remains grateful for his time and experiences in Pullman.
"Oh man, it was huge. It made me become a leader as well as a better player," Thompson said.
"Without that, I don't know where I'd be. I had to go through growing pains, but it was worth every second and it got me to this point. (It) definitely helped develop my mental side of the game the most, how to deal with wins and losses, focus on just being the best you can be and not comparing yourself to others."
Local journalism is essential.
Give directly to The Spokesman-Review's Northwest Passages community forums series -- which helps to offset the costs of several reporter and editor positions at the newspaper -- by using the easy options below. Gifts processed in this system are not tax deductible, but are predominately used to help meet the local financial requirements needed to receive national matching-grant funds.
Subscribe to the Cougs newsletter
Get the latest Cougs headlines delivered to your inbox as they happen.
---