Analysis: Gonzaga uses hot-shooting start, lock-down-defensive finish to down No. 1 Duke, win Maui Invitational title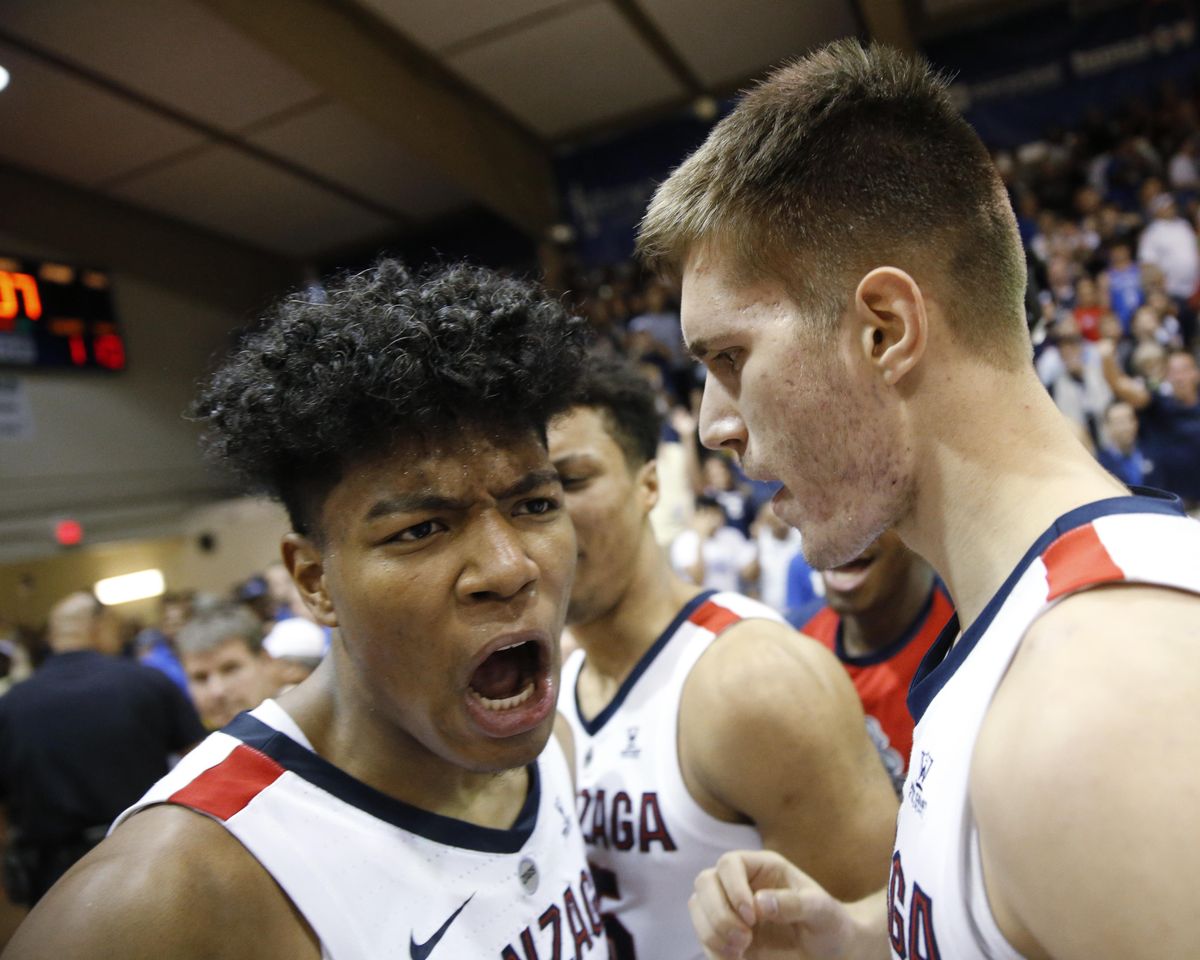 LAHAINA, Hawaii – With the clock seemingly in slow motion over the final 8 minutes, Gonzaga's lead, once at 16 points, dwindled to six, then two, before Duke finally tied it with 1:40 left.
Both teams, drained from playing their third game in three days, looked like a pair of heavyweights in the final seconds of a 15-round title fight.
Gonzaga landed the last decisive blows and earned perhaps the biggest regular-season win in program history.
Tournament MVP Rui Hachimura scored the go-ahead basket and the Zags blocked four shots in the closing minute as No. 3 GU outlasted top-ranked Duke 89-87 on Wednesday to win the Maui Invitational championship.
The Zags (6-0) stated their case for No. 1 when the next AP poll is released on Monday. Duke (5-1) reached No. 1 after destroying second-ranked Kentucky by 34 points in the season opener.
Gonzaga took down an AP No. 1-ranked team for the first time after losing in its two previous attempts. Duke suffered its first loss in Maui after compiling a 17-0 record in six trips.
"What a basketball game," coach Mark Few said. "Duke is everything we thought they were, and probably even a little bit more. They have no quit in them. They made a heck of a run."
"Great game," echoed Duke coach Mike Krzyzewski. "I thought both teams played their hearts out. They dictated the flow, the pace. They were very much in control the whole first half. I think they're experienced, they're really good. They can beat anybody."
Hachimura, after a rough patch on offense when Duke was mounting a late comeback, established position against a smaller defender in RJ Barrett and scored with 1:10 left, giving Gonzaga an 89-87 lead.
The Zags turned it over to their defense, which turned away the Blue Devils in the paint. GU needed everything the defense delivered, because Hachimura and Brandon Clarke both missed two free throws in between the three defensive stops.
Hachimura and Clarke both rejected two shots in the final minute.
"I think he switched on me, that he likes to play one-on-one against me," Hachimura said. "I was like, 'OK, let's do it. I'm the best player, too, so I have to guard him.' "
On Duke's final possession, Barrett barreled inside only to get his shot swatted by Clarke, setting off a wild on-court celebration as the Zags poured onto the court. Minutes later, Hachimura was announced as the MVP and looked a little surprised.
"I didn't know what they were talking about," he said. "I didn't know we had an MVP."
Gonzaga was in command most of the way. Hachimura and Clarke showed off their versatility in the opening minutes by connecting on 3-pointers. The two made 9 of 11 first-half shots and combined for 21 points.
Clarke swatted Zion Williamson's shot, then raced to the other end to jam home Zach Norvell Jr.'s miss in transition as GU took an early 12-8 lead.
The Blue Devils had no answer for the Zags' bigs. All four, including freshmen Filip Petrusev and senior Jeremy Jones, nailed 3-pointers in the opening half. Duke's Marques Bolden sagged off Clarke and Petrusev and paid for being late on close-outs.
Hachimura took it at whoever Duke put in front of him: Williamson, Cam Reddish, Jack White and Bolden. Hachimura hit jumpers out to the 3-point arc, used a dribble or two to make room for midrange shots and simply drove around Duke defenders for layups. The 6-foot-8 forward even led the break, dishing to Norvell for an easy bucket.
Duke didn't have an answer for Norvell or Perkins, for that matter. Norvell hit everything from step-back jumpers over Barrett to swished 3-pointers to layups on the break. Perkins made just one shot – a tough fadeaway over Bolden – in the opening half but smoothly directed the transition game and half-court offense with five assists.
The Blue Devils, with what many expect to be the top three players in the NBA Draft, couldn't keep up with Gonzaga, which ran at every opportunity.
That remained the storyline – until Duke came to life inside the 8-minute mark. Clarke, who missed large chunks of the game with foul trouble, and Hachimura both picked up their fourth fouls and the Blue Devils took advantage with dribble penetration and paint points.
Duke had three dunks in a 55-second span as GU's lead dwindled to 83-79. Williamson scored from point-blank range, tying it at 87.
The Zags stuck together, leaning on their experience compared to a Blue Devils team that starts four freshmen.
"It (experience) plays a huge role," said Norvell, who had 18 points. "Things were kind of a little shaky down the stretch on offense, but in the end we sat down and got some stops."
---