A&E
Teddy bear medicine: Project aims to ease kids' fear of medical equipment
Wed., Nov. 21, 2018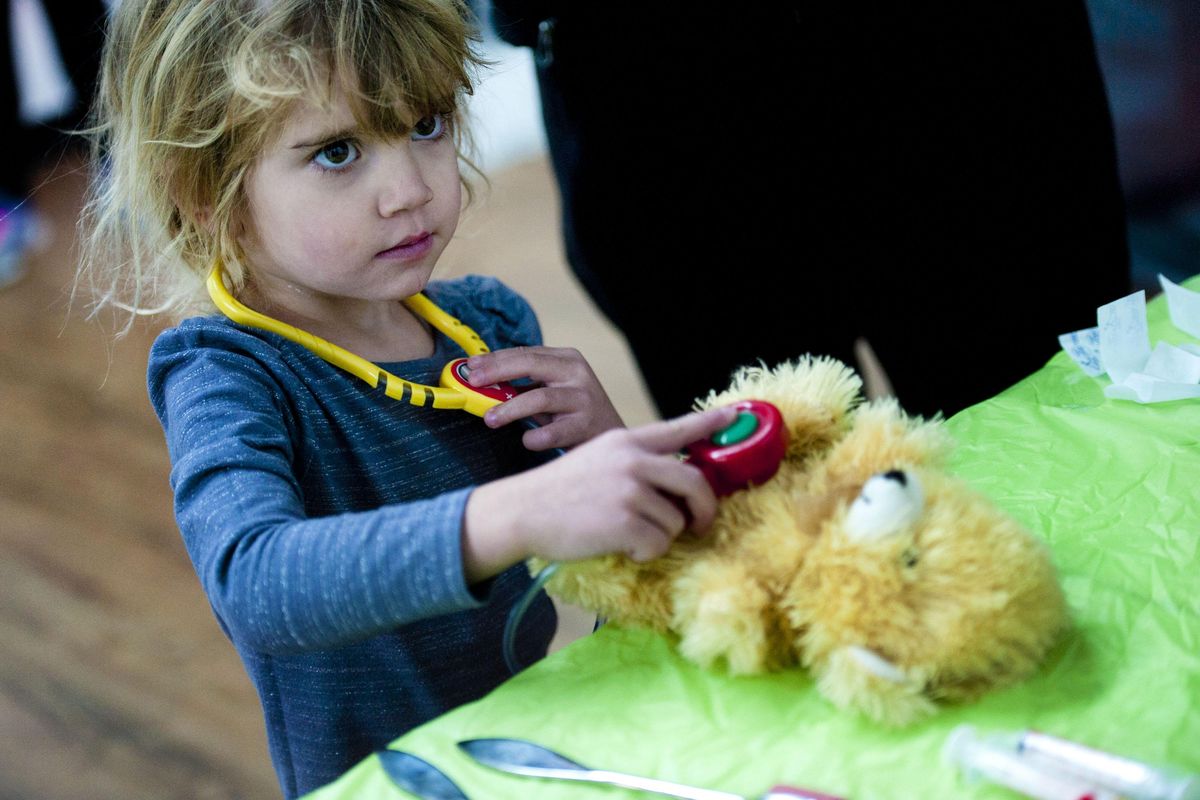 Three-year-old Giulia Lupinacci listens for a heart beat from her bear she named Coffee Maker during the hands on Health clinic designed to help kids feel more comfortable with pediatric checkups. The event was at Be Stil Kids Yoga Studio in Spokane on Saturday, Nov. 17, 2018. (Kathy Plonka / The Spokesman-Review)
One girl used a stethoscope to check the lungs of a teddy bear set up at an exam table. The furry friend was among other kid-friendly test subjects at a Hands on Health workshop held Saturday in Spokane.
AnnaLia Lupinacci, 8, performed that teddy checkup, later confirmed by her sister Giulia, 3. Both were among children attending the two-hour session with activities and art projects aimed at making children feel less frightened by medical equipment and procedures.
Two college students, Amy Marable and Christine Stewart, created the event for a senior project in the Eastern Washington University's Children's Studies program. Both have completed EWU studies remotely – Marable from Shoreline, Wash., and Stewart from Issaquah, Wash. – but they were in Spokane this weekend to run the clinic.
"It's to teach families and children about some common pediatric diagnoses and introducing them to medical supplies through fun, non-threatening art projects," Marable said.
"Going into the hospital can be a scary experience for anybody, and children typically can get anxiety and be stressed. They're scared of unknown situations."
Marable has some personal experience with that. At age 4, she was diagnosed with leukemia and recalls having a "play lady," a child life specialist at the hospital, who made her feel more comfortable during treatment. That's now the field that Stewart and Marable have studied, child life and health, and Marable has been cancer free for 24 years.
"Having been so young, I don't remember much of the negative aspects of being in the hospital," she said. She does recall that the child specialist played games and explained things to make her feel more comfortable.
"We would play with Play-doh, fishing games, ride trikes in the hall. That helped me with normalizing the hospital experience and giving me natural ways to learn things."
Stewart said all the activities Saturday were designed to make kids less fearful when they need to get a shot or are sick enough to go into a facility. She watched as kids gave an exam to teddy bears on a table surrounded by equipment.
"It's just like taking teddy bear to the doctor, but they get to be the doctor," Stewart said. "It helps familiarize them with the medical equipment, so when they go to the doctor, or into the hospital, it's not so scary for them."
The Saturday clinic with volunteers had different stations, set up within the Be Still Kids Yoga Studio in north Spokane. Kids got to make test-tube glitter bottles, do syringe art painting, complete exams at the teddy bear clinic, and do a tactile activity that simulates how blood cells work.
Kids also could use colored markers to make a design of a rainbow on medical masks, with the message of after a little rain, a rainbow can appear.
"As a kid might get a shot, the bright side is you'll get better," said Charlie Wartinger, a volunteer.
For exams of teddy bears, children had choices of a scale, thermometers, otoscope, reflex hammer, bandages and a feeding tube.
The blood cell station included a rectangular plastic basin with red Orbeez gel-like balls for red blood cells, pingpong balls for white blood cells and red rectangles depicting platelets.
"There is evidence out there that if child life specialists can provide long-term coping skills before children go into health care, or even when they have the experience, the experiences are less stressful," Marable said.
"Studies show that children are more compliant after having a positive experience, and it can decrease trauma for them."
Local journalism is essential.
Give directly to The Spokesman-Review's Northwest Passages community forums series -- which helps to offset the costs of several reporter and editor positions at the newspaper -- by using the easy options below. Gifts processed in this system are not tax deductible, but are predominately used to help meet the local financial requirements needed to receive national matching-grant funds.
Subscribe to the Spokane7 email newsletter
Get the day's top entertainment headlines delivered to your inbox every morning.
---