News > Spokane
Getting There: Lessons from Copenhagen
Mon., Oct. 1, 2018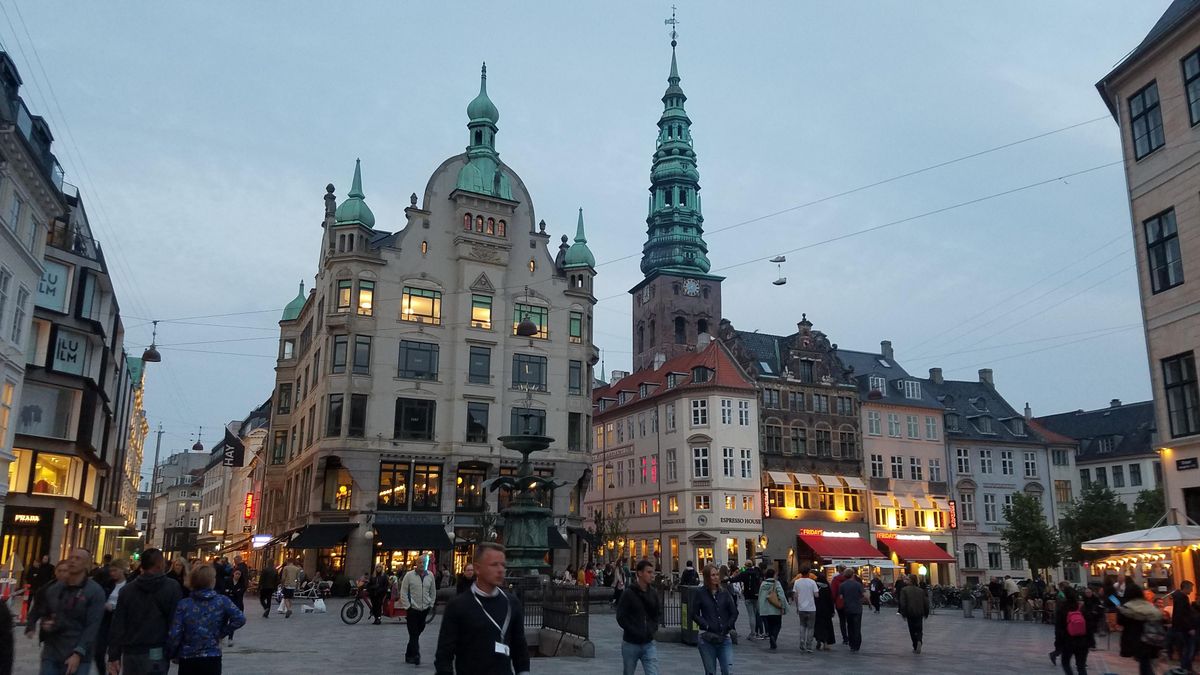 A pedestrian-only street in Copenhagen. (Courtesy Marlene Feist, City of Spokane)
Spokane will never be a bicycling city.
It's a refrain trotted out regularly by people decrying a new bike lane, or by those criticizing the sudden appearance of Lime bikeshare vehicles, and even by folks who are trying to make sense of the lack of cyclists in town, especially compared to Seattle and Portland. Perhaps they're right. But if Copenhagen's any indication, Spokane could easily support – not to mention encourage – much more cycling.
A delegation of Spokane officials recently visited the Scandinavian city as part of a "knowledge exchange trip." They looked at sustainable infrastructure. They learned about the green economy. They visited "smart cities."
For the purposes of this column, however, the best part of the trip was when the group spent an entire day on bicycles, from 8 in the morning till after 10 at night, cruising the capital of Denmark, a metro area with more than 1.3 million people.
"Every place we went around the town, when we went to lunch, when we went to tours, we just took the bike," said Councilman Breean Beggs, who was part of the delegation. "It was totally doable."
You can learn a lot on two wheels. For Beggs, it was seeing how many Danes had swapped cars for bikes.
"In Copenhagen, there are no traffic jams with cars. And there's plenty of parking because everyone's riding bikes. So it actually helps auto drivers," Beggs said. "There are these corners that are designated for bike parking and there literally hundreds and hundreds of bicycles parked there. Just imagine how many parking garages we would have to build if each of those bikes was a car. It'd be hundreds of millions of dollars."
Copenhagen is considered one of the best examples of what a city can do to encourage bicycling. According to the city's 2017 Annual Bicycle Report, more than 40 percent of all trips in the city are done by bike. More than 60 percent of Copenhageners bike to work or school. In Spokane, those same measures are lucky to reach the 1 percent mark, according to census data.
Needless to say, Copenhagen's numbers are astounding. Just to nip it in the bud, yes, it snows in Copenhagen and, yes, temperatures drop to freezing in the winter. People still ride year-round. It's not the inclement weather that stops Spokanites from cycling in the winter. It's the lack of infrastructure. Maybe the hills.
Council President Ben Stuckart, who also went on the trip, listed four things the city can do to increase the number of people riding bikes – things that range from simple reprogramming of traffic signals to instituting new road designs.
First, he said, downtown traffic lights should allow walkers and cyclists to go a few seconds before motorists. This allows the cyclists to get a head start and avoid conflicts and collisions with motorists turning right, one of the common ways a cyclist gets injured. Beggs urged the installation of "bike boxes," which allow cyclists a spot in front of cars at a red light.
Second, Stuckart said, the city should build more protected bike lanes, which separate bikes from cars either by a curb, a row of parking stalls or by putting the vehicular and bike lanes on different levels, similar to what exists between street and sidewalk. No such bikeway exists in Spokane, but early plans for the upcoming rebuild of Riverside Avenue include the potential for a protected bike lane.
Third, Stuckart said, the city should prioritize plowing snow off bike lanes – a sure sign that the city is invested in getting people to ride year-round.
Lastly, Stuckart pointed to the bicycle and pedestrian bridge under construction in the University District. He's advocating for a permanent counter on the bridge to give a "baseline" count of its use. He also wants to invest bicycle and pedestrian infrastructure dollars "east, west, north and south" of the bridge.
With the counter and investments, Stuckart predicted he could show how new and safe bikeways will lead to increased use of the bridge, and more cyclists in town.
"That's going to be our best test case," he said. "Say we begin with 1,000 trips a day on the bridge. We improve some infrastructure and we go to 5,000 trips a day on the bike-ped bridge. Now we know that improving infrastructure increases usage and ridership. Then you have a warrant to build more infrastructure."
Copenhagen, he said, showed him the way.
"What they've done is made it a priority on all avenues," he said. "When they build, when they snowplow, when they look at their environment, they've made a priority of pedestrians and bicycles."
Mayor David Condon also went on the trip. His Danish revelation had less to do with the modes of transportation, and more with how city planners let data help drive their decisions about how, and if, a street should be redesigned.
For instance, their use of data, including direct observational data, led to some streets being pedestrian-only. Other streets had protected bike lanes with dedicated signals for cyclists. Still other roads looked more like what Spokane already has: shared lanes or striped bike lanes. Some had multiple vehicle lanes, while others had a single, skinny traffic lane.
Through an email, Condon said he was impressed by how planners let people's use of the street define its design. They tracked the usage, tried new infrastructure with a temporary pilot test and then, if it worked out, implemented it permanently.
The takeaway for Condon, who liked the way use defined design, may be different than for Stuckart and Beggs, who saw design urging different uses.
Whether Spokane's elected officials agree completely about what Spokane needs is beside the point. They all saw a system that not only was used differently, but designed differently. This could lead to better bike infrastructure in Spokane, or it could lead to differently designed streets. Regardless, they all saw something they liked. Don't be surprised if the Spokane way of street-building takes on a decidedly Danish design.
Beggs said the policy allowing such a change is already in place. The city's Complete Streets policy has been on the books since 2011.
Stuckart said it's less about policy and more about how the city wants to spend its money.
"I don't know if it's policy. I think it's spending priorities," he said. "It's making sure we use current projects like the bike-ped bridge and taking advantage of that when we build out infrastructure in the future."
One thing he'll have to convince more people of is something that's been said before. Perhaps it takes a trip to Copenhagen to finally believe, but Stuckart, for one, is ready to persuade.
"Every bike is a car off the road," he said.
Local journalism is essential.
Give directly to The Spokesman-Review's Northwest Passages community forums series -- which helps to offset the costs of several reporter and editor positions at the newspaper -- by using the easy options below. Gifts processed in this system are not tax deductible, but are predominately used to help meet the local financial requirements needed to receive national matching-grant funds.
Subscribe now to get breaking news alerts in your email inbox
Get breaking news delivered to your inbox as it happens.
---