Four-star Washington State commit Travion Brown had plenty of reasons for choosing the Cougars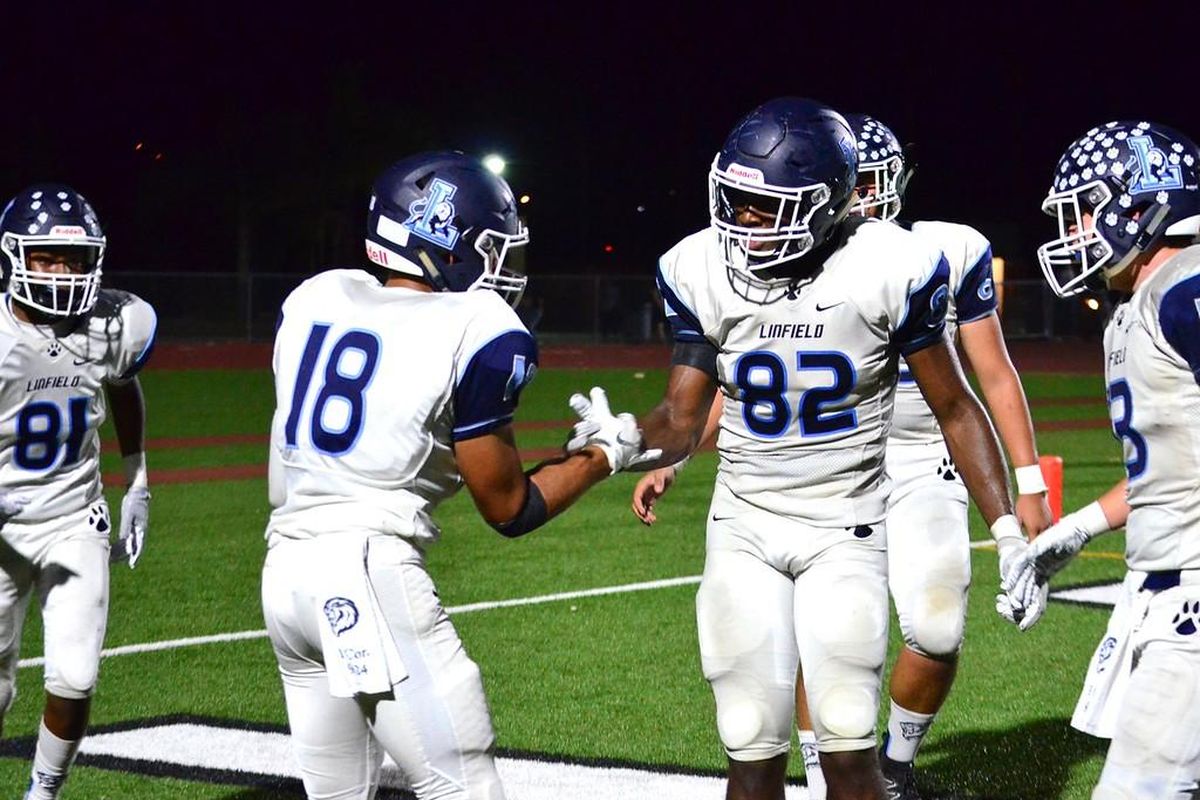 Travion Brown is considered "a throwback" by his high school coach, DeChon Burns, of Linfield Christian in Temecula, California.
Here's an example.
When Brown made his official visit to Washington State last weekend – a much-anticipated trip that was two years in the making – the highly coveted linebacker prospect enjoyed his tour of the football operations building, talking ball with the Cougars' defensive coaches and posing for photos in various WSU threads.
But none of those things may have endeared the four-star recruit to WSU and Pullman as much as a meeting with a few academic advisers. Brown, whose uncle is a former fire chief, hopes to pursue a career in criminal justice when football ends and WSU advisers went into great detail explaining the different avenues that could help get him there.
"Meeting with them and them telling me they have connections with any of the fields I want to go into – that made me like Washington State even more and that gave me the drive to go there," Brown said.
The 42nd-ranked outside linebacker prospect in America listed offers from Oregon, Washington, Arizona, Central Florida, Nebraska and others. But being a highly sought-after recruit, and two-way prep football star, are only part of Brown's identity.
He enjoys his Friday evenings under the school lights, but also savors any time he can spend at Linfield Lake with his fishing rod.
"He loves fishing," Burns said. "We have a lake at our school and he's out here fishing. He's catching catfish and all that stuff. He loves to fish and that's his deal."
That's something else Brown took into consideration when he orally committed to WSU Tuesday morning, giving the Cougars one of their highest-rated defensive recruits under seventh-year coach Mike Leach. Quizzing WSU coaches on how he'd fit into their defensive schemes was just as important to Brown as testing their knowledge of the region's top fishing holes.
"They know a lot of the areas pretty well, so just being in connection with them, I believe I'll be able to catch a lot of fish because fishing is a big part of my life," he said. "I've been fishing for a long time."
On that note, Brown happens to be the Cougars' biggest catch in the class of 2019.
The 6-3, 215-pound standout becomes just the second defensive four-star prospect (using 247sports rankings) to sign at WSU and could be the first to carry out a full career for the Cougars. Defensive line prospect Thomas Toki inked a letter of intent but ultimately went the junior college route after failing to qualify academically.
Brown is a two-way prep star who, as a wide receiver, has caught 76 balls for 1,398 yards and 23 touchdowns in 19 career games. He might thrive as a wideout in some college offenses, but WSU and inside linebackers coach Ken Wilson have targeted Brown since his sophomore year as someone who could slide into a middle linebacker or Rush linebacker position for the Cougars.
"He's long, he's rangy, he's strong," said Burns, a former USC cornerback who's been at Linfield Christian since 2013, but also coached in the NFL as an assistant and worked on the same Washington Redskins staff as WSU outside receivers coach Steve Spurrier Jr.
"He's got good hands, he's got good feet and he's tenacious," Burns said. "Plays with a high motor, good football IQ."
Brown has been an offensive and defensive linchpin for a team that hasn't lost through six games in 2018 and is outscoring its opponents 332-6. He's scored more defensive touchdowns this season than teams have scored offensive touchdowns against the Lions, having returned an interception 79 yards and scoring on a fumble return.
Playing a Sam linebacker role in Linfield's 4-3 base defense, Brown has turned in some impressive numbers in three seasons for the Lions. Through 19 games at Linfield, he has 159 tackles, 33 tackles for loss, 11 sacks, 17 quarterback hurries, two interceptions, eight pass breakups, three fumble recoveries and one forced fumble.
"He is really a throwback. He's refreshing to coach," Burns said. "Attitude, he's not going to have it. He's not a prima donna. He's not a five-star guy. I'm not knocking that, but it's not about chasing stars. He's just going to work."
Brown said he models his game after a couple of NFL stars known for their physical play and pass-rushing prowess.
"I would describe myself as a Khalil Mack with the aggression," he said. "I don't know how to compare my own style to any of the players, but I would say I try to match my style to Reuben Foster (of the 49ers). That's one of my favorite linebackers. I like to get very aggressive when I play."
Depending on the recruiting service, Brown was offered by 25-30 FBS schools. WSU was one of six Pac-12 schools to offer, and while the Cougars weren't the first – it was Oregon – they were the most dedicated. Brown said he'd be shutting down his recruitment effective Tuesday morning.
"Wasn't able to go up there financially on an unofficial, so the first time I got to go up there on an official visit I made sure I took that chance," said Brown, who watched the Cougars beat Utah 28-24 on Saturday. "… Meeting the football players, especially on the defensive side, it was a good vibe. It was a good fit for me."
Tuesday afternoon, Brown said he hoped to organize a commitment party to celebrate his decision with family and friends.
"My favorite thing to do is roller skating, other than fishing," he said, "so I'm probably going to try to plan an all-skate commitment party."
A throwback, truly.
---