Sports > WSU football
Midseason report card: Washington State easily earns passing grade through first six games
UPDATED: Fri., Oct. 12, 2018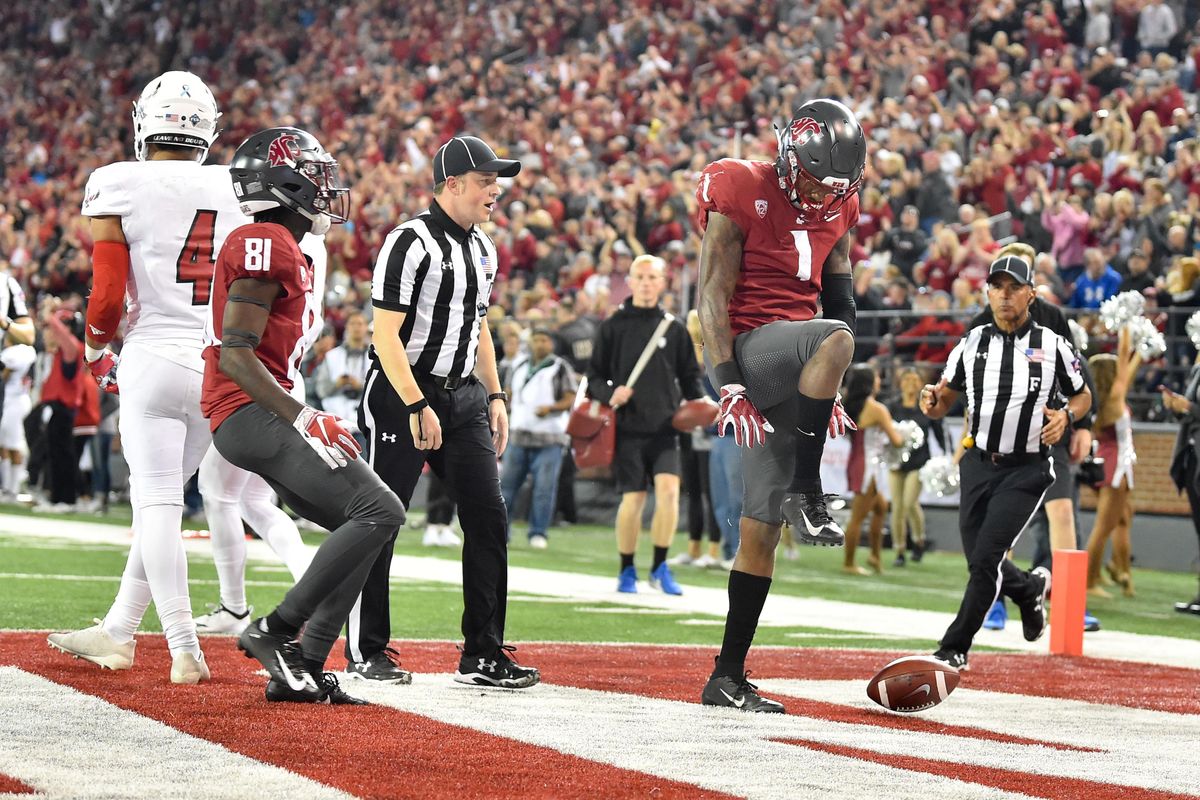 Washington State Cougars wide receiver Davontavean Martin (1) reacts after he caught a touchdown pass during the second half of a college football game on Saturday, September 15, 2018, at Martin Stadium in Pullman, Wash. WSU won the game 59-24. (Tyler Tjomsland / The Spokesman-Review)
PULLMAN – With a 5-1 record through six weeks of the 2018 season, the Washington State football team will work toward its fourth consecutive bowl bid – and potentially much more – when the second half commences next Saturday against Oregon.
WSU's only loss came on the road against USC, and the Cougars, who've won four games by three touchdowns or more, are outscoring opponents 251-143. Unsurprisingly, they lead the country in passing, with nearly 2,500 yards on 222 completions and a completion percentage of 68.5. The offense has been prolific, but it's been a collaborative effort, with contributions from a defense that continues to get better and a special teams unit that has seemingly improved in almost every facet.
As a team, the Cougars pass their midterm exam without blinking. As for the individual position groups? We break each of those down and hand out grades, with half of the season now in the rearview mirror.
Offense
Quarterback
The arrival of Gardner Minshew has become one of the most important moves of the Mike Leach era at Washington State. Leach's only regret may be that it didn't happen two or three years earlier. The Cougars coach lured Minshew from Mississippi by guaranteeing him a chance to lead the country in passing yards, and through the first half of the season, not only are the graduate transfer's 2,422 passing yards tops in the FBS, so are his completions (215) and attempts (313). Minshew's athleticism has given the Cougars two rushing touchdowns from the QB position – two fewer than Luke Falk had in four years – and has allowed him to extend a few big passing plays: A touchdown to Easop Winston Jr. against USC and a scramble play in the first half of the Utah game come to mind. Grade: A
Wide receiver
With six different wideouts surpassing the 200-yard mark, it's safe to say the receiver position has been as good – if not a little better – than most projected it would be at the start of the season. The Cougars have had little to no trouble replacing outside receivers Tavares Martin Jr. and Isaiah Johnson-Mack, and it wouldn't be hard to argue they've actually upgraded at "X" and "Z" with Tay Martin, Winston and Dezmon Patmon, who have accounted for 13 of the 16 receiver touchdowns and 1,236 yards. Minshew has gone to his slot receivers far less, but Jamire Calvin, Kyle Sweet and Travell Harris have held their own, with 55 combined receptions. Grade: A
Running back
Just because Washington State's backfield is the country's least active as far as a traditional run game goes doesn't mean it isn't productive. James Williams is the fifth-highest-scoring player in the Pac-12 this season, with eight touchdowns through six games – five rushing and three receiving – and presuming the Cougars play in a bowl game, he's on pace to match or break the school's single-season record for total touchdowns, 17 by Steve Broussard and James Harrison. Between Williams' eight touchdowns and six more from true freshman Max Borghi, WSU's backfield has scored more points – 84 total – than any other in the conference. Grade: A-
Offensive line
Washington State quarterbacks were dropped 44 times last season – more than any other Power Five team in the country and all but four teams at the FBS level. One year later, here's where the Cougars stand: Minshew has been sacked just five times in six games, and in three of those, he wasn't brought down at all. Minshew's pocket presence is noticeably better than Falk's – and so are his wheels – but credit first-year offensive line coach Mason Miller and WSU's rebuilt offensive line for honing in on pass protection, something that should always be a top priority for an offense that throws it as much as WSU's. No quarterback in the country has dropped back to pass more than Minshew, and yet the Cougars still rank in the top 20 in the nation in sacks conceded. Grade: A
Defense
Defensive line
Without anybody as talented as Hercules Mata'afa or experienced as Daniel Ekuale, WSU's defensive front is still finding ways to manufacture pressure, and the numbers indicate they're doing it just as effectively as they did last season. Or close, at least. After totaling 37 sacks in 2017, the Cougars are already up to 18 this season, using a by-committee approach that's seen five players record two sacks or more. Nnamdi Oguayo, now injured, was an important depth piece, and WSU may have to go the rest of the season without its junior defensive end, but starting D-end Logan Tago has led the team in tackles for loss (4.5), Will Rodgers III has been a welcome surprise, and Misiona Aiolupotea-Pei has played well enough in spot minutes that the Cougars should feel confidence in their ability to produce without Oguayo. Grade: B-
Linebacker
If the Cougars aren't already working on Peyton Pelluer's seventh year of eligibility, it might be time to get started. The middle linebacker's production saw a major spike in the past three games. After totaling 14 tackles through the first three weeks, Pelluer had 12 against USC, 13 against Utah and 11 more against Oregon State. He also had 4.5 tackles for loss and two sacks in that three-week span after having zero of either against Wyoming, San Jose State and Eastern Washington. There was some concern about how the Cougars would replace Frankie Luvu and Dylan Hanser at the Rush linebacker spot, but Dominick Silvels and Willie Taylor III – a former middle linebacker and a former prep safety – have made the transition smoothly and account for 6.5 tackles for loss this season. Grade: B
Secondary
While not superb, the defensive backfield has been more than functional, and the fact that the Cougars rank 23rd in the nation, and second in the Pac-12, in passing yards allowed is nothing to scoff at. With five interceptions, WSU is well off the pace set last season, with 15 total, but the Cougars have yet to see many pass-heavy offenses; of their six opponents, only Eastern Washington has attempted more than 30 passes. Coaches have challenged the defensive backs to do a better job of getting their heads around when passes are thrown, which will make the Cougars less susceptible to pass interference and defensive holding penalties. The defensive backs have been reliable tacklers thus far, none more than safety Skyler Thomas, whose 36 takedowns rank second on the team, behind only Pelluer. Grade: B-
Special teams
Despite a few blunders in the kicking game – mainly two blocked field goals, at USC and at home against Utah – redshirt freshman Blake Mazza still leads all specialists in points scored with 47. The Cougars haven't needed Oscar Draguicevich much, but when the sophomore transfer has been called on, he's been plenty reliable and ranks eighth in the nation with an average of 47.2 yards per punt. Travell Harris has sparked the return game and brought back a kick 100 yards for a touchdown against Eastern Washington in just his third collegiate game. Another extraordinary special teams effort came in the most recent game against Oregon State, when Tristan Brock hopped on Kainoa Wilson's punt block for a touchdown in the first quarter. Grade: B+
Local journalism is essential.
Give directly to The Spokesman-Review's Northwest Passages community forums series -- which helps to offset the costs of several reporter and editor positions at the newspaper -- by using the easy options below. Gifts processed in this system are not tax deductible, but are predominately used to help meet the local financial requirements needed to receive national matching-grant funds.
Subscribe to the Cougs newsletter
Get the latest Cougs headlines delivered to your inbox as they happen.
---