Sports
Grip on Sports: The Inland Northwest must have picked up some fans yesterday as WSU put the area's best foot forward
Sun., Oct. 21, 2018 A GRIP ON SPORTS • It was a long day yesterday. But it was a fun one, unless your day consisted of raking leaves and cleaning out gutters. For those who spent their time with college football, it was near-perfect. Read on.
••••••••••
• We'll keep this short because most of what needed to be said is contained in the stories we (and others) wrote for the S-R yesterday. The bottom line is this: The folks at Washington State know how to throw a party. And how to enjoy themselves on a Saturday. Nothing wrong with either.
And there was little wrong with anything that happened yesterday, minus a third quarter against Oregon that needs to be forgotten. Otherwise, it was a perfect fall day in the Palouse, from before dawn to late into the night.
• The same can be said about the other college football in the Inland Northwest.
Idaho held its Homecoming game and find a way to send the returning alums back home with a win in their back pocket. It helps when the opponent is Southern Utah, which has struggled all year.
Meanwhile, across the mountains, Whitworth kept its perfect season going, rolling past Puget Sounds. The Pirates seem a lock to win the Northwest Conference and head to the NCAA Division III playoffs. They will probably end up playing their first-round game at Mount Union or Wisconsin-Whitewater or somewhere.
• I have to admit, yesterday was the first time I've ever watched ESPN's College GameDay from start to finish. Heck, it was the first time I've seen more than a few minutes of it.
When I was covering college football, I was always up early enough to see it, but my No. 1 priority was putting together a blog post with Washington State and Pac-10 links. That led to this retirement gig, in which I do a similar thing that takes up those three hours every Saturday. It makes it tough to pay attention.
Now that I've seen it, I understand why everyone likes it so much.
The ancillary aspects are fun, and yesterday was full of those, but the best part is the game previews and analysis. The folks on the set, from Rece Davis to Lee Corso, know the game and share their knowledge in an easy-to-digest format.
If that's all they did, it wouldn't spread over three hours, but it still would be worth watching.
•••
WSU: As good as the day was for Washington State University, it was that good as well for the S-R coverage. From early Saturday morning to almost Sunday morning, the local paper of record had it covered. We start with the contributions of Theo Lawson, who has yet to cover a Cougar loss at home. He has the analysis of what happened during the game, a piece on Peyton Pelluer climbing the statistical ladder, the difference makers – one of them might have been Sean Harper Jr. but he was out with an undisclosed injury – and a story on Lee Corso putting on the Cougar head. … John Blanchette has a column on Gardner Minshew. … Tom Clouse covers Larry Scott's press conference and the radio folks' tribute to Bob Robertson. … The folks in the office put together the highlights. … Tyler Tjomsland put together a full day, shooting photos of GameDay in the early morning and putting together a photo report from the game itself at night. … Finally, there are my contributions. I got up early and wrote about GameDay from a viewer's perspective. And then, despite the Dodgers being in a Game Seven, watched the game itself and wrote a TV Take. What sacrifice. (And, if you weren't sure, what sarcasm that last sentence was.) … It was such a big day, the Times sent a reporter across the mountains. We have stories from Scott Hanson and Adam Jude to pass along. … From the Duck side of things, if you stop the Oregon running game, you stop the offense. At least that's how it seems after last night. … Don't move on to other news until you've read Austin Meeks' column. And the one from John Canzano. … Now that the Cougars are 6-1, the loss at USC looms even larger, especially considering the circumstances.
Elsewhere in the Pac-12, Washington set the pace in the North with a 27-13 home victory over Colorado. Both teams were dealing with major injuries, taking some offensive firepower out of the contest. … Oregon State's season may have reached its low point after California's 49-7 rout in Corvallis. The Beavers thought this was the day to pick up a Pac-12 win. … Speaking of low points, was last night that for Clay Helton and USC? The Trojans led early but gave up 34 unanswered points in a 41-28 loss at Utah. The Utes now control their destiny in the Pac-12 South. … Hey, UCLA can also say that as the Bruins' second consecutive win, 31-30 over Arizona, lifted them to 2-2 in conference play. The Wildcats are struggling both on and off the field.
Gonzaga: If you want to have a fun night out Nov. 5, Rob Curley has just the thing. The S-R is hosting a night with Gonzaga legends, as four former Zags will sit down with Jim Meehan, John Blanchette and Sam Adams to talk Gonzaga basketball. And it's inexpensive, so if you want to take your entire YMCA or AAU team, you can.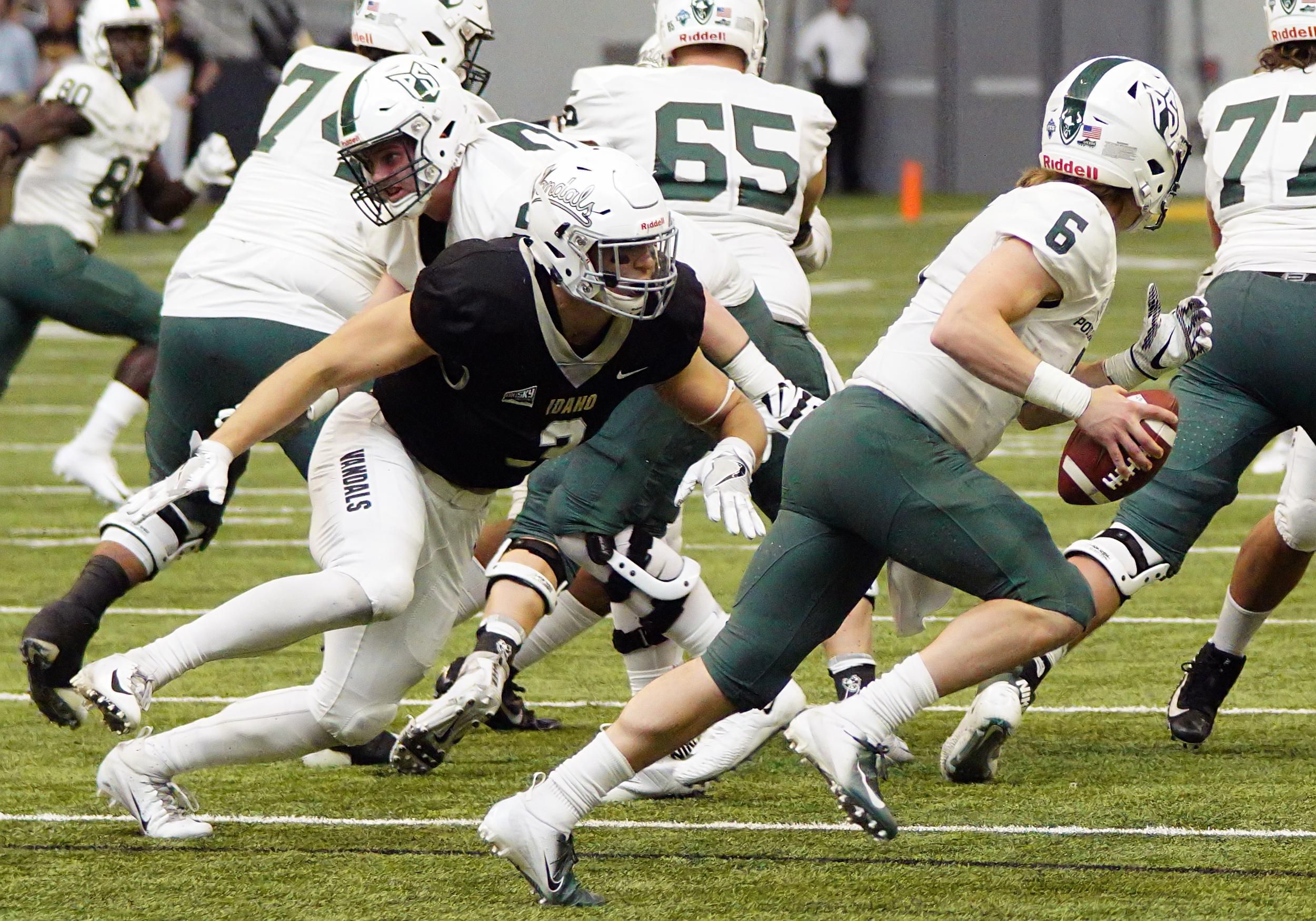 Idaho: You are supposed to win your Homecoming game, right? The Vandals did, beating up on Southern Utah 31-12 in the Kibbie Dome. Peter Harriman has the game story. … Around the Big Sky, Weber State survived a gruesome injury to its quarterback and Montana State in a 34-24 win over the Bobcats. … Northern Colorado picked up its first win of the season after 12 players were suspended. The host Bears defeated Northern Arizona 42-14. … UC Davis walloped host Cal Poly San Luis Obispo 52-10. … Idaho State lost on the road at Liberty. … North Dakota went to Sacramento State and picked up a 41-15 win.
Whitworth: The Pirates kept rolling along with a 47-13 win at Puget Sound.
Chiefs: Spokane has been on the road a while and it is beginning to show. The Chiefs lost last night 8-2 to Prince Albert. After going 3-3 on the six-game road trip, they head home for a five-game homestand.
Preps: Coeur d'Alene Charter won its third consecutive state soccer title yesterday. … We also have a volleyball roundup to pass along. … Before you vote on the downtown stadium advisory question, please read Jim Allen's story. An informed electorate is an empowered electorate.
Golf: It's time for end-of-the-year awards.
Seahawks: The NFL decided Bradley McDougald should have been penalized. … How is the draft class doing?
Sounders: The "real" season is yet to begin but the Sounders are finishing this one strong.
•••       
• I put off the leaves and junk yesterday to watch football. With the Seahawks off today, that excuse doesn't hold water. So I'll be holding a rake and a lawn mower and a plastic bag and who knows what else. Wish me luck. Until later …
Local journalism is essential.
Give directly to The Spokesman-Review's Northwest Passages community forums series -- which helps to offset the costs of several reporter and editor positions at the newspaper -- by using the easy options below. Gifts processed in this system are not tax deductible, but are predominately used to help meet the local financial requirements needed to receive national matching-grant funds.
Subscribe to the sports newsletter
Get the day's top sports headlines and breaking news delivered to your inbox by subscribing here.
---