News > Idaho
The state has scholarship for adults going back to college. Only 28 people use it
Mon., Oct. 29, 2018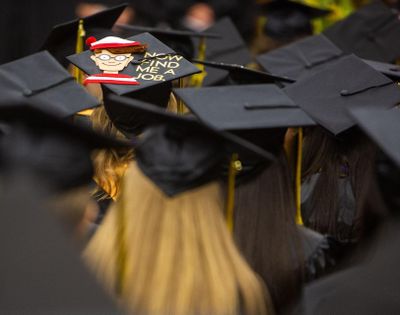 TWIN FALLS – Only 28 Idahoans – five of whom are enrolled at the College of Southern Idaho – are using a new adult completer scholarship, but state officials say the program is still ramping up.
State legislators approved the scholarship — known as the Idaho Opportunity Scholarship for Adult Learners — during the 2018 session. Gov. C.L. "Butch" Otter signed the bill into law in March and it took effect in July.
There's a statewide effort to encourage more high schoolers to continue their education, and for adults who've completed some college to return and finish.
With the scholarship, "we recognized it would take a little while to ramp this up," Idaho State Board of Education spokesman Mike Keckler said Friday. "People had a very short window in which to apply for fall semester."
Since the law took effect this summer, it meant adults had just weeks to decide if they were interested in going back to college and to apply for the scholarship before fall semester began.
Five adults currently have the scholarship — for a total of $12,250 — to attend CSI, according to the Idaho State Board of Education. CSI financial aid director Jennifer Zimmers wasn't available to comment Friday.
Statewide, 113 people have applied for the scholarship, but most weren't eligible to receive the funds, Keckler said.
Applicants have to meet certain requirements, he said. That includes having at least 24 earned college credits, a cumulative GPA of 2.7 or higher, be an Idaho resident, be working toward their first undergraduate degree or certificate, have been away from college for at least two years and must have completed the Free Application for Federal Student Aid.
The scholarship is for adults who want to attend an eligible Idaho college or university, and they must demonstrate financial need.
The award provides up to $3,500 annually and is renewable for up to four years. So far, the state has awarded a total of $77,875 — far less than the $2.7 million yearly cap.
Up to 20 percent of the state's Opportunity Scholarship fund can go toward adult completers. Other funding is for the popular Idaho Opportunity Scholarship — where demand exceeds the number of awards — which is for high school seniors or undergraduate college students.
State officials are pushing for more adults to finish their education to help meet workforce needs. The Idaho Board of Education's "Complete College Idaho" plan aims for 60 percent of 25- to 34-year-olds to have a post-secondary degree or certificate by 2020. But as Idaho Education News reported Wednesday, only 42 percent do now.
Local journalism is essential.
Give directly to The Spokesman-Review's Northwest Passages community forums series -- which helps to offset the costs of several reporter and editor positions at the newspaper -- by using the easy options below. Gifts processed in this system are not tax deductible, but are predominately used to help meet the local financial requirements needed to receive national matching-grant funds.
Subscribe to the Coronavirus newsletter
Get the day's latest Coronavirus news delivered to your inbox by subscribing to our newsletter.
---