Sports > Idaho football
John Blanchette: Dennis Erickson embarks on another coaching journey while being honored for his time at Idaho
Fri., Sept. 7, 2018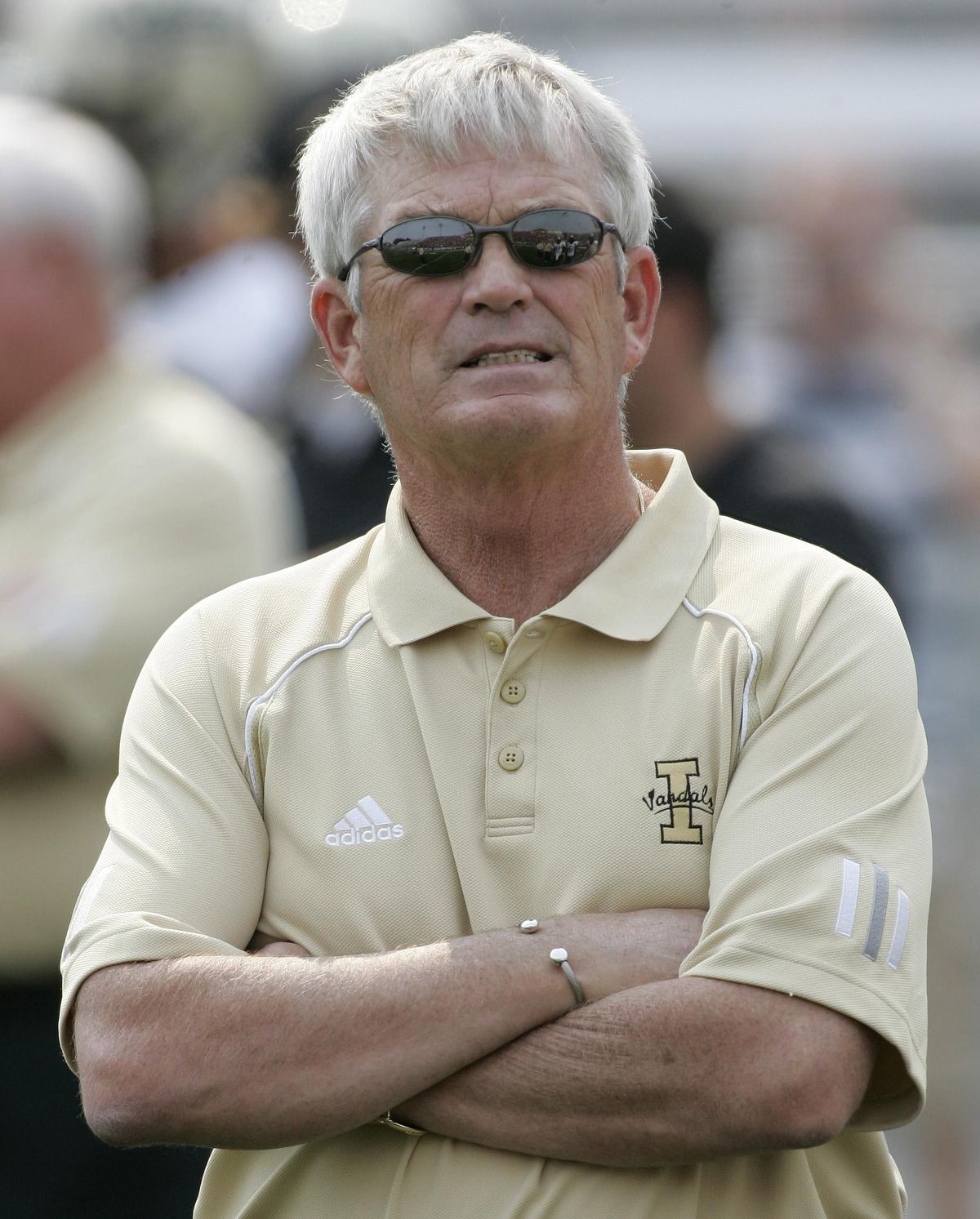 Idaho head football coach Dennis Erickson looks toward the field Sept. 9, 2006, during a college football game against Washington State at Martin Stadium in Pullman. (TED S. WARREN / AP)
Two things about football:
One, any time someone suggests the game is at a crisis point or some moral crossroads, you can be sure a few rich guys will ready to gamble some spare change and create yet another professional league – or two – because they know America's football thirst cannot be slaked.
Two, any time there is a coaching opening created, Dennis Erickson is open to filling it.
"Bad retired guy," he acknowledged. "Terrible."
Of course, the second point above was true long before he reached everyone else's shut-off age.
Still, it seems incongruous that upon being inducted into the University of Idaho Athletic Hall of Fame on Friday evening – one of those rites that normally suggests the end of something – Erickson will resume preparations for a 48th season of coaching football.
This time it's as head coach of the Salt Lake City franchise in the Alliance of American Football, in which your favorite NFL castoffs/hopefuls/can't-quit-the-gamers begin play a week after Super Bowl LIII – presuming you can survive a week without football.
Erickson can't help you there, obviously.
When he launched his career, he buckled himself in on a rocket that took him from Idaho to two national championships at Miami. When his second crack at conquering the NFL went unrequited, he regrouped – briefly – at Idaho again. When he announced a retirement after four years as an assistant at Utah in 2016, he was on the field the next fall at Lake City High School, volunteering for his son, Bryce. Now comes the AAF – and another restart at age 71.
"It's a chance to work with players again, and enjoy the competition," he said, "and as long as I can do it physically – and mentally – I'm going to do it."
He'd already put in a decade as an apprentice when that coaching life started in earnest at Idaho, where it took about 10 minutes for him to swing the program into a U-turn. In 1981, Vandals quarterback Ken Hobart threw all of 179 passes for a veer attack that staggered home losing its last six games. In Erickson's first year, Hobart threw it 418 times and the Vandals went 9-4.
"We had no fear," Erickson said. "We just played and spread it out and had fun and didn't care who we played."
It's curious, in a way, that his induction into the Vandals hall comes as the school rejoins the Big Sky Conference after two decades as an itinerant in the hobo camps of "big-time" football. From Erickson's arrival on campus, the Vandals didn't have another losing season in football until they backed – or piggy-backed – into what's now known as the FBS, without facilities, leadership, vision, support or self-awareness.
Erickson, for one, welcomes the return.
"I know a lot of people disagree," he said, "but I like it. To me, after the Sun Belt dropped them, trying to be independent was not practical. I think it's great to be playing Montana, Montana State, Eastern. I think fans will identify with those teams more."
Erickson saw the other side, to be sure. When he returned to coach Idaho in 2006 after his last NFL dance, the Vandals had won 11 games in five years. He got them to 4-3 before the bottom fell out, and in 10 months he had a more realistic view of the school's commitment. Also, the job at Arizona State opened, an opportunity mismatch like a wide receiver going against a linebacker.
It was a hit-and-run encore, and it didn't go down well. The good part: It's the better memories that will be recalled this weekend. Besides, Erickson's also on the ballot this year for the College Football Hall of Fame. Might seem strange for him to get in there and not at Idaho.
So here's to forgiveness. Maybe more schools should try it.
"If it hadn't been for Idaho, who knows what would have happened in my career?" he said. "Our success allowed me to have some opportunities maybe I wouldn't get."
Others, too. No fewer than 18 former Erickson assistants or players have been head coaches at the Division I or NFL level, including two – Jonathan Smith and Mario Cristobal – running the programs in Oregon. This summer, he watched one of his once little-heralded Miami recruits – Ray Lewis – inducted into the Pro Football Hall of Fame.
Now he'll try to open the door for some real long shots in the AAF. He'll have distinguished company, what with NFL head coaching alums Mike Riley, Brad Childress, Mike Singletary and Mike Martz signed up by other teams – to say nothing of Steve Spurrier, the old ball coach himself.
"It's my hobby," he said, "my life and my hobby."
Sounds like an old ball coach, too.
Local journalism is essential.
Give directly to The Spokesman-Review's Northwest Passages community forums series -- which helps to offset the costs of several reporter and editor positions at the newspaper -- by using the easy options below. Gifts processed in this system are not tax deductible, but are predominately used to help meet the local financial requirements needed to receive national matching-grant funds.
Subscribe to the sports newsletter
Get the day's top sports headlines and breaking news delivered to your inbox by subscribing here.
---