Sports > WSU football
Rewinding the tape: Cooper Kupp and others tell an oral history of the classic 2016 battle between Eastern Washington and Washington State
Fri., Sept. 14, 2018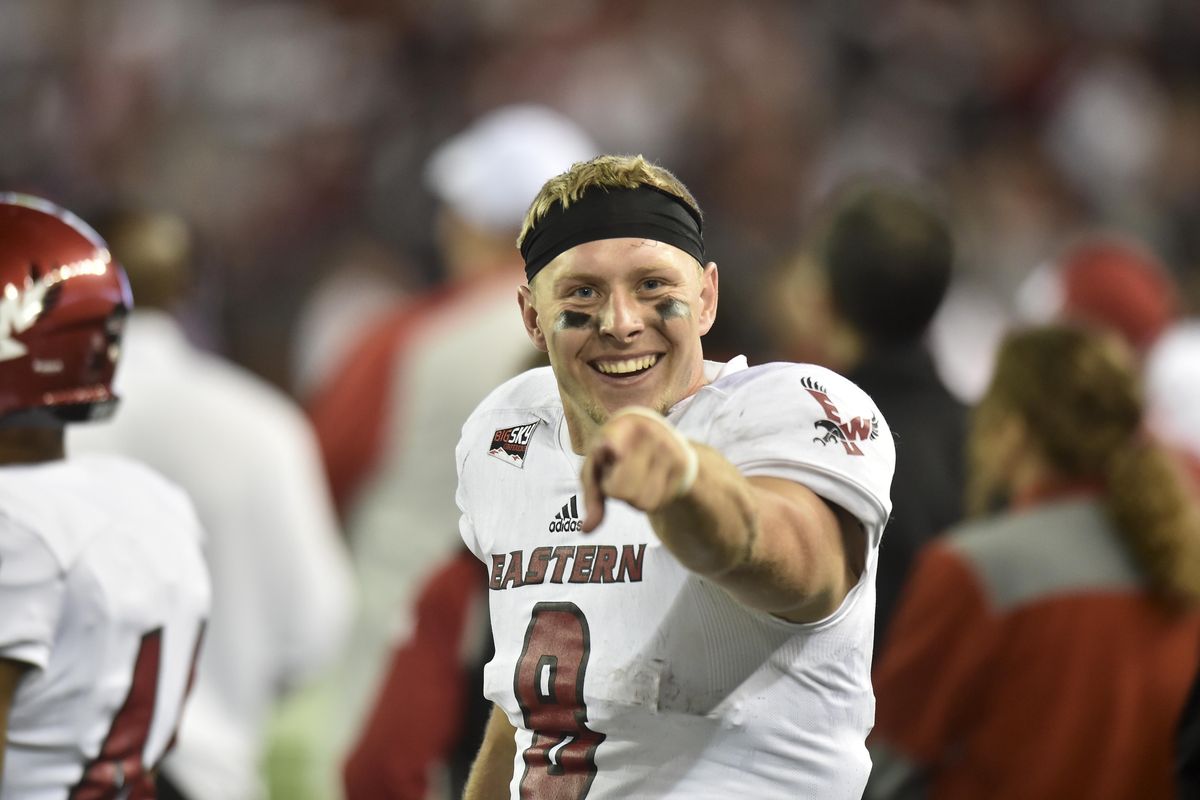 Eastern Washington Eagles quarterback Gage Gubrud (8) runs the ball in for a touchdown to seal the game for EWU against Washington State Cougars cornerback Kirkland Parker (10) during the second half of a college football game on Saturday, Sep 3, 2016, at Martin Stadium in Pullman, Wash. EWU won the game 45-42. (Tyler Tjomsland / The Spokesman-Review)
It was a game that produced 87 points, netted more than 1,100 yards of total offense and featured five wide receivers who'd go on to get shots to play professionally. (Three of those are still employed the NFL.) It was the birthplace of a legacy for one quarterback and the continuation of a legacy for the other.
It was an offensive slugfest like few others – well worth the price of admission, no matter what shade of red you were wearing that day.
As schools that have only met four times on the gridiron and once went an entire century without playing one another, Eastern Washington and Washington State are not rivals, per se. The Eagles care far more about regional Big Sky matchups with Idaho, Montana and Montana State, and the Cougars have their own business with the Pac-12 school on the opposite end of the Evergreen State.
But WSU versus EWU is a game of definite local interest and after the battle royale between these two in 2016 – a 45-42 win for the FCS program – locals are particularly interested in Eags-Cougs 5.0. As of Tuesday, only 1,000 reserved seats were available for Saturday's rematch between EWU and WSU, which is set to kick off at 5 p.m. at Martin Stadium and will air on Pac-12 Networks.
But first, with the help of a few prominent cast members, we rewind the tape and take a closer look at the unforgettable game in 2016, placing a magnifying glass on a few of its top storylines.
The build-up
EWU had been a perennial FCS power for some time now and it was hard to imagine WSU overlooking the Eagles after opening the previous season with an embarrassing 24-17 loss to a Portland State. Still, it felt there was some sense of superiority from the Cougars – one of which claimed the week before the game, "I don't know Eastern Washington. I don't even know where (Cheney) is." Granted, Gabe Marks was just being honest and hardly intend to light a fire under the Eagles, but his statement nonetheless traveled 70 miles up US-195 and made it back to EWU's locker room in Cheney.
Gerard Wicks (WSU running back, 2013-17): "That was Gabe, though. Gabe had no filter or didn't really care. He just went out to play. He did care, but that was just his standpoint, his attitude. He was just that person, if you line up in front of me, I'm going to beat you. You can't guard me. He was very confident in himself. He went in thinking that game was going to be easy and it was the total opposite."
Aaron Neary (EWU offensive lineman, 2011-15): "Every time you go up against a team like that as Eastern Washington, your goal is to win. Your expectation is almost to win."
Nsimba Webster (current EWU wide receiver): "I remember Gabe (Marks) being a real talkative, sarcastic type of guy. He stated his mind. He was very blunt. It was very hyped between the two receivers, Coop and Gabe. I think Gabe felt like, 'Why are they comparing me to this guy from a lower division?' But I'm pretty sure that after the game, and seeing what Coop could do, he saw why."
Kupp vs. Marks
'Coop' was Cooper Kupp, the EWU wideout who'd eventually break Jerry Rice's FCS receiving yards record and become a four-time All-American while winning the Walter Peyton Award in 2015. By the end of the season, Marks would become the Pac-12's all-time receptions leader and while the standout pass-catchers may have never been on the field at the same time, Kupp vs. Marks became one of the game's main stories.
Cooper Kupp (EWU wide receiver, 2013-16): "(Gabe) is a really good ballplayer and I'm not really sure what he's up to right now. Watching him play football in college was incredible. He did some incredible things and I know people wanted to make that game kind of a battle between us, but I think it helped that I had some pretty great receivers around me, too."
Matt Chazanow (WSU play-by-play commentator): "Two premier wide receivers. Cooper Kupp being an in-state kid was part of that and a very celebrated FCS receiver. But one of the things Cooper Kupp always did – and you can look at the stats, they're incredible – if I'm not mistaken he had eight career touchdowns before the game against the Cougs against Pac-12 teams. He had these monster games against Pac-12 teams."
Aaron Best (current EWU coach): "I remember having a conversation with a couple (WSU) fans just before the game when the teams were warming up and they were pointing to Cooper Kupp. They asked, 'Who is this No. 10?' I told them to wait about 20 minutes and you'll find out."
Welcome to the stage, Gage
The game featured off-the-chart talent at the receiver position – even beyond Marks, who had a cup of coffee with the New York Jets, and Kupp, now a second-year starter for the Los Angeles Rams. The Eagles had Kendrick Bourne, a second-year player for the San Francisco 49ers along with Shaq Hill, who spent time with both Tampa Bay and Houston before starting his CFL career. WSU also had River Cracraft, currently a member of the Denver Broncos' practice squad. More than that, the Cougars were set at quarterback, with third-year starter Luke Falk. And EWU? That was still to be determined. A young buck named Gage Gubrud would be making his first career start.
Matt Chazanow: "That was kind of the real question, is: 'All right, they've got Kupp, they had talent to throw the ball to, but they lost Vernon Adams.' So everyone was like, 'Well so how good will they really be?' It's great they have pro wideouts, but what does it mean if they don't have a QB."
Larry Weir (EWU play-by-play commentator): "It was interesting because it was the first game for new (EWU) offensive coordinator Troy Taylor and we were going to see what he changed in the offensive scheme. Being the first game of the year, WSU had no film on this new offense and little film on Gage Gubrud."
Matt Chazanow: "Then Gubrud came out and was flying around, flying everywhere. He could run, he was accurate. You could tell right away, like, 'Oh, this is no joke.' That was the question, but yeah, he ran for 77 yards in the game. He was their leading rusher by far, he had 14 carries. It was like, 'God, this guy is so good.' "
Darrien Molton (current WSU cornerback): "Real confident player, real poised player. Could throw the ball, run the ball. He was a real good player."
Gerard Wicks: "He was young, so we expected that he was going to make some mistakes. He was going to be nervous, so we thought that factor was going to play on our side, but he went to the game real confident and just played football."
Nsimba Webster: "The thing I remember the most from that night is that a star was born: Gage Gubrud. Gage definitely made a statement of who he was and what he's bringing with that EWU offense. Just seeing him develop year after year, and from that game on, he kept clicking. It was a great game in Pullman, but I definitely felt like Gage made a name for himself that night."
Seven in a row
Following four empty possessions – two from each team – both offenses came to life. The Eagles scored with 6:29 left in the opening quarter, then the Cougars hit back with a touchdown. EWU and WSU would combine to score on seven consecutive possessions, making it 28-21 with less than 2 minutes to go in the half.
Matt Chazanow: "That rings a bell and it feels right for how the game flow was going. It was like tons of offense and tons of really good offense. Sometimes there's a lot of scoring because defenses are bad. This was like two really elite offenses, game one. You could tell with the Sun Bowl season before with Luke and Gabe and all the guys coming back, you knew the Cougs could score and you knew the Cougs could score at a Pac-12 level. They'd just beaten Miami in the last game they played. You could tell if a team looked as good as the Cougs, it was validated, it was all credible. It was like, 'Oh my gosh, if Eastern looks as good as the Cougs, Eastern's just really good.' "
Cooper Kupp: "That first touchdown, coach (Troy) Taylor made a great play call – a RPO (read-pass option). We got the coverage we wanted, was able to cross the linebacker's face and I was expecting a safety to drive a little bit, but the safety was playing a little soft and crossed the field, was able to break his tackle and run away down the sideline. I think just to come out the gate and be able to get the momentum started for the team and stuff, I think that's something I'll remember."
The Cougars took a 28-24 lead into the half but squandered a chance to make it 35-21 when Falk was intercepted by Mitch Fettig, giving EWU the ball back with 1:13 left. The Eagles kicked a field goal to cut it to three points at the halftime break.
Nzuzi Webster (current EWU cornerback): "That night I felt like our defense could play with anybody. When Mitch Fettig intercepted a pass in the second quarter … I felt like that was a turning point for us. I remember thinking, 'We're going to come down here and take this thing.' "
Cooper Kupp: "I remember, and I don't think this is atypical of Wazzu, but I remember at halftime the student section didn't all make it back. I don't think that's atypical of Wazzu there, I think that's kind of the norm."
Numbers game
It was another dazzling performance for Kupp against another Pac-12 team that had overlooked him on the recruiting trail. He finished with 12 catches for 206 receiving yards and three touchdowns, which brought his career total against the Pac-12 to 40 catches, 716 yards and 11 touchdowns. The Cougars, it should be noted, were shorthanded in the defensive secondary, playing without suspended safety Shalom Luani. His counterpart, Robert Taylor, was ejected in the third quarter for targeting. But Kupp was special nonetheless.
Cooper Kupp: "I think as a senior that year, it was kind of like the culmination. I had decided to come back for my senior year, be a part of a group that was pretty special and to be able to get that first dub against a Pac-12 school that was 45 minutes away. It was pretty cool."
Gerard Wicks: "I don't see how he was under-recruited. He was a great player, he works hard, he goes up for the ball. He goes across the middle, he's not afraid to get hit. For them, he was their everything. I think he did both returns (kick and punt). He did everything for them and that day he was unstoppable. We just couldn't find the answer for him."
Hunter Dale (current WSU nickel): "He was a really good receiver and we had a lot of communication problems that game, too, so he was just getting open. He was hitting spots at the right time and a lot of that was us beating ourselves, too."
Matt Chazanow: "I think the thing about Kupp and the thing you see a lot of times when a guy's going to be a good pro is that not only do they have polished skill sets, but they're just big. Kupp is really, really big. He's a big kid and he's doing things against high-quality All-Pac-12 level defenders. He's not just doing this against anybody. The Cougs were really good that year."
Darrien Molton: "He had a great game against us. It's cool to say I guarded him, but he's doing his thing now in the NFL, so it's cool to see that."
Phenomenal as Kupp was on a 200-yard receiving night, one of his teammates wound up stealing some of the spotlight. You probably wouldn't have guessed who beforehand. Gubrud, then a sophomore, gashed a strong WSU defense through the air (34 for 40, 474 yards, five touchdowns, one interception) and on the ground (14 attempts 77 yards, one TD), punching in a 30-yard rushing touchdown with 1:40 left to make it a two-score game at 45-35.
Aaron Best: "Obviously, one the top performances ever in EWU history by a quarterback on that stage."
Eric Mele (current WSU running backs coach): "He was dealing, he was dealing in that game. He's a big old boy and he's got a good arm and he knows where to put the ball."
Gage Gubrud (current EWU quarterback): "The touchdown run at the end to seal it. That was a pretty cool moment in my lifetime."
Larry Weir: "A new star was born in Gubrud. EWU didn't get hurt with turnovers and penalties. In the end, if not for Gubrud's one bad throw that was intercepted in the end zone, EWU could have won by two scores."
Wristband malfunctions
Gubrud and Kupp were sensational together, but WSU's defense experienced some major complications that had nothing to do with EWU's quarterback or wide receiver.
Gerard Wicks: "One thing the fans don't know is our defense had on different wristbands, so we had half the team on defense with a different wristbands. Say if they would call 'Play 4,' one side of the defense would be running Cover 3 while the other side would be blitzing. It was something crazy and we were wondering how was Cooper Kupp getting so wide open. He's a great player, he's outstanding, but he was wide open. It came to halftime and we figured out half the defense had on white wristbands and the other had on black wristbands, so everybody wasn't on the same page. We blew the coverages a lot in the first half. Leach was, oh my God, mad is an understatement. He was hot."
'Nasty taste'
The Cougars lost the next week at Boise State before reeling off eight consecutive wins and earning their third bowl appearance under Mike Leach. The Eagles did something similar, dropping a six-point game to North Dakota State the following week before ripping off 11 straight wins and eventually losing to Youngstown State in the semifinals of the FCS playoffs. But for good or for bad, every player who partook in the season opener that year has vivid memories of it.
Cooper Kupp: "It was so much fun, especially just being so close with their school 45 minutes down the road. To be able to go out there and do what we did, it meant a lot to us. Anytime you get a win against a Pac-12 school. I know those guys are excited for that game. We played some good guys. Luke Falk's in the league now and some guys that are good ballplayers now. Excited for them to go out there and hopefully be able to get another 'W.' "
Gage Gubrud: "Just doing that with the my teammates and the guys we had on that team, and after the game and going into the locker room, and realizing what we just did and putting ourselves on the map like that was a very surreal feeling for me, because that my first college start. That feeling as a whole and being the locker room with all of my brothers and having fun."
Dylan Ledbetter: "It was surreal. I remember coming out of the tunnel and the stands were packed. It was hard for me catch my breath. It was kind of nerve-racking. But once it started, it was just football. It was a blast."
Well, for one side. You could have heard a pin drop in WSU's locker room afterward.
Gerard Wicks: "It was quiet, it was so quiet. Leach was hot. That week I wouldn't say we treated it different, but it wasn't an SC week or like a UW week. It wasn't like we were that fired up or that dialed in. It was Eastern Washington. Even before the game, I remember Gabe came in the locker room and said, 'Let's beat their (expletive) and let's get ready for the night.' We thought it was going to be a breeze and it turned out to be a dogfight and we ended up losing."
Darrien Molton: "I think they played hard, played harder than us. They came out from the gates playing real hard and fast and think they wanted it more than us in that game."
Hunter Dale: "Nasty taste, never like losing. Especially to an in-state school like that."
Time to do it all over again this Saturday.
Local journalism is essential.
Give directly to The Spokesman-Review's Northwest Passages community forums series -- which helps to offset the costs of several reporter and editor positions at the newspaper -- by using the easy options below. Gifts processed in this system are not tax deductible, but are predominately used to help meet the local financial requirements needed to receive national matching-grant funds.
Subscribe to the Cougs newsletter
Get the latest Cougs headlines delivered to your inbox as they happen.
---