Sports > WSU football
Why Washington State keeps going back to Los Angeles' Cathedral High
Thu., Sept. 20, 2018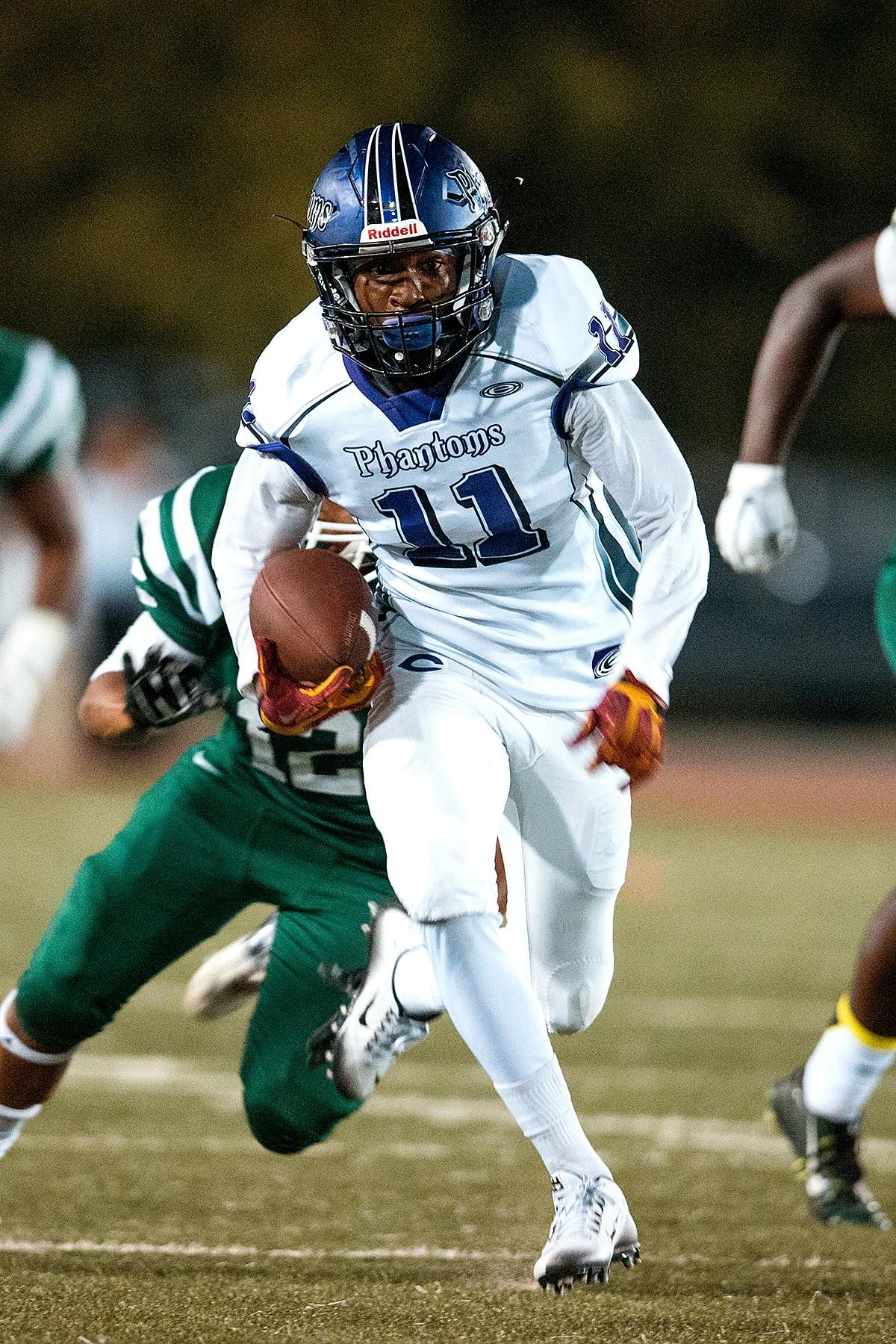 Current Washington State wide receiver Renard Bell in action at Cathedral High in Los Angeles. (Courtesy)
PULLMAN – Asontt Williams is a 5-foot-11, 177-pound sophomore at Cathedral High School. Pull up the young receiver's Hudl tape and you'll see a textbook route runner with eye-popping speed and impressive ball skills. Some clips show Williams pinched inside as a slot receiver and in others, the springy sophomore is lined up on the outside.
Through the first five games of his debut varsity season, Williams has caught eight passes for 125 yards and two touchdowns. It's just the start, anyone close to the program might tell you.
"He's the next good receiver to come out of Cathedral," head coach Anthony Jefferson said.
That's all Mike Leach and Washington State need to hear.
"They love (Williams)," Jefferson added. "He's only a sophomore, but he's amazing."
The Cougars have tapped into the talent well at the Los Angeles high school three times in the last four years. So far, it's a decision that's given WSU its starting slot receiver tandem of Renard Bell and Jamire Calvin, and more recently, three-star nickel safety Halid Djibril, who's yet to play for the Cougars as a true freshman but should figure into their defensive plans sooner rather than later.
WSU has eyes on another Cathedral Phantom, four-star defensive end Stephon Wright, who's been offered by the Cougars and nine other Pac-12 programs, in addition to Alabama, Oklahoma and Notre Dame.
Williams is intriguing, too, and if the Cougars decide to offer the rising Phantom receiver, their best pitch to him may be the numbers Bell and Calvin have put up playing in WSU's Air Raid offense, which is extremely similar in appearance and scheme to the model Jefferson runs at Cathedral.
Through 16 college games, Bell, a redshirt sophomore, and Calvin, a true sophomore, have combined to catch 92 balls for 1,079 receiving yards and six touchdowns. It's just the start for them, too.
Both receivers, and now Djibril, have expanded WSU's footprint at Cathedral, but so would a big result for the Cougars (3-0) Friday night against USC (1-2) at Los Angeles Memorial Coliseum, which is a pebble throw away from the high school in Chavez Ravine area of L.A.
"Each kid brought something special to the program," said Kevin Pearson, who was Cathedral's head coach for 22 years before stepping down after the 2017 season. "They all were blessings. These kids all brought something special and unique, whether it was their talent, their personalities, their work ethic. All three of them were great in that regard."
A pipeline is built
When he first arrived to Cathedral, Bell showed elite athleticism and surprising arm strength, so coaches stuck him behind center as the Phantoms' freshman squad quarterback.
"He's a very unselfish kid," Pearson said. "He sucked it up and played quarterback and did a really, really good job. Probably could've been a pretty decent quarterback, but I think he knew his height limitations."
"He was kind of like a coach on the field," Jefferson said.
The height limitations became a recurring problem for Bell later on, but after one year behind center he switched to wide receiver – a prophetic decision because by the end of his junior year season Bell had become an All-Angelus first-team selection who'd caught 29 passes for 462 yards and nine touchdowns, while rushing for two more. Then as a senior, he nearly doubled those numbers, catching 54 passes for 945 yards and 12 touchdowns.
"Renard's the kind of guy where (he) will run a route, he'll stick his foot in the ground and change direction faster than what he was running linear," Pearson said. "He has that crazy ability do that, very few kids do. He'll stick his foot in the ground and accelerate out of there beautifully. Just beautifully."
Pearson typically had a call sheet with scripted plays for the team's top two skill players. In 2015, Bell, a senior, and Calvin, a junior, were the go-to guys – "they need to get touches," Pearson said, "because they impact the game that much."
Cathedral opened the 2015 CIF Southern Section playoffs against defending champion Crescenta Valley and led by a touchdown in the third quarter when Pearson realized he'd run just one of the five plays he'd designed for Bell.
"I don't care what down and distance it is, very next play I give it to him, boom," Pearson said. "He ran a jailbreak and housed it. It was probably 65-70 yards. That blew the game open."
The Phantoms won 58-19.
But Bell, at a diminutive 5-8, 162 pounds, didn't garner much interest from high-profile FBS programs. His commitment to Cathedral's track and field program as a sprint specialist also precluded him from fully participating in spring football, though he made up for the work he missed on weekends and in his down time.
UCLA's wide receivers coach at the time was Eric Yarber, a former Idaho wideout who, similar to Bell, stood just 5-8 and weighed around 160 pounds during his playing career. Yarber, the Big Sky Conference MVP in 1985, made his small stature work and was destined to make Bell a Bruin.
"He said, 'I want to offer him so bad,' " Pearson recalled of conversations with Yarber. "He goes, 'But coach (Jim) Mora likes height, but I'm going to keep recruiting him and try to convince him.' "
But Yarber never got the nod from Mora and most of Bell's offers came from Mountain West schools. The exception was WSU, which targeted him early and gave him his first offer. Bell committed the May before his senior season – an easy decision he didn't have to think twice about.
"That was it," Pearson said. "It was kind of like the first pretty girl that likes you. He just kind of fell in love. And he was one of the few guys, he shut down everything, wouldn't talk to any other schools."
Tale for the ages
If Bell's recruitment was a boring soap opera, Calvin's was a fast-paced action thriller. And an unpredictable, too.
A few nights before national signing day, WSU coaches were positive they'd lost out on the four-star prospect, who'd put together a premier senior season, hauling in 86 passes for 1,312 yards and 14 touchdowns.
Calvin, they assumed, was sworn to Nebraska. The Cornhuskers had received an oral commitment from the Cathedral receiver earlier in the week.
"That night, I have a buddy I grew up with that's a huge Nebraska fan," WSU inside receivers coach Dave Nichol said. "I called him and I said, 'Dude, you guys got him.' "
But nonetheless, Nichol, former WSU outside linebackers coach Roy Manning and ex-outside receivers coach Derek Sage spent the day in Los Angeles tracking Calvin down so they could put in a final word. That in itself was a challenge.
"He was at the school, then he wasn't," Nichol said. "We didn't know where his parents were. … We almost caught a flight out and I think it was maybe Roy that was like, 'No, let's just stay and talk to him one more time.'
"We saw him at school and it looked like somebody had punched his dog. He was just sick of all of it."
Pearson recalls a conversation he'd had with his player that day, reminding Calvin how frustrated he'd been in the early stages of the recruiting process, when almost nobody was looking at the Cathedral receiver. Calvin had also befuddled some by committing to Oregon State at halftime of the U.S. Army All-American Game, citing his desire to play alongside best friend and Cathedral teammate Champ Flemings. Calvin decommitted from the Beavers just 10 days later.
"I said, 'Your time's here and it's been here,' " Pearson said. "I said, 'Don't be disrespectful to these men. This is their job. They're waiting for you, Jamire.' "
Calvin met with the trio of Cougars assistants at his home later that night, quizzed them about playing for WSU and pondered the decision for a few days. Sunday night, three days before the signing period started, Calvin sent Pearson a text: "Coach, can you put Washington State on my placard?"
Three days later, he became the crown jewel of WSU's 2017 recruiting class.
Now he's a starting "Y" receiver for the Cougars whose quick-twitch athleticism and reliable hands have made him one of the top young skill players in the Pac-12. Calvin broke out as a rookie in 2017, catching 33 passes for 300 yards and three touchdowns. He was on the end of Luke Falk's go-ahead touchdown in a win over No. 18 Stanford.
And now his recruiting tale is legend in WSU's coaching offices.
"I still tell the story," Nichol said.
'He's that guy'
Cathedral High helped Washington State locate Bell and Calvin, so maybe it was time for the Cougars to return the favor.
Djibril had played his freshman and sophomore seasons at West Adams Prep in Los Angeles, and may have finished up there – or elsewhere – had he not attended a college satellite camp at Cathedral in 2016, between his sophomore and junior year.
Hosting the camp was none other than Washington State.
According to Pearson, a Cathedral player who'd know Djibril had invited him to the camp. Impressed by Cathedral's campus, athletic facilities and football program, Djibril decided to trade in his West Adams jersey and spend his final two years with the Phantoms.
Djibril played some running back for Cathedral, but defense and special teams were his niche, and it didn't take Cathedral's coaching staff long to realize the gem they'd stumbled upon.
"I'm watching practice film and I tell the team, this kid No. 42 he's in every play in practice film," Pearson said. "I told the kids, and I don't think we'd even had a game yet, I said, 'You need to show up on film and you need to be like this No. 42 kid because I guarantee this kid's going to be special.' "
Jefferson, who'd previously served as Pearson's assistant, has fond memories of Djibril's first game in Cathedral's purple and black. The Santa Fe Chiefs have other memories of that night.
"I want to say he had 22 tackles," Jefferson said. "After that, he performed every week."
One and the same
While Bell helped push Calvin toward WSU and both put in a good word for the Cougars when it came to Djibril, the appeal of playing alongside high school teammates isn't what lured the Cathedral trio to Pullman.
"The similar playing styles Cathedral and Washington State has is what attracts us," Calvin said. "Offense and defense."
Pearson and his staff have spent time in the spring shadowing Washington State practices and the Cougars have held two satellite camps on the Cathedral campus now – one in 2014 and one in 2016. From running Leach's Air Raid system to modeling their practice format after WSU, it's easy to tell there's plenty of Cougars influence at Cathedral right now.
"They're doing a good job of recruiting our guys," said Jefferson, who has the Phantoms off to a 4-1 start this fall.
And perhaps the Cougars aren't done, either.
Local journalism is essential.
Give directly to The Spokesman-Review's Northwest Passages community forums series -- which helps to offset the costs of several reporter and editor positions at the newspaper -- by using the easy options below. Gifts processed in this system are not tax deductible, but are predominately used to help meet the local financial requirements needed to receive national matching-grant funds.
Subscribe to the Cougs newsletter
Get the latest Cougs headlines delivered to your inbox as they happen.
---