Sports > WSU football
Washington State cashed in by taking chance on Calvin Jackson Jr. of 'Last Chance U'
Sept. 28, 2018 Updated Fri., Sept. 28, 2018 at 1:48 p.m.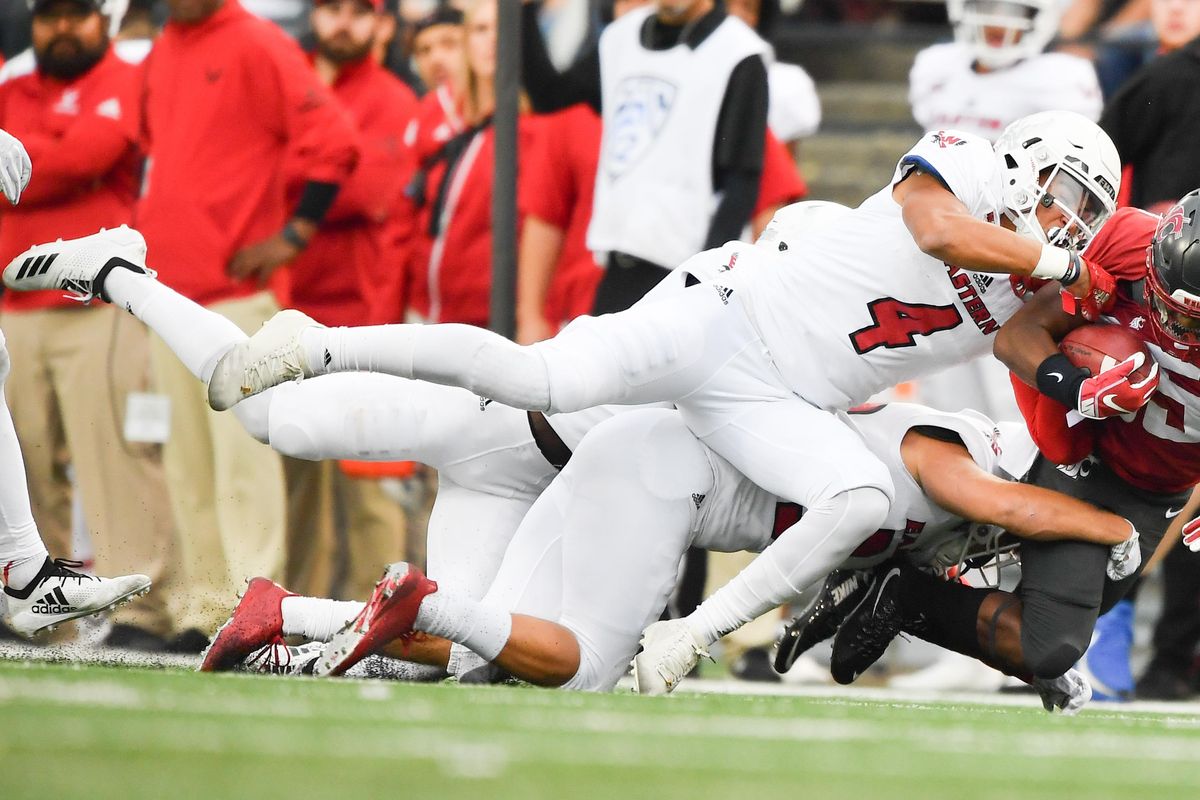 Eastern Washington Eagles defensive back Mitch Fettig (4) brings down Washington State Cougars wide receiver Calvin Jackson Jr. (85) on a run during the first half of a college football game on Saturday, September 15, 2018, at Martin Stadium in Pullman, Wash. (Tyler Tjomsland / The Spokesman-Review)
PULLMAN – Calvin Jackson Jr. exited the airplane in Tulsa, Oklahoma, hopped into a car and quickly met the reality of his new life.
This was not Pompano Beach, Florida. No more crystal oceans. No more white-sand beaches. No more majestic palm trees waving through the tropical air. This was something else. Cows, cornfields and more cows. Where one pasture ended, the next one began. Corn stalks lined either side of the highway, leading Jackson Jr. farther away from civilization one row at a time.
Jackson Jr. slept through most of the two-hour ride and part of him probably wishes he would have kept his eyes shut once he arrived at his destination. The town of 10,000 people in the heart of rural America has a community college. Its campus is made up of four buildings: two rugged dormitories, an academic hub with classrooms/study areas and a cafeteria most would advise you to avoid.
Independence Community College is the last place a high-profile football prospect such as Jackson Jr. expects to land. But the school's deficiencies create its allure. The less time spent here, the better. If you arrive in Independence, Kansas, at 1:30 p.m., you're ready to leave by 1:31.
Anyone who attends ICC seems to latch onto that concept. The school's football program has used it to bring in some of the country's most talented misfits – a Florida State quarterback with an attitude problem, a Texas Tech receiver who was booted for marijuana use, a Michigan running back who wasn't happy with his workload.
Also, people like Jackson Jr., who may not belong in the knucklehead category, but need a place to reboot their academic career after taking a foot off the pedal their final year of high school.
"We pull up to the regular dorms and it just looked like jail. It was awful," said Jackson Jr., now a junior outside receiver at Washington State. "The grass was high, you see cows behind the school. We see plain open fields, hills, and I was like, 'This is crazy.' "
Especially crazy when you considered Jackson Jr.'s previous 24 hours and the sudden circumstances that left him on the doorstep of a school many now identify as "Last Chance U."
Just a day earlier, Jackson Jr. was back home in sunny southeastern Florida savoring the final moments of the summer of 2016, eagerly anticipating the next phase of his life. His duffel bags were stuffed and his suitcases were zipped.
But Independence Community College was never supposed to be their destination.
The son of Calvin Jackson Sr., a six-year NFL defensive back who was a strong safety for Auburn's undefeated 1993 team, Jackson Jr. was a speedy wide receiver who doubled as a free safety and returned kicks at Coral Springs Charter in the Fort Lauderdale/Boca Raton region of Florida.
Recruiting services voted Jackson Jr. a three-star receiver prospect. While he'd shown bursts of excellence in coverage as a DB, the Panthers' two-way star preferred to have the ball in his hands. Flashing back to his childhood, that had always been the case.
When Jackson Sr. returned home from games with the Miami Dolphins, his toddler-aged son would be waiting at the front door with a plush football clenched between his small hands.
"Anybody that came into the house used to duck because he was very accurate," said Jackson Sr., an undrafted free agent who spent all six NFL seasons with the Dan Marino-era Dolphins. "We thought he was going to be a quarterback."
But Jackson Jr.'s senior season offered a glimpse of what he could be as a collegiate defensive back. He intercepted six passes for the Panthers as a senior and returned one for a touchdown. Jackson Sr. recorded 239 tackles, four sacks and four picks as an NFL player and with an athletic makeup that mirrored his father's, Jackson Jr. briefly pondered that route.
"My dad always used to preach, it's in your blood, we can do this, I can teach you this, show you this, show you that," Jackson Jr. said.
"He probably could be one of the better corners in college football," Jackson Sr. said, "as good as he is at wide receiver."
Jackson Jr. was a 4A all-state first-team selection at receiver as a senior. He caught 51 passes for 897 yards and 16 touchdowns, and often did it with flair. One play, he can be seen catching a high screen pass out of the air with his right hand – it's the nose of the football he grasps, not the middle – before pulling it into his body, splitting two tacklers and booking it down the sideline for a 35-yard gain. His left hand doesn't touch the ball for the duration of the play.
Dad, who once thought his son was built to play defense, admits now, "He proved me."
How Jackson Jr. wound up in the Midwest, playing for a manic junior college football coach and becoming a pseudo Netflix celebrity, began with a phone call from Derek Sage.
Sage is now coaching the tight ends at UCLA, but formerly worked under Mike Leach as an outside receivers coach at WSU. Prior to that, he served as a wide receivers coach at the University of Toledo.
A few major schools in the south, including LSU, had approached Jackson Jr. in high school, but most operated power run schemes on offense and the receiver didn't want to be left in the shadows or, "lost in the system," as Jackson Jr. said. He sought out receptions.
Sage and Toledo had been persistent from the beginning and Jackson Jr. felt he could stake out an important role with the Rockets early on.
"If he had to see me two, three times he'd come (to Florida)," Jackson Jr. said of Sage, who spent three seasons at Toledo. "… He's a great guy. He goes the extra mile to make sure he gets you and you're in check."
Jackson Jr. rewarded Sage's dedication with an oral commitment to the Mid-American Conference school in June 2015 and signed a letter of intent the following February. But a few months later, Sage phoned Jackson Jr. and delivered some dispiriting news. The same week he planned to move to Ohio and enroll at Toledo, Jackson Jr. learned he wasn't academically eligible after slipping up in a few classes his final semester of high school.
"It was a huge wake-up call," he said.
Jackson Jr. loitered in his bedroom, where he'd already prepared clothes and things for Toledo, and tried to find the words he'd use to tell his father what Sage had just told him. After about an hour, he emerged.
"That was by far the hardest thing I've ever had to tell my dad about because me and my dad, we talk about legit anything," he said. "It could be a hiccup and we'd talk about it. … But looking at him and looking at his face, I felt like I let him down."
Unbeknown to Jackson Jr., Sage had already relayed the news to the elder Jackson, who wanted his son to initiate the conversation and own up to his mistake
"That's part of being a man," Jackson Sr. said, admitting, "it was a tough day for both of us."
The two spent the next few hours trying to salvage any FBS opportunities still on the table, but nothing worked out. That's when Jackson Sr. got in touch with Kansas State running backs coach Eric Hickson, a former teammate on the XFL's Birmingham Thunderbolts. Hickson put the Jacksons in touch with ICC coach Jason Brown and recruiting coordinator Jesse Ornelas.
They salivated over the receiver's game film and offered him the same day. Jackson Jr. hardly knew where to locate Kansas on a map, and knew even less about junior college football, but approximately 24 hours later he was on his way to Independence.
"Calvin was probably my first big-time guy I brought in," Ornelas said. "I knew he was going to be special, so I spent a lot of time getting his academics right. … He was a little bit different. From day one, he always wanted to get out. He was going to do anything possible to do that and he wasn't a hard guy to get to buy in."
When Netflix viewers sit down to binge through the newest season of the acclaimed "Last Chance U" reality series, an impassioned, vulgar speech from Brown, the head ICC coach, is the first thing that captures their attention. Still shots of Indy football players roll across the screen as Brown drowns the audience in profanities. Wearing a team sweatsuit, with a gold necklace draped around his neck and bleached curls on top of his fade haircut, Jackson Jr. is the fourth one shown.
Season 3 of "Last Chance U" aired on July 20. From his apartment in Pullman, Jackson Jr. made it through five consecutive episodes – each about an hour in length – before finally leaving his television for a team workout.
"It showed a little bit, but it didn't show all of it," Jackson Jr. said. "I can tell you that."
After two seasons on East Mississippi Community College's campus in Scooba, Netflix producers called an audible and decided to film at another junior college outpost. Seven schools were in the running, and when reigning national champion Garden City turned down an offer, Netflix went to a Kansas junior college on the rise.
Camera crews poured into the tiny community of Independence the day after Brown accepted and spent months tracking the lives and obtaining footage of Pirates players and coaches.
As one of ICC's leading receivers, Jackson Jr. is featured prominently throughout the eight-episode season. Camera crews trailed him and his teammates throughout campus, spent time in their classrooms and even flew home to Florida with Jackson Jr. when he signed his letter of intent with WSU. Some players soaked in the attention. Jackson Jr. embraced it, but didn't seek it out and admits it became invasive at times.
"Even if we'd go talk to our guidance counselor, they were right behind us, so it was very overwhelming," he said. "I'm looking over my shoulder."
Jackson Jr. said he was only nervous about one scene. In a game late in the season, he and embattled QB Malik Henry, a former four-star recruit who transferred from Florida State, engage in a verbal altercation on the sideline.
Other scenes reflected his mission to improve in the classroom. During another episode, cameras visit a weekly book club, held by English teacher LaTonya Pinkard, who becomes one of the show's starring figures as she works to enhance the academic resume of ICC's football players and ensure they'll become eligible to transfer.
Jackson Jr. attended the voluntary book club on a regular basis and said it rubbed off on him as he straightened out his grades.
"What Ms. 'P' spoke to me and (teammate) Emmit (Gooden) about, was, 'A man with a book is dangerous,' " he said. "I took that and I ran with it."
Ornelas also took initiative to guarantee Jackson Jr. wouldn't have to spend more than the obligatory two years on ICC's campus.
"A lot of late nights in my office writing papers and checking in on classes," he said.
Sixty-four class credits and 74 catches later, Jackson Jr. earned his escape from Independence. The detour may have been unexpected, but the WSU receiver believes it was necessary and it ultimately rerouted him back to an FBS school.
"I'm so grateful for what I've been through," Jackson Jr. said. "That's what I'm saying, it was a humbling experience."
Ornelas, now a linebackers coach and recruiting coordinator at Iowa Central, said, "I actually do use Calvin a lot in recruiting (as an example), probably more than he would like, but it is what it is."
Jackson Jr. and Sage maintained their relationship while the receiver did his time at ICC. When Sage left Toledo to take a position with the Cougars, he showed Leach the player's film and convinced him to offer Jackson Jr. a scholarship.
"He was just quick, came out of his cuts quick," Leach said. "He's gotten bigger, so kind of a quick, savvy guy out there."
Jackson Jr. has played mostly at the outside "Z" receiver position and made the first catches of his career in the Cougars' last home game against Eastern Washington, reeling in three balls for 36 yards. He's listed as one of two backups, along with Rodrick Fisher, at the other outside position, "X," ahead of this week's clash with Utah and could spell starter Tay Martin.
Most of Jackson Jr.'s fellow receivers have taken interest in the "Last Chance U" series and habitually began calling their teammate "Netflix" when WSU camp opened in August.
"I always bug him about it," Easop Winston Jr. said earlier this week. "I'm always like, 'Dude, were you that guy on Last Chance U?' He gets mad."
But Winston Jr. is also complimentary of Jackson Jr.'s skills.
"He's definitely a great player," Winston Jr. said. "He can do a lot of things for our offense, he's good with the ball after he catches it and he has great hands. He's going to look to see a lot of PT coming up."
Martin believes Jackson Jr. already has a solid handle on Leach's Air Raid playbook and is capable of helping the Cougars at both "X" and "Z."
"He's a fast guy," Martin said, adding that it was "surreal" to see his teammate on the hit Netflix show.
Saturday's game against the Utes should be plenty meaningful for Jackson Jr. He's facing a longtime companion, Utah QB Tyler Huntley, who played in the same youth league as Jackson Jr. while both lived on the sandy shores of Florida.
And pops will be in attendance, watching his first game inside Martin Stadium.
"I was afraid when he went to Kansas and then he chose another school that's clear across (the country)," Jackson Sr. said. "I'm like, 'Bruh, you can't find a school that you want to go to nearby?' He fell in love with the campus, the atmosphere and everything. He said, 'Dad, it's for me,' so I had no choice but to play along.
"It's been a tough road for him, but he's where he wants to be, so I'm very pleased, very happy for him."
Local journalism is essential.
Give directly to The Spokesman-Review's Northwest Passages community forums series -- which helps to offset the costs of several reporter and editor positions at the newspaper -- by using the easy options below. Gifts processed in this system are not tax deductible, but are predominately used to help meet the local financial requirements needed to receive national matching-grant funds.
Subscribe to the Cougs newsletter
Get the latest Cougs headlines delivered to your inbox as they happen.
---