News > Spokane
Genocide survivor, WSU crop scientist plants seeds of hope
Mon., April 15, 2019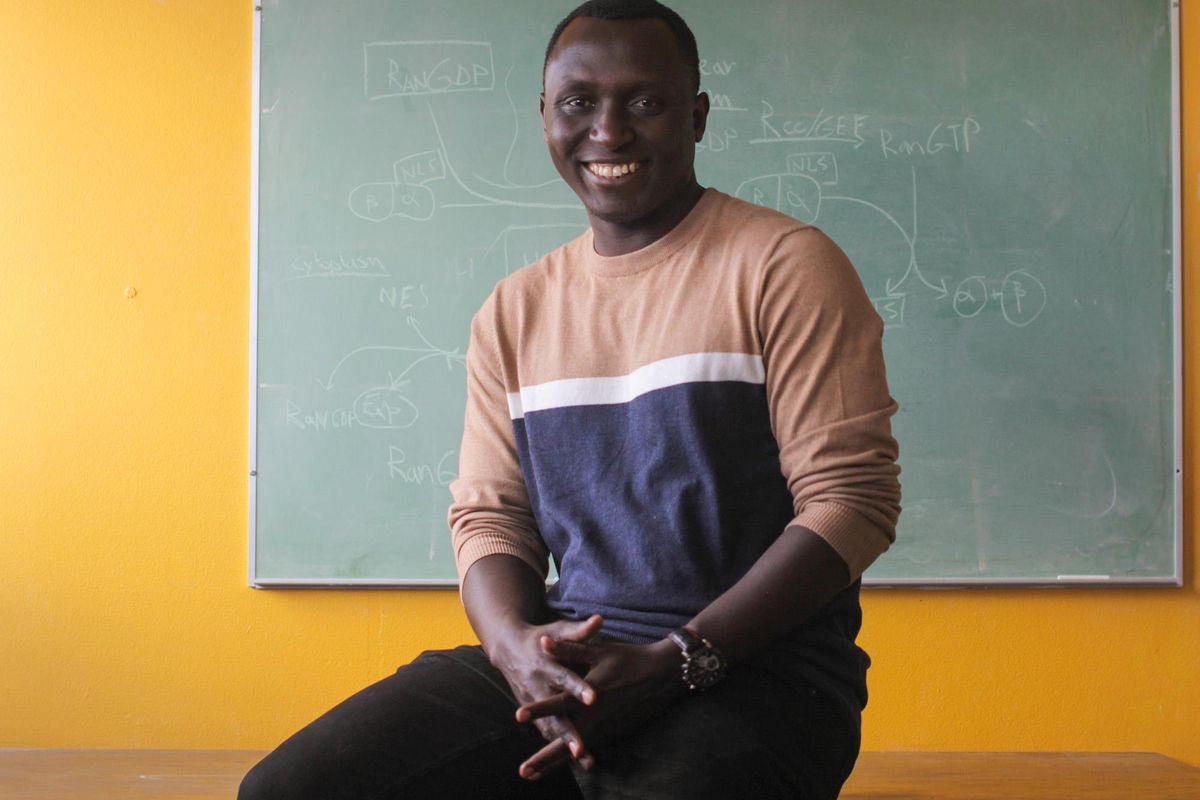 Cedric Habiyaremye, a crop and soil science doctoral student at Washington State University, will defend his doctoral thesis in July and hopes that his mother, Agnès MuKankwaya, and older brother, Pacifique Ntirenganya, can attend his graduation ceremony in the spring. (Rachel Sun / The Spokesman-Review)
Cedric Habiyaremye was 7 years old when his family fled their home in Gafunzo, Rwanda, in the spring of 1994. He remembers hiding, being chased, as his family headed toward a refugee camp in Tanzania.
They walked at night, and hid during the day. With no food, they ate grasses they found in the forest. They walked until their joints felt weak and moving became too difficult.
"It's like a photographic memory, you can't forget anything," Habiyaremye said.
For years, tension simmered between the two predominant ethnic groups in Rwanda, Hutu and Tutsi, in large part because of economic disparities.
On April 6, 1994, the assassination of then-Rwandan president Juvénal Habyarimana and Burundian president Cyprien Ntaryamira, both Hutu, sparked a bloodbath just hours later between the two groups that would come to be known as the Rwandan genocide.
Even after reaching the refugee camp, hunger and food insecurity haunted Cedric. A United Nations food assistance program kept people from starving, but nothing more. Families ate in shifts, the camps were overcrowded and lacked sanitation. The conditions led to many deaths.
"Life there wasn't good," he said. "We lived there three years just waiting for things to get better in the country."
The family would live in three separate refugee camps in Tanzania, moving each time the camp population became too dense and disease took root.
In 1997, when Cedric was 11, the family returned to Rwanda. The country had stabilized to a degree since they left, but his family would soon learn it was not enough.
Cedric's father, Jean Demascène Habumugisha, died, and the family found themselves on the run again.
For another year and a half, the family was dependent on food assistance, Cedric said. He and his brother, Pacifique, felt desperate.
Despite the family's struggles, the boys' mother, Agnès MuKankwaya, would not allow her sons to give up. Cedric recalls a turning point one day when she called the two over to talk.
"She said, 'I see some potential in you. You are the future of this country, and this is not the end of the world. This is not the end of your lives. You can do good,' " Cedric said.
His mother told him to go to school, and not give up when to Cedric giving up seemed to make sense.
At the time, Cedric said he had a hard time accepting what his mother had told him. Hope felt pointless at the time, he said.
"I left the room and sat under the tree and cried a lot, really, really hard. My brother was able to stay with her and listen," Cedric said. "Later on, he came and gave [me] a shoulder. We all cried. He said, 'Maybe Mom is right, let's wait and see.' "
The two promised each other with they wouldn't give up on their dreams, he said. They sealed the deal the way children often do – with a pinkie swear.
Cedric decided the dream to pursue would be agricultural study. The field was a chance to improve the problems of hunger he himself had experienced. For Pacifique, the dream was to become a pharmacist like their father, so he could help prevent illness and death.
Cedric and Pacifique knew what they wanted to do, but the boys lacked the funds to attend school. Even though one semester was less than a dollar, the family couldn't afford it, Cedric said. So at 11 years old, he came up with a business plan.
Walking door to door, Cedric asked neighbors for small loans to start his business. One woman gave him 200 Rwandan francs, about 22 cents in U.S. dollars by today's standard.
He used the money to buy candy, which he sold to children who were well-off. He convinced the school principal to let him pay at the end of the semester, and Cedric and his brother were able to keep going to school.
"I kind of became an entrepreneur at the youngest age," Cedric said.
In college, Cedric studied engineering and irrigation and drainage at the University of Rwanda College of Agriculture, Animal Sciences and Veterinary Medicine.
He became involved with the sustainable development program called Building Bridges with Rwanda.
During that time he would meet two WSU faculty members, including Kim Kidwell, the former associate dean of the WSU College of Agricultural, Human, and Natural Resource Sciences.
Along with Colleen Taugher, associate director of Global Research and Engagement, Kidwell offered to help Cedric pursue his master's degree at WSU.
"It never crossed my mind," he said. "Coming to study in the USA from a village, I thought it wasn't for me."
Cedric arrived at WSU in 2013 to work on a master's degree before pursuing a doctorate in crops and soil science. He currently works in a sustainable seed lab that focuses on breeding diverse crops.
In 2015, he helped introduce quinoa as a complete protein in Rwanda, where some citizens, including children, continue to suffer from malnutrition. His mother Agnès works to create recipes that cater to local tastes.
"She made different drinks from quinoa, and she was testing them to see what people prefer," Cedric said. "They nicknamed her the 'Queen of Quinoa.' "
Pacifique also kept his promise, and works as a pharmacy department lead for Partners In Health Liberia. He was recently admitted into Harvard University and will start in June, where he hopes to earn a master's degree in Medical Sciences in Global Health Delivery.
Both brothers credit their mother with helping them on the road to success. She was a role model, Cedric said, and a hero who taught them how to be their best selves.
Cedric will defend his doctoral thesis in July of this year, and hopes to have his mother and brother attend his graduation ceremony in the spring of 2020.
"Don't be a casualty of your struggles," he said. "You can still evolve through those adversities and become the person you want to be."
Local journalism is essential.
Give directly to The Spokesman-Review's Northwest Passages community forums series -- which helps to offset the costs of several reporter and editor positions at the newspaper -- by using the easy options below. Gifts processed in this system are not tax deductible, but are predominately used to help meet the local financial requirements needed to receive national matching-grant funds.
Subscribe now to get breaking news alerts in your email inbox
Get breaking news delivered to your inbox as it happens.
---