News > Spokane
'Every tool I need to succeed': First four men earn college degrees while incarcerated at Airway Heights
April 26, 2019 Updated Fri., April 26, 2019 at 10:38 a.m. David D. Hall is serving a long sentence at the Airway Heights Corrections Center for a 2004 armed robbery in Seattle, putting his career plans on hold for years to come.
But when he gets out, Hall hopes to redeem himself by starting his own business and launching a program to teach entrepreneurship skills to at-risk youth.
"Some of us are really sorry for what we did, and we need not only a second chance but a second look at who we are," the 39-year-old said. He added that many who commit violence "were once victims of violence themselves."
On Thursday, Hall completed a significant first step toward his goals. During a commencement ceremony at the prison, dressed in blue caps and gowns, he and three other men became the first Airway Heights prisoners to receive two-year associate degrees from Spokane Community College. Hall, who boasts a 3.9 GPA, also donned a bright yellow cord to signify the achievement.
"This is a culmination of all our hard work and all their hard work, and it's a great feeling," said Kevin House, an associate dean who oversees SCC programs at Airway Heights.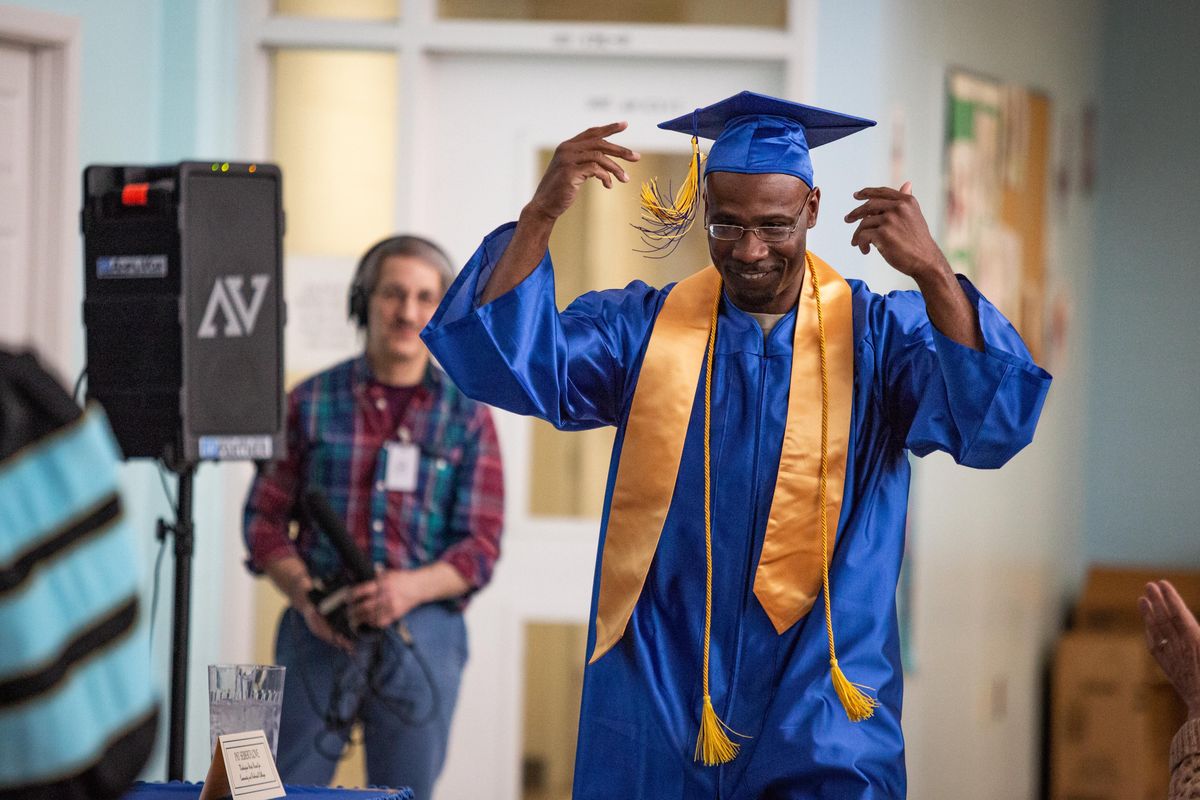 David Hall, 39, gestures eagerly while walking to receive his diploma from Spokane Community College President Kevin Brockbank during a commencement ceremony at Airway Heights Corrections Center on Thursday, April 25, 2019. Hall was one of four Airway Heights prisoners to earn an associate degree while incarcerated. (Libby Kamrowski / The Spokesman-Review)
Nearly 190 other men also walked during the ceremony. Seventy-nine earned GED diplomas, and the rest earned certificates for one-year vocational programs, including upholstery, aerospace composites, business occupations and computer-aided drafting and design.
After a singing of the national anthem and many loops of the traditional "Pomp and Circumstance" graduation tune, friends and family cheered as SCC President Kevin Brockbank called the name of each student and handed him a diploma. It would have looked like any other commencement ceremony if it weren't for a few correctional officers in attendance.
House said there have been privately funded associate degree pilot programs at the Washington State Penitentiary in Walla Walla and the Coyote Ridge Corrections Center in Connell, Washington, but it wasn't until a couple of years ago that the Legislature approved funding for such programs at other prisons.
Christine Johnson, chancellor of the Community Colleges of Spokane, the district that includes SCC, said lawmakers were finally persuaded, after years of lobbying, that college degrees are a valuable investment for state prisoners.
"We've got to give skills to people who are incarcerated, because when they get out, we want them to be productive and join the workforce," Johnson said, noting that gainful employment is a key factor in reducing recidivism.
"I think that's good not only for the individuals but also for the community and their families," Brockbank said.
The Airway Heights prisoners earned associate of applied science, or AAS, degrees, meaning the credits don't automatically count toward four-year bachelor's degrees. Some credits can be transferred, though, depending on the institution.
There are waiting lists for educational programs at Airway Heights, and tuition is covered by the state, though prisoners elsewhere bear some of the cost. Congress is considering whether to lift a 1994 ban on federal Pell grants for prison inmates interested in higher education, a proposal that has received bipartisan support.
CCS spokeswoman Carolyn Casey said students in the upholstery program at Airway Heights are sought after for their skills in making soft furniture and mending car interiors.
"They're in such demand that businesses sometimes come here and interview them before they get out," Casey said.
Robert Long, who graduated Thursday with certificates in aerospace composites and computer-aided drafting and design, said he's considering whether to pursue a bachelor's in engineering after he gets out of prison in January.
Over the past year, Long has spent entire days studying advanced mathematics, including algebra and trigonometry, and learning to operate tools, such as a CNC mill. In the evenings, the 49-year-old from Arlington, Washington, works in the prison's food factory.
"This gives me every tool I need to succeed," he said.
Local journalism is essential.
Give directly to The Spokesman-Review's Northwest Passages community forums series -- which helps to offset the costs of several reporter and editor positions at the newspaper -- by using the easy options below. Gifts processed in this system are not tax deductible, but are predominately used to help meet the local financial requirements needed to receive national matching-grant funds.
Subscribe now to get breaking news alerts in your email inbox
Get breaking news delivered to your inbox as it happens.
---