Déjà vu: Two returners and one transfer open fall camp vying for Washington State quarterback job PULLMAN – If Washington State's 2019 quarterback race was recast as a major motion picture, its title might read something like this: "Trey Tinsley, Anthony Gordon and The Transfer: Part II."
When WSU opened preseason camp Friday in Pullman, the question that loomed bigger and bolder than any other was precisely the same one the Cougars were addressing some 365 days earlier. Two of the lead characters are even the same and the next few weeks should determine if the plot will be identical, too.
Can one of the returning signal-callers, Tinsley or Gordon, perform at a high enough clip to hold off a motivated graduate transfer seeking one season of stardom in Mike Leach's patented Air Raid offense?
For at least the next two weeks, Tinsley, Gordon and Eastern Washinton transfer Gage Gubrud will be allotted the same snaps and opportunities to prove they're worthy of replacing reigning Pac-12 Offensive Player of the Year Gardner Minshew, whose beloved mustache and big arm were still unknown commodities among WSU fans this time last year.
Leach plans to divide up the reps evenly among his three QBs until he can whittle the competition down to two players, and eventually one bona fide starter.
He'd like to accomplish the latter sooner than he did last year, although Leach acknowledges the competition benefits everyone involved.
"I'd like to have it down to, from a practical standpoint I'd love to have it down to a starter and a backup today," Leach said during his precamp conference call Thursday. "But by the same token, the competition's going to make everybody better."
But the coach doesn't like to feature more than two passers in a single practice, so on Friday it was Tinsley and Gubrud who were behind center during the skeleton passing drills and the scrimmage-like "team period," meaning Leach will probably turn to Gordon and either Tinsley or Gubrud Saturday when the team shifts its practices to Sacajawea Middle School in Lewiston, then feature Gordon and the opposite QB on Sunday.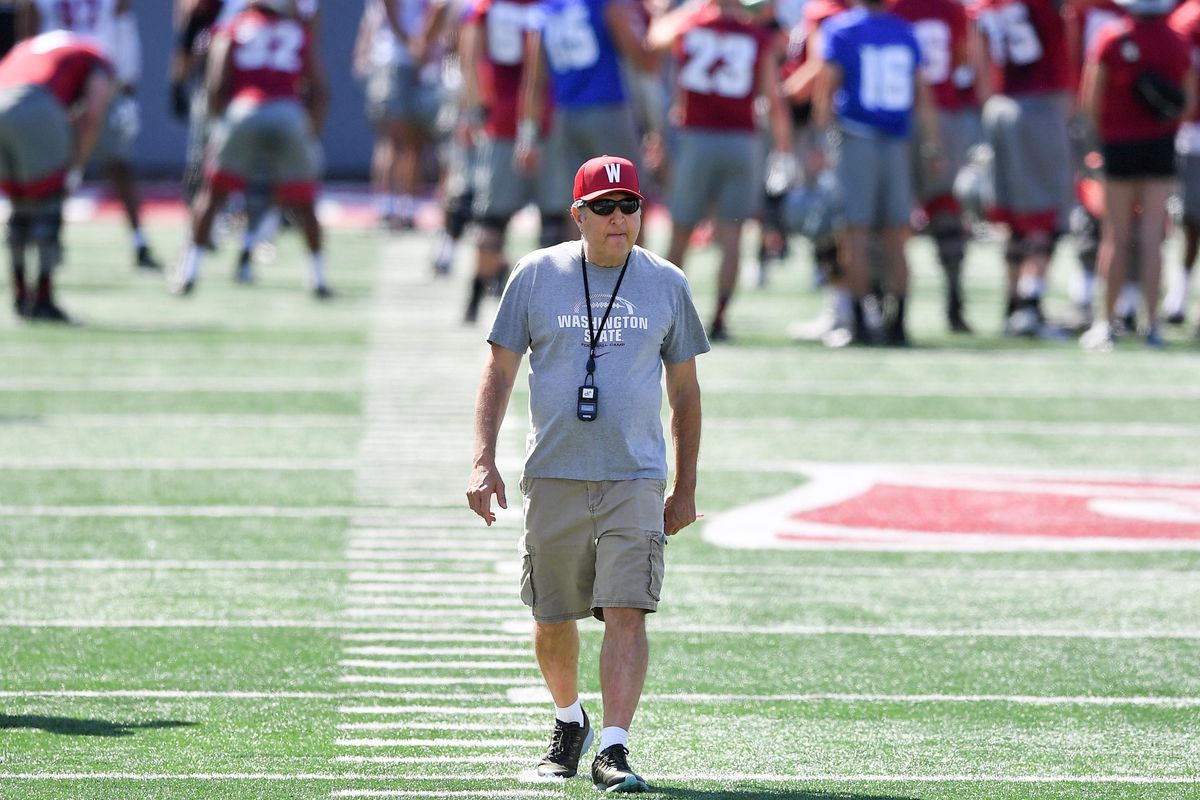 "I think they all played pretty well," Leach said Friday, asked to evaluate his QBs after the first day. "Then, of course, we're going to rotate them around and look at all of them and see if somebody can separate themselves."
Even if he had to, Leach would be hard-pressed to make a choice solely based on Friday's results. Both QBs had hiccups and high points, and finished the team portion with similar completion percentages.
Tinsley's offense marched east to west and the redshirt senior former walk-on finished 10 of 13, mishandling a bad snap and throwing an interception to Shahman Moore before recovering to find Calvin Jackson Jr. and Easop Winston for touchdowns in the red zone.
Winston reeled in his TD on a slant pattern, then punted the ball into the air – high enough that a fellow receiver, Renard Bell, could get himself under it and make the catch.
"I'd have to go back and watch the film because after it's all done, you just kind of take a breath and you try to pick certain plays out," Tinsley said. "I thought I connected on a couple of balls with Tay (Martin) and with Easop. They all played great. But I thought I tried to force a few balls in that were too tight and again, just got to watch the film and get better from it."
Gubrud underthrew receivers on a pair of out routes – though Jackson Jr. salvaged one of those balls for a catch – and also had an interception, tossed into the arms of freshman Rush linebacker Travion Brown, the only four-star recruit in the Cougars' most recent class.
But the former FCS All-American, still shaking off rust after missing the majority of spring camp with an injury, eventually moved his unit closer to the end zone and finally connected with slot receiver Brandon Arconado for a touchdown on a short goal-line slant.
Gubrud completed one less pass than Tinsley, though with one fewer attempt. He finished 9 of 12 and seemed to click with Dezmon Patmon, hitting the big "Z" receiver three times and targeting him one other.
"I think it was huge for (Gage) to be here this spring," Tinsley said. "And Gardner didn't get that, he was only here in May. So I think it was very beneficial for him to be here this spring. Obviously getting in the live reps is very important, too, so I think for a first day he did pretty well. I think he'll continue to get better from here and I'm excited to just compete with Gordo and the rest of the guys, Gage, and see how we do as a group."
---