100 years ago in Spokane: Republican Spokane Senator among possible Western presidential candidates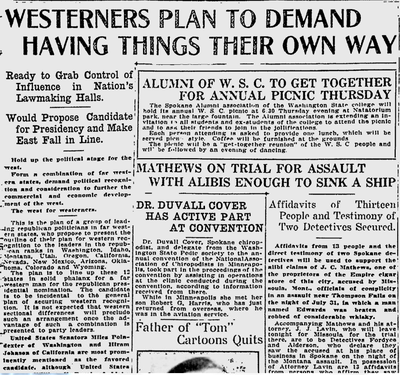 A coalition of Western political leaders was working on a political plan to "grab control of influence in the nation's lawmaking halls," the Spokane Daily Chronicle reported.
To cap off the plan, they would propose their own Republican candidate for the presidency and "make the East fall in line." They planned to line up all 12 Western states "in a solid phalanx for a far-western man."
Spokane's own Sen. Miles Poindexter was one of two men "most prominently mentioned" for this role, along with Sen. Hiram Johnson of California. Sen. William E. Borah of Idaho was also on the list.
"Republican leaders in Spokane, for example, are of the opinion that the time is at hand when the West must assert itself if it is to receive any advantage at the hands of the incoming administration."
The motto of this new movement? "The West for the West."
From the swimming beat: Lifeguards at the Sinto pool had already saved 14 lives this season, according to the pool supervisor.
"There is very slight chance for anyone to drown in the pools," he said. "A lifeguard is always in the pool enclosure …"
From the shoeshine beat: The shoeshine men of Spokane were waging a price war. Most had raised their prices to the unprecedented 15-cent level, reflecting the skyrocketing cost of living postwar.
However, a few shoeshine men were willing to work for the "customary thin dime."
One Greek shoeshine proprietor, across from the Davenport Hotel, puffed on a cigarette and said, "We will keep on shine for a dime."
---