News > Business
From 'ghost town' to thriving development hub, former Post Falls outlet mall finds new life
Mon., Aug. 19, 2019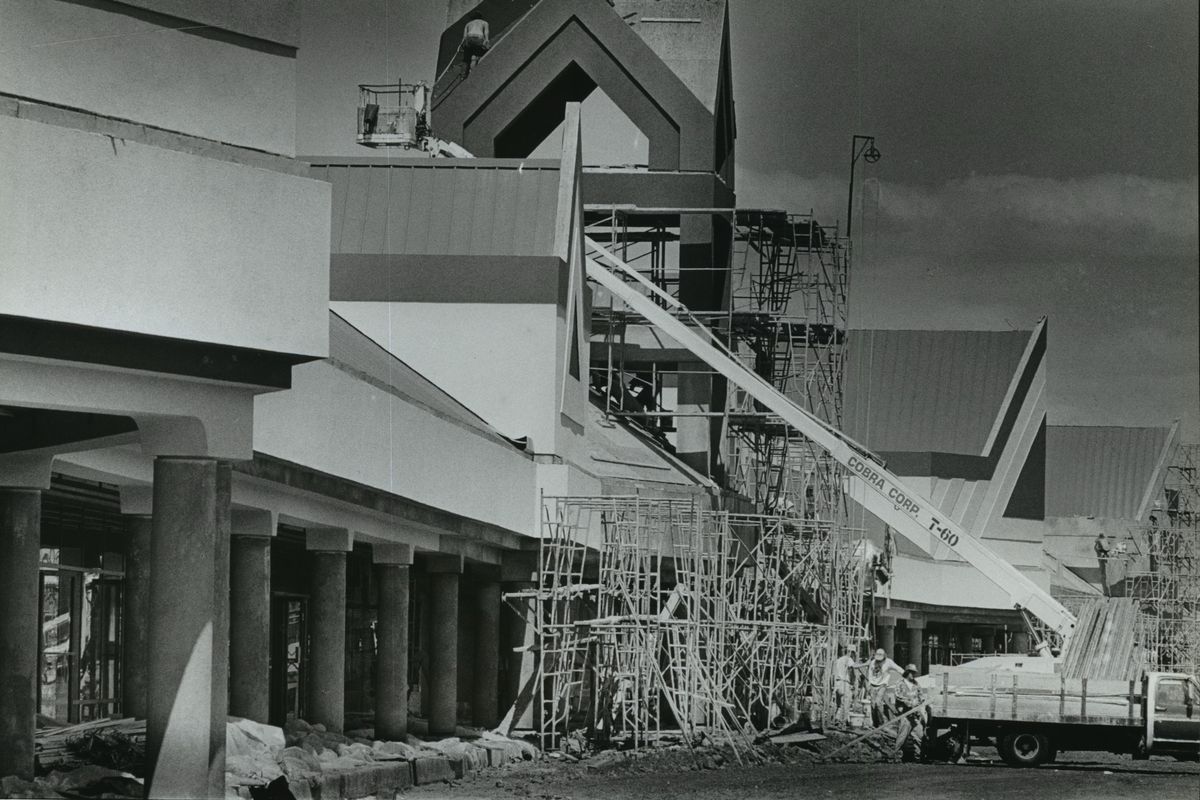 Crews complete work on a phase of the Post Falls Factory Outlets in this 1991 photograph. (Chris Anderson / Cowles Publishing)
When the Post Falls Factory Outlets opened in 1991, city officials and business leaders stated it would bring economic prosperity to the region.
It spurred economic development for several years, drawing locals as well as tourists from Oregon, Montana and Canada to shop at stores such as Van Heusen, Levi's and Famous Footwear.
But as the Great Recession created a ripple effect in the retail industry, the once-bustling outlet mall lost most of its tenants and became a nearly vacant ghost town.
That's changed under the ownership of Thomas Tedder, CEO of Tedder Properties LLC, who purchased the former outlet mall in 2016 and spent more than $3 million renovating the 180,000-square-foot property that spans two buildings along Riverbend Avenue.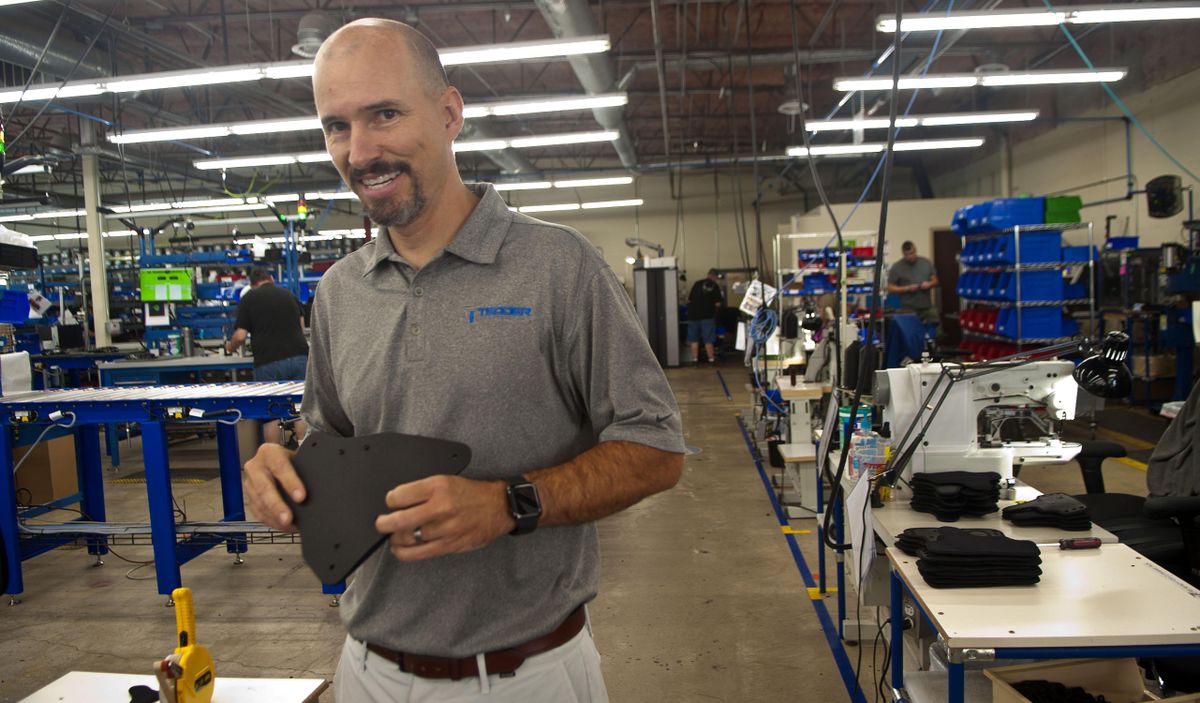 Thomas Tedder of Tedder Industries talks about the process of making holsters during a tour of the facility in Post Falls on Thursday, August 15, 2019. (Kathy Plonka / The Spokesman-Review)
Tedder changed the former outlet mall's name to Tedder Business Center and moved his gun holster company – Tedder Industries – to a 70,000-square-foot building on the property.
"At the time, my business – Tedder Industries – was spread out over three buildings and we needed more space," he said. "I took a look at the outlet mall and thought my business would be able to use the south building and it would be the perfect size."
Tedder Industries is known for its Alien Gear line of concealed carry gun holsters and Bigfoot gun belts. The company employs more than 150 people.
Tedder has been steadily leasing out space in the 110,000-square-foot building across the street from Tedder Industries, which is 90% occupied with more than 28 tenants.
Among the tenants are 3 Ops Tactical Gear, My Big Fat Greek Deli, Woodshop Products, Costume Place Inc., Oriental Gifts & Food and L'eggs Hanes Bali.
"We just made a space that looks nice," Tedder said. "We have good rates, and businesses and potential tenants are seeing that and they think it's a good space."
Two of the business center's longstanding tenants, Oriental Gifts & Food and L'eggs Hanes Bali, have been at the property since it was an outlet mall and most likely survived because they are destination businesses that don't heavily rely on foot traffic, Tedder said.
"They are pretty happy that they aren't living in a ghost town anymore," Tedder said.
An economic jewel
New York-based Benderson Development Company Inc. and Florida-based Quality Centers developed the $10 million-plus Post Falls Factory Outlets, which opened its first building in July 1991.
The 112,000-square-foot building featured retailers such Van Heusen, Cape Isle Knitters, Bass Shoe and L'eggs Hanes Bali, according to a 1991 Spokesman-Review article.
The outlet mall's second building – now home of Tedder Industries – was built a year later.
The outlet mall, which at one time housed about 50 brand-name retailers, signaled economic growth in Kootenai County because of its prime location near Interstate 90. City leaders hoped it would spur development along Seltice Way.
"I predict that within a year and a half, there won't be a vacant building on Seltice Way because of Factory Outlets," Harry Perry, president of Post Falls Tourism Inc., said in a 1991 Spokesman-Review article. "There are a lot of people who view Post Falls as a major market area."
However, when the Great Recession hit in the late 2000s and e-commerce gained popularity among consumers, outlet mall tenants shuttered their stores one by one, leaving the buildings mostly vacant for nearly a decade.
"It was because of not just the state of disrepair that prevented anybody from leasing it, it's that they were trying to retain an outlet mall out there and that just wasn't going to work," Tedder said.
Post Falls Community Development Director Bob Seale said there's a renewed interest in the area surrounding the Tedder Business Center, with more homes being built and businesses moving in.
"It's great to see a company like Tedder (Properties) who is coming out there and basically repurposing these retail-oriented shopping centers into more of an industrial use for manufacturing," he said. "It affects that whole area by adding employment out there."
Tedder said Post Falls has historically been a "sleeper community," but the city's population is poised to grow as Coeur d'Alene runs out of space to build homes and businesses.
"I feel like there's a lot of room for development in Post Falls," Tedder said, adding there are plans for hundreds of homes in the area surrounding Tedder Business Center. "Commercial development tends to follow rooftops."
A good move
Rose Newman, owner of Oriental Gifts & Food, has been at the outlet mall since 1992. Her business sells clothing, gifts, martial arts gear and imported food and spices.
"When (the outlet mall) first opened, it was very nice," she said, adding the store attracted a plethora of tourists.
Newman said Oriental Gifts & Food managed to thrive in the mostly vacant outlet mall site over the years because of local customers.
"I stayed here for the people," she said.
New York Pizza Department – formerly Nate's New York Pizza – is the newest tenant in the business center. The pizzeria is opening in September in a space that's double the square footage of its former location on state Highway 41.
"The rent was a big draw and there's a lot of businesses and future homes, so we thought it was a good move," said Glenn Gatherer, owner of New York Pizza Department. "The location is not as crowded, so that will be nice."
Costume Place Inc. – which offers costume rentals and party supplies – opened in the business center in 2017.
Since then, owner Margie Warwick has noticed efforts that increased foot traffic to the business center, such as advertising along Interstate 90 and car shows in the parking lot.
"It's been a very smart business move, if you think about the amount of housing that's going in," said Warwick, referring to launching her shop at Tedder Business Center. "Overall, business has been increasing and I am hoping Halloween is going to be good. I'm poised for good things, I believe. I have no intentions of leaving. In fact, I may need a bigger space."
Local journalism is essential.
Give directly to The Spokesman-Review's Northwest Passages community forums series -- which helps to offset the costs of several reporter and editor positions at the newspaper -- by using the easy options below. Gifts processed in this system are not tax deductible, but are predominately used to help meet the local financial requirements needed to receive national matching-grant funds.
Subscribe now to get breaking news alerts in your email inbox
Get breaking news delivered to your inbox as it happens.
---